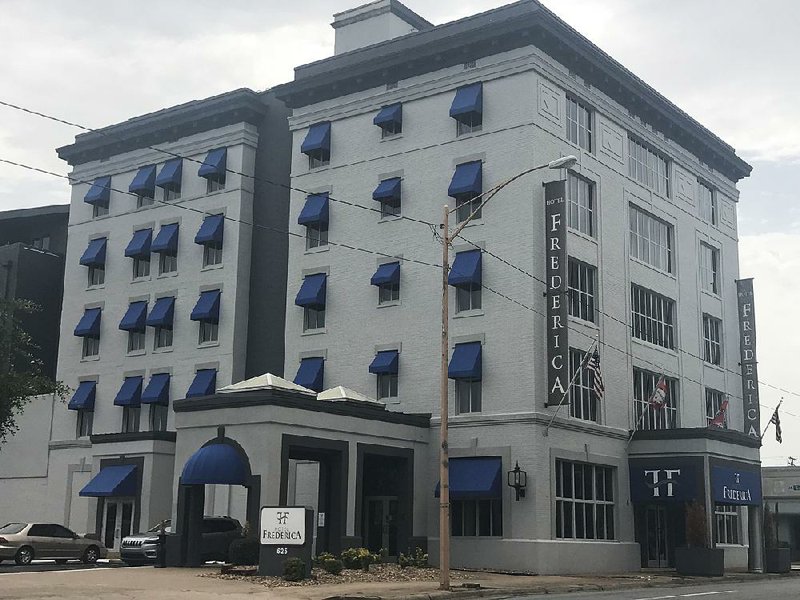 Arkansas Democrat-Gazette/JENNIFER CHRISTMAN The Frederica Hotel is shown in this file photo.
Two major downtown properties -- the AT&T building and the Hotel Frederica -- together fetched almost $4 million after separate three-day online auctions that concluded Wednesday.
The AT&T building at 1111 W. Capitol Ave., sold for $2.25 million, well above the $1.8 million purchase price a Rockwall, Texas, investor group, Valk Properties Two LLC, paid for the property in 2018. It is assessed at $1,761,000.
The Hotel Frederica sold for $1.6 million, significantly below the $4.6 million SHG Management invested four years ago in the historic property, which also is on Capitol and about five blocks east of the AT&T building. It is assessed at $5.1 million.
SHG, based in Sherwood, lost possession of the hotel last fall, after a foreclosure lawsuit filed in October by SHG's lender, Ready-Cap Lending LLC of New Providence, N.J. SHG borrowed the money to purchase the hotel for $2.85 million and invested another $2 million to transform the 82-room property into a "boutique" hotel. The $4.8 million foreclosure lawsuit includes penalties and interest.
Both auctions were handled by Ten-X Commercial, based in Irvine, Calif.
David Jones, a former Little Rock businessman who now lives in Dallas and represents Valk, said last week that he hoped the 10-story, 370,566-square foot AT&T building would gain wide exposure through the auction. It apparently did.
Jones said Wednesday that there were a total of 15 entities or persons qualified to submit bids. They included investors from New York, New Jersey, California, Florida, Illinois and Oklahoma, among other states, he said. Most or all of them submitted a bid, Jones said.
"It was a good auction," he said. "It's a structurally sound quality building. It basically needs some patience and tender loving care to get leased up. It's a good property and it's going to be in Little Rock for a long time."
Valk Properties Two LLC purchased the property from AT&T. An AT&T predecessor, Southwestern Bell Telephone Co., opened the building in 1973.
AT&T agreed to lease the building from Valk for one year after the purchase. When AT&T vacated the property in December 2020, it left little time for Valk to market the property to prospective tenants before the coronavirus pandemic hit and made leasing difficult for the short-term, Jones said.
Jones said the winning bidder had to pay 10 percent of the bid amount Wednesday and has 30 days to close the deal.
Eric Nelson, associate director with Newmark Moses Tucker's Bentonville office, which marketed the Hotel Frederica, said he also was happy with the auction.
"I think everyone was hoping for a little more, but given the way the market is now, everyone was very pleased with the way the transaction unfolded," he said.
Five approved bidders actively participated in the auction of the hotel property, according to Nelson, who wasn't prepared to identify the winning bidder Wednesday.
"We do feel very comfortable with the buyer," he said. "They're very capable. They're established. They're current operators of other units. All of that is a positive. We didn't want a speculative buyer come in with a half-baked plan. We'd rather deal with someone who has the funds and the wherewithal to get it done."
The state Department of Finance and Administration closed the hotel last September for nonpayment of about $60,000 in sales taxes. SHG also owed more than $52,000 in property taxes and real estate taxes in Pulaski County and more than $12,000 to the Little Rock Advertising and Promotion Commission, according to court filings last fall.
The 107-year-old hotel has been known as the Legacy Hotel and the Hotel Sam Peck.
Sponsor Content