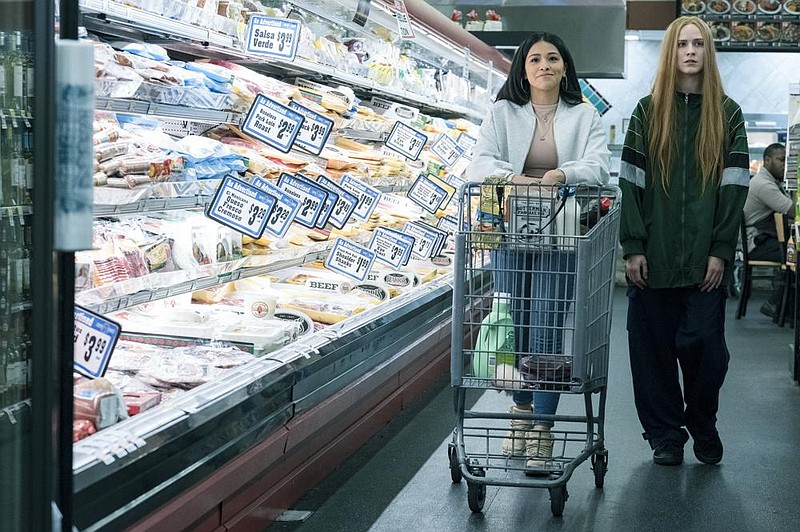 Melanie (Gina Rodriguez) and Old Dolio (Evan Rachel Wood) are unlikely best friends in performance artist Miranda July's third feature "Kajillionaire," a darkly whimsical tale about a family of grifters.
It's Richard Jenkins weekend.
One of my favorite character actors has prominent roles in two mainstream motion pictures opening today. There is also a nice profile of him in the Sept. 14 issue of The New Yorker in which writer Michael Schulman wondered if he was the "most famous person living in Rhode Island."
"I am not the most famous person in Rhode Island, by far," Jenkins answered, throwing out alternatives such as deceased former U.S. Sen. Claiborne Pell and pro golfers Billy Andrade and Brad Faxon. His wife, Sharon, suggested James Woods, who apparently owns real estate in the state. When Jenkins realized he very well could be the most famous Rhode Island resident, he allowed it was "a depressing thought."
It has been a dozen years since I interviewed Jenkins, but I remember it well -- one of the least surreal encounters I've ever had with show folk. We hung out in the lobby of the Four Seasons in Austin, Texas, for an hour and talked without any publicists or handlers nearby. No one interrupted him to ask for a photo or an autograph. We weren't friends, but I felt like we could have been.
Jenkins' gift is his unprepossessing-ness -- Schulman called it "the unassuming air of an assistant bank manager" but I thought he was more professorial, like a Unitarian Universalist minister. He has more than 80 films on his resume and two Oscar nominations, for "The Visitor" (for which he should have won) and "The Shape of Water." He won an Emmy for "Olive Kitteridge."
Now he's in "The Last Shift" and "Kajillionaire," both reviewed in these pages.
...
Also opening in theaters this week is "Fátima," Marco Pontecorvo's narrative feature -- I think I called it a "documentary" in my "On Film" video this week -- about Sister Lucia who, as a girl in 1917, along with two of her cousins, claimed to have seen visions of the Virgin Mary in a field in Fátima, Portugal.
Pontecorvo, son of filmmaker Gillo Pontecorvo ("The Battle of Algiers") treats Sister Lucia's visions as the miracle the Catholic Church declared it to be as it toggles between 1989 when the aged Lucia (Sônia Braga) answers questions from a doubting professor (Harvey Keitel) as she recalls the events of her childhood and 1917 scenes, when the young Lucia (Stephanie Gil) remains resolute despite pressure from her parents, clergy and an evil mayor played by Goran Visnjic.
...
A couple of interesting streaming possibilities present in "Sno Babies" and "Iceland Is Best," both of which I also discuss in the OnFilm video. Neither film is genuinely good, though "Sno Babies," which is about a couple of suburban middle-class high school girls who get addicted to heroin, nicely sketches a plausible relationship between the young women and -- aside from one unfortunate actor who I haven't the heart to call out -- features pretty solid performances. The problem is in the writing, particularly in the third act, where all sorts of predictably melodramatic plot points collide. Bad writing murders another movie.
"Iceland Is Best," on the other hand, is so twee, whimsical and gentle it makes "Eurovision: European Song Contest" feel like a documentary. And while I like Judd Nelson as well as the next guy -- probably better than the next guy -- he's shoehorned into this film in a very weird way. I suspect that getting him in the movie was the only reason a couple of interior scenes were filmed in Los Angeles. Anyway, beautiful cinematography, pretty people, stylized performances and bloody awful music mark this not entirely unlikable little movie.
...
What else? Writer and director Michael Cuenca's third feature, "I'll Be Around," is like a post-punk take on Robert Altman's "Nashville" for, well, "Xennials" is the term the publicity materials use. It follows a slew of characters during and after a music festival where they struggle with "nostalgia, relationships, and societal expectations."
What happened to the 30-something artist "who has no desire to conform to societal expectations yet struggles to balance a day job to pursue their art"? Some call it life. It's available through streaming platforms.
...
Finally, the best movie I've seen this week is "Saint Frances," which is written by and stars Kelly O'Sullivan, originally from North Little Rock. I'd heard some nice things about the film, but hadn't watched it until I was asked to do a Zoom interview with her and her partner, the film's director Alex Thompson, for the Arkansas Cinema's Society's "Filmland" next week.
It's a Top Five film for me this year.
Email:
pmartin@adgnewsroom.com
www.blooddirtangels.com
Sponsor Content