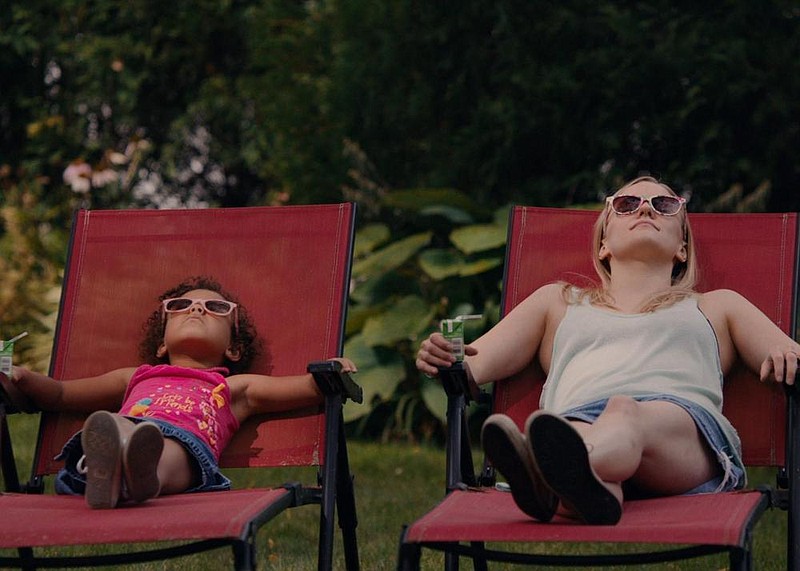 Frances (Ramona Edith-Williams) and Bridget (screenwriter Kelly O' Sullivan) find some quiet time together in the endearing and nonjudgmental "Saint Frances," which will be featured at the Arkansas Cinema Society's Filmland event next week.
If you want to catch potential Oscar-contending movies before they open or to see a series of short films made by local filmmakers who may be digging for cinema gold in the future, you should cruise into the drive-in next weekend.
The Arkansas Cinema Society's Filmland 2020 takes place at the MP Outdoor Cinema, from Thursday through Oct. 4. Fans who don't feel like driving can also catch locally shot features and shorts on Monday and Thursday at www.filmland.org.
The digital offerings include Larry Foley's documentary about Judge Isaac Parker, "Indians, Outlaws, Marshals and the Hangin' Judge," and Alex Thompson's "Saint Frances" about a nanny (North Little Rock native and screenwriter Kelly O'Sullivan) who juggles an unexpected pregnancy and caring for a child with feuding parents and a defiant attitude.
On the big screen, Filmland and MP are presenting Dawn Porter's documentary "The Way I See It," which follows the life of former Chief Official White House Photographer Pete Souza, who captured a series of memorable and unique moments with Presidents Ronald Reagan and Barack Obama. Producer Jayme Lemons hails from Fort Smith. Lemons and fellow producer Evan Hayes ("Free Solo") are both scheduled to take part in a Q&A.
Democrat-Gazette critic Piers Marchant says, "As Porter moves from talking heads to public oratories, Souza's remarkable photos -- brilliantly composed, and inspiringly intimate, having been given nearly unlimited access to the president -- play throughout, showing us a collection of images that capture the hope the president aroused and the agonizing rigors of the job he was elected to perform."
The drive-in will also be presenting the film adaptation of Kemp Powers' stage play "One Night in Miami," which depicts Malcolm X, Muhammad Ali, Jim Brown and Sam Cooke meeting to celebrate Ali's surprise victory over Sonny Liston in 1964. Fresh from the Venice and Toronto Film Festivals, the movie is the directorial debut for Regina King, who won an Oscar for "If Beale Street Could Talk" and picked up a mantle full of Emmys for "American Crime" (for which she has won two statuettes), and for "Seven Seconds" and "Watchmen."
"One Night in Miami" also comes with a Q&A with Powers and Eli Goree (who plays Ali), moderated by Arkansas-raised writer-director and Arkansas Cinema Society co-founder Jeff Nichols ("Loving," "Mud").
"It is something that Jeff Nichols has been targeting. It has been getting such buzz," says Janelle Cline from the society by phone. "It's a quality film, and it's just one of those where we saw the number of great quality films we should bring to Arkansas, this was obviously on the top of the list."
Powers is also the co-director and co-writer of the new Pixar animated film "Soul," which is scheduled to debut later this year. Fellow Pixar alumnus Andrew Adamson ("Finding Nemo") has been a previous Filmland participant.
"I'm a devout Pixar fan. I have a 5- and 2-year-old, so I'm probably the most informed on Pixar of any filmmaker right now," says Arkansas Cinema Society Executive Director and co-founder Kathryn Tucker.
The drive-in presentation enables fans to see quality films in a way that keeps the Grim Reaper at a distance.
"Filmland and the heart of its mission is about connecting filmmakers to one another and to Arkansans. It felt a shame not to have some in-person events, but I'm a person who's extremely cautious about covid-19. I want to protect myself and everyone else around me. The drive-in feels like a really safe way to be able to still engage with the community," Tucker says.
"We have been hearing from so many of our patrons that they miss the movies, and it's not the same thing from the comfort of your living room," adds Janelle Cline from the society. "It's a special experience when we highlight so many Q&As after the fact. That's one of our best features. Not only do you get to see the film, but you get to hear from the filmmakers."
"We got a few quotes of what it would cost to be a pop-up drive-in, and it was like, to be gentle about it, it was totally price-prohibitive. It was like our entire budget," Tucker says.
"We have to be securely screening these films, which are cutting edge films coming right out of the festivals. It was very kismet, but MP Productions opened around when we were trying to decide. We asked them if they could do a pop-up screening in downtown Little Rock. They just said, 'Let's do it at our drive-in.' Their technology is fabulous, and they tested every parking spot to make sure the sound is great."
The Arkansas Cinema Society is expected to announce more feature films in the coming days. Paying the $50 membership dues entitles members to:
• Free access to all digital events
• 50% off admission for each car at the drive-in screenings
• 50% off year-round events
Access to the ACS Talks video library.
For more information, go to ArkansasCinemaSociety.org.
Sponsor Content