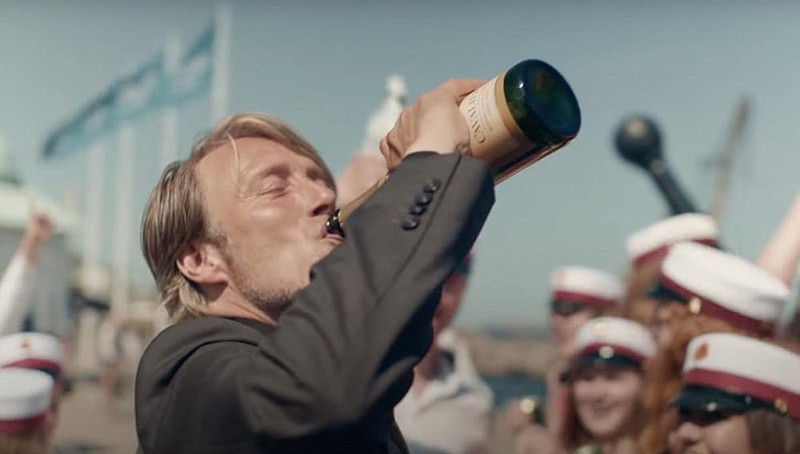 The usually sober Mads Mikkelsen drinks and ultimately dances his way through "Another Round," one of the highlights of this year's Toronto International Film Festival, which U.S. critics attended virtually.
Earlier this month, as my daughter and I were walking our Labradoodle around the neighborhood one morning, I took in a deep breath of the cooler air, surveyed the slightly lower angle of the sun and declared it officially "TIFF weather." For most of the last decade, in early September, I have packed my notebooks and pens and headed north for the Toronto International Film Festival, spending a fabulous, frantic week seeing old comrades, eating below-grade burritos, and taking in as many wondrous films as possible. It's exhausting, chaotic, and utterly exhilarating all at once.
Because 2020 has to be abysmal in every possible way, however, that sort of traditional, freewheeling festival experience has been made nearly impossible (Cannes and Berlin were both canceled this spring). The powers that be at TIFF determined to forge ahead, but were forced to go virtual this year, at least for non-Canadiens, which included cutting their normally robust feature film total down to about 50 (from 325 or so), staggering their press schedule, allowing 48-hour windows for critics to check out a selection.
Of course, as many of us have long since discovered, working from home has certain distinct advantages and disadvantages: It was nice, for example, to sleep in my own bed, eat my own food, and commute to my couch instead of the Scotiabank Theater each morning. Less nice was having to juggle everything else in my life, and the concerns of my various loved ones, while trying to watch 3-4 movies a day.
Still, a virtual festival certainly beat the alternative of canceling the event altogether, and, despite numerous distractions, I was able to see some truly wonderful pictures, including what will likely be the very best film of 2020. In a year where nearly everything is out of whack, let's keep our annual TIFF Postmortem intact as best we can, shall we? On to the superlatives!
Loneliest Feeling: Lack of "Arrrs": At TIFF public screenings in Toronto, each show begins with a disclaimer specifying the illegality of recording audio or visual parts of the film. Many years ago, some witty Torontonian began making loud pirate noises when the warning (which specifically condemns "piracy") came up; a tradition that has held up at least through the many years I've been going. Alas, saying "Arrr" by yourself in an empty living room, doesn't offer the same blaze of camaraderie.
Most Claustrophobic Film: "Shiva Baby." Emma Seligman's comedy, about a young woman, Danielle (Rachel Sennott), experiencing a nightmare of intermingling interests at a distant relative's traditional Jewish mourning conclave, is as harrowing as it is funny. One thing in particular the writer/director gets spot on is the way these sorts of gatherings can feel like a physical assault: Crammed into the Shiva house, full of cousins and aunts and uncles all kvetching about everyone else, and being physically grabbed and moved about by her mother, it's difficult enough to watch Danielle's discomfort, let alone actually endure it.
Best Cast (Non-Acting Division): "Limbo." In this case, I refer to the plaster variety used to help set broken bones. Poor, lonely Omar (Amir El-Masry), a Syrian musician stuck between leaving his native land and immigrating to Europe while being sheltered on a remote Scottish island, awaiting word on his application, has one on his hand, making it impossible for him to play his grandfather's oud, which he instead carries with him wherever he goes. Ben Sharrock's comedy uses Omar's affliction to demonstrate how isolating and incapacitating the process can be for people to make this kind of culture-shifting journey. By the time his hand is finally freed, Omar realizes he's still reluctant to play, having lost the feeling of connection to his home country.
Best Cast (Ensemble): "One Night in Miami." Regina King, a much-lauded actress for her work in films and TV (picking up an Oscar for 2019's "If Beale Street Could Talk," and just recently an Emmy for her superb work on the HBO series "Watchmen") can also direct the hell out of a picture, it turns out. For her feature debut, she adapts the play by Kemp Powers, which supposes a magical night in 1964 where real-life friends Cassius Clay (Eli Goree), Jim Brown (Aldis Hodge), Sam Cooke (Leslie Odom Jr.), and Malcolm X (Kingsley Ben-Adir) hang out together following Clay's fight against Sonny Liston that first earned him the heavyweight title. Under King's solid direction, each member of the ensemble is fantastic, none more so than Ben-Adir (see below). The actors don't ape their celebrity counterparts, they channel them, giving each man his own distinct presence that goes far beyond a simple impression.
Best Home Advantage: Eating Healthily. Midst the sorrow about missing critic friends and not being able to experience the films in the manner intended, one element definitely improved from this home-bound edition of the festival was my caloric levels. Eating things besides hastily shoveled pizza slices and boxes of peanut M&M's turns out to be a better way to go. It turns out early fall is also apple season!
Worst Home Disadvantage: Philadelphia Street Department's Timing. Day two of the festival turned out to be the occasion -- after more than eight months of total inactivity, mind you -- for the city to send out a crew to fix the gaping abyss of a pothole on the street directly in front of my apartment. Hour after hour, the boys pile-drove, dug, hammered, and poured asphalt -- all while keeping a loud running commentary of the sorry state of the Sixers and Eagles, and where they were intending to go for lunch -- as I sat in my living room, trying to find films that had subtitles. Not the best of times.
Best Dance Scene: "Another Round." The incomparable Mads Mikkelsen was a professional dancer before he turned to acting, so it seems almost bizarre that no director save Thomas Vinterberg has, er, tapped this particular skill set. But, there, at the end of this film, after Mads and some of his fellow male high school teachers have seen the positives and negatives of controlled binge drinking and are celebrating with a bunch of graduates, Mads is finally released from under the yoke of dramatics, unleashing a two-minute whirlwind of swoops, dives, jives and swings. The film is pretty great on its own, but watching the former Hannibal Lecter whoop it up onscreen was a special treat.
Most Disappointing Film: "Summer of 85." The decorated director François Ozon has a way of outfoxing your expectations, so the idea of his filming a nostalgic love story between two young men on the coast of Normandy, while also adding in elements of mystery and potential murder, sounded more than intriguing. Alas, the narrative, mired as it is between melodrama and nonsense, doesn't work in very basic ways, and much of the good work from its leads, Felix Lefebvre and Benjamin Voison, gets wasted in service to Ozon's gruel-thin plot symmetrics.
Best Documentary: "MLK/FBI." In a crowded field of solid docs (including "76 Days," and "The Way I See It"), Sam Pollard's examination of J. Edgar Hoover's obsession with the Civil Rights leader stands out largely because of the intriguing context it brings to what was thought to be a known situation. In Pollard's contention, based largely on the work of historian David Garrow, who's interviewed throughout, Hoover wasn't particularly concerned about Martin Luther King Jr. in the beginning of the minister's political activism, that is, until a known communist sympathizer, the civil rights lawyer Stanley Levison, became part of King's inner circle and was thought to be influencing the entire Civil Rights movement toward socialism. That's when Hoover's FBI began wiretapping King at every opportunity, with the intention of getting enough dirt to discredit him if he became too powerful. It's strong stuff.
Most Potent: "New Order." You know the sorts of stories that unfurl in a way that condemns absolutely everybody in the process? Michel Franco's astonishing political diatribe, about a rising group of protesters who go after the uber-wealthy, French Revolution-style, and the rich family who come under their siege, works as an Orwellian anti-fable, where the only morally decent characters suffer as much or more than the assorted villains, who are everywhere, and impossible to stop. Far from didactic, the film castigates virtually the whole of society, making a powerful case as to how we're all poised upon our utter destruction, as well as the planet we inhabit.
Best Actor: Kingsley Ben-Adir, "One Night in Miami." In a festival where several big-name stars did fine work -- Mark Wahlberg in "Good Joe Bell"; Idris Elba in "Concrete Cowboy" -- the largely unknown Ben-Adir, whose previous roles include TV shows such as "The OA," and "High Fidelity," is absolutely mesmerizing as Malcolm X in the aforementioned film from Regina King.
Best Actress: Frances McDormand, "Nomadland." On the surface, the fantastic McDormand, who's made a career out of playing stubbornly prickly freethinkers, would seem to be playing to type here, with her turn as the fearlessly obstinate heroine in Chloe Zhao's brilliant film (see below) about a woman who lives her life on the road, but nothing here is the least bit skin deep. McDormand's Fern may be fierce and uncompromising, but she's also warm as summer topsoil and soft in ways that belie her ferocious determination to live her life in the manner of her choosing. No one knows how this year's award season will even take place, but whatever gets decided, you can depend on a flurry of nominations for the indomitable Ms. McD.
Best Film: "Nomadland." It's not often I'm in agreement with TIFF's People's Choice Award -- the last few years have seen the execrable "Green Book" and "Three Billboards Outside Ebbing, Missouri" take home the coveted prize -- but in this case, everyone seems to be on the same page: Chloe Zhao's film, quietly profound, deeply moving, and indelibly real, has to be among the best films of the year. Filled with the best sort of visual poetics, and knock-out performances not just from pros McDormand and David Strathairn, but also real such nomads, essentially playing themselves, it's a portrait of this country, and the insatiable American drive for the road, that eschews political rift for basic humanity. It can't begin to heal the nation -- that's too much to put on any art form at this point -- but at least it points to other possibilities of community.
Sponsor Content