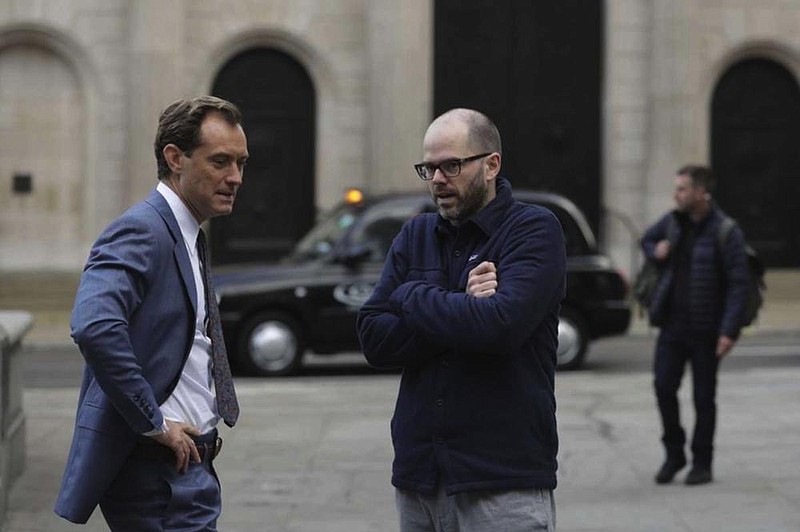 Jude Law talks with director Sean Durkin on the London set of "The Nest," Durkin's first film since the acclaimed "Martha Marcy May Marlene" came out in 2011.
Canadian writer-director ­Sean Durkin's first feature, "Martha Marcy May Marlene," was about a young woman (Elizabeth Olsen) living in a cult. Persisting in show business has required him to demonstrate a similar deep faith.
Despite winning Prix Regards Jeune at the 2011 Cannes Film Festival and helping to launch the careers of Olsen (who's now the Scarlet Witch in the Marvel Cinematic Universe), Sarah Paulson ("Ratched") and John Hawkes ("Winter's Bone"), it's taken nearly a decade for his follow-up movie, "The Nest," to hit the big screen in Little Rock.
Durkin has directed the British miniseries "Southcliffe" and has producing credits on the indie movies "The Rental," "Christine," "James White" and "Afterschool," but planning on the films one might make, even with awards and solid reviews, is foolish when so many factors are beyond a screenwriter or a director's control.
"There's so many factors," Durkin says by phone. "I mean, as a director, I've had a handful of things I spent years on that fell through for different reasons. Some way, way up the chain above me. It's hard to make movies. It takes a lot of resilience. There's a lot of ups and downs, but it's hard to get stuff made. Definitely.
"I give everything to the project I'm working on. I just care so deeply about them, so I just focus on the work and make what's in front of me. And I'm not trying to think too far beyond that."
Perhaps that attitude is why Durkin's latest has received a similarly enthusiastic reception. "The Nest" currently has an 89% approval rating on Rotten Tomatoes.
Waiting for a Break
The film's protagonist, Rory O'Hara (Jude Law) takes his American wife, Allison (Carrie Coon), and his family back to his native England hoping to get rich off a change in British banking laws that makes it easier for international firms to buy each other out. Thinking that he's about to strike gold, he has bought an enormous estate south of London before his expected windfall emerges.
He's made his bet before he has the cash to back it up.
Durkin sets "The Nest" in the 1980s when old rules were collapsing. You can tell the time period by the lack of cellphones and a soundtrack with music by the Psychedelic Furs. It's an era that he's almost too young to remember. He was born in 1981.
"The first thing that drew me was when I was a kid, I moved from England to New York. It was a little later than this. It was the early '90s, but I remembered that change being quite stark, and the two places were very different, unlike today where they're much more seamless," he recalls.
"And so, I had gone back to England to make a miniseries called 'Southcliffe' in 2012, and I think when I was there, I was probably reflecting on that transition, and I thought it would make a really interesting backdrop for a film to say, 'OK, so a family moves at this time between the two places. Uh, what does the move ring up? What issues does it bring up, and how do they navigate that?' I wanted to look into the financial world at the time, and the links between England and America and, one of the obvious ones is that in 1986 was the height of deregulation in England, and privatization, and everything was being sold off, and American companies could come and trade in the London market for the first time. And so, there was this really bridging of financial cultures, and the notion of the American Dream, and everything being for sale and bigger, better infiltrating the English culture for the first time."
It doesn't take Warren Buffet to decide that Rory's plan is problematic. Like Jay Gatsby from "The Great Gatsby," Rory sincerely believes he can buy his way into legitimacy, even if he lacks Gatsby's bootlegger money.
"It's funny. It's something that I think of as Canadian, but you pointed out Gatsby," he says. "It's a notion that's been around forever that money will take care of problems.
"In this specific scenario, you've got a character who's been sold this specific idea at some point along the line that the more money he has, the happier his family will be. It's just not true. I wanted to explore some of that self-realization and touch on where do those ideas come from."
In this case, both Rory and his wife, Allison, are carrying baggage from their youth.
"It was important for me with Allison and Rory, you get to see each of them with their parents and without explaining anything, you can get a glimpse into what their life might have been. It's important to see them as kids for a minute."
Keep Me Hanging On
It's a lot to ask viewers to follow a character who chases pound notes so fanatically, but Durkin is quick to credit his leading man for keeping the audience from sprinting away from their seats or switching the channel.
"What makes his performance so strong is his heart. Jude's got such a big heart, and he's so loving," says the director. "I think that's always underneath even when he's doing questionable things. I think that's the core of Rory, even when it's completely lost at times. Jude the actor, his holding onto that and bringing it into Rory. That's what keeps us hanging onto him."
The director also takes unusual approaches to keep viewers from getting too comfortable in the opulent settings that Rory and Allison occupy. "The Nest" has been described as a "haunted house" movie without the ghosts. The colors, lighting and camera angles hint at the discontent to come.
"The shot of the house (in New York) is this beautiful place, a cozy home, but there's something underneath the surface. I think that movies can elicit that feeling of anticipation like nothing else because I'm not as interested in plot. I'm interested in people and what they do and let their decisions lead the plot points. I like to pull the audience into the anticipation of what's next, even if it's not in your typical way of unfolding what's next, the way a plot-driven film might do," he says.
With two feature films (and two shorts) to his name, Durkin says comparisons are inevitable even if he didn't anticipate the connections critics like me made.
"With both films, they both examine family, what makes up a family and what the rules are, but also financial success and possessions and what is success. What is happiness?" he says.
Because his first film was instrumental for his leads and his current one features solid performances from British character actors who are unfamiliar on this side of the pond, it's tempting to think he has an eye for talent other filmmakers don't have.
It turns out his secret is top more mundane than his movies.
"I work really closely with my casting directors, Shaheen Baig in London and Susan Shopmaker in New York," he says. "They have so much care for their actors and so much of an idea for the details I'm interested in. I really lean on them."
Durkin also avoids a pat conclusion. It's doubtful that Rory will abandon materialism abruptly. He explains that letting the viewers in on ending the movie can keep them involved as well.
"I think so much of the ending is personal," he says. "You get something that's never been exposed before and how will they move forward. It's not a typical moment for a film. It's not a typical cinematic plot point, but I want to take something that's very specific, and if it's not something people have experienced personally, I believe it's something that people can relate to on a more micro level.
"It's just preference for me. I want the film to end, and I want you to feel like the characters are going to continue living. I want a film to feel like you stopped in on the life of the character, and it's going to continue after. I think it's the most honest portrayal of the human side of filmmaking is to leave you with the sense, and to leave the audience thinking about that family where they might be."
Sponsor Content