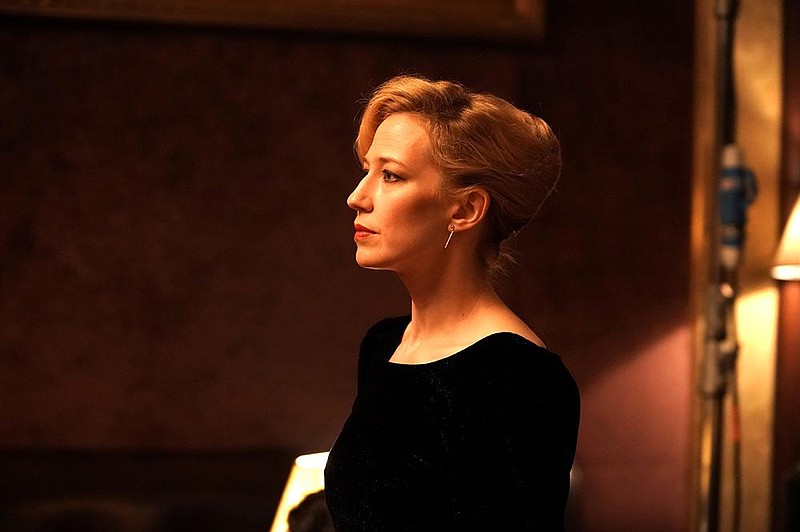 Allison O'Hara (Carrie Coon) moves with her husband and family to an estate in England where her husband's dreams take a twisted turn in "The Nest," which earned an estimated $62,000 from 301 locations last week.
Fewer U.S. fans turned out in North American cinemas last weekend, with no big new movies opening, further complicating theaters' efforts to recover from a five-month shutdown because of covid-19.
"Tenet" remained the No. 1 movie in U.S. and Canadian theaters, researcher Comscore Inc. said Sunday, even as ticket sales of $4.7 million slumped 26% from the previous week. The sci-fi thriller from Warner Bros. made the most sales from China, where it grossed $5.6 million last weekend.
Meanwhile, Disney's "Mulan" made only $6.5 million in its second weekend in mainland China, a big dropoff from its already lackluster $23.2 million opening weekend sales. The movie debuted in Hong Kong, where it has faced boycott, and Disney didn't provide a sales number for the opening there.
Los Angeles County health officials said last week it's possible business restrictions could ease next month if covid-19 trends continue to improve. New York Gov. Andrew Cuomo said his state would hold off on any plans to let theaters reopen until the virus is under control.
About 3,500, or 58%, of North America's 6,000 theaters are open, Comscore said.
The numbers add to an already difficult time for cinema chains. AMC Entertainment Holdings Inc., the largest theater operator in the world, borrowed heavily to survive being closed for much of 2020. Representatives of the National Association of Theatre Owners said at a Goldman Sachs Group Inc. conference Sept. 17 that the industry is still struggling to make people aware cinemas are open, partly because there are so few new releases.
"As more movies come out, more people are seeing the safety precautions that theaters are taking and they're telling their friends who haven't gone to the movies yet, and it builds from there," said Phil Contrino, the group's director of media and research. "And that's incredibly crucial at this stage."
Warner Bros. tried to buck the odds with the Sept. 3 theatrical release of "Tenet," a $200 million production. But its path to financial success looks tenuous. The movie has taken in a total of $250 million worldwide, a sum the studio splits with theater owners, and Warner Bros. has also spent tens of millions of dollars marketing the picture.
The next big U.S. movie release isn't scheduled until Nov. 6, when Disney's Marvel installment "Black Widow" is scheduled to premiere. It's not clear whether that will go forward, and theater operators have repeatedly said they're remaining flexible as the pandemic continues. The studio has experimented with new ways to get its films in front of audiences, releasing "Mulan" to Disney+ subscribers for $30. It didn't provide data on how many customers bought the movie.
In Japan, the opening of "Tenet" made $1.15 million from 38 IMAX screens, the biggest ever for Warner Bros. and a Christopher Nolan film, despite theater capacity is restricted at 50%. Those IMAX screens accounted for 27% of the film's gross in Japan.
Disney's "The New Mutants" added $1.6 million in its fourth weekend, Solstice Studios' "Unhinged" brought in $1.3 million and Columbia's rom-com "The Broken Hearts Gallery" picked up an additional $800,000 in its second frame.
And newcomers aren't faring any better. Cloudburst Entertainment's faith-based "Infidel," which stars Jim Caviezel, did the best with $1.5 million from about 1,700 theaters.
Last weekend also saw the limited release of two adult dramas, IFC's "The Nest," with Jude Law and Carrie Coon, and Bleecker Street's "The Secrets We Keep," with Noomi Rapace. Both played in fewer than 500 theaters across the country and neither got much more than $200 per location. "The Nest" earned an estimated $62,000 from 301 locations and "The Secrets We Keep" brought in just under $90,000 from 471 theaters.
"There's no question that this is an extraordinarily challenging marketplace, especially for North America," said Paul Dergarabedian, Comscore's senior media analyst. "This is a slow roll out. It's going to take some time.
"It's natural that we're going to see release date changes for many movies," Dergarabedian said. "It's a very unpredictable marketplace."
But the industry is also just getting its footing in this new covid-era marketplace. Comscore was able to release a domestic top 10 chart for the first time in six months.
"Just having a full top 10 chart is a real win for the industry," Dergarabedian said. "The question is how many big movies are coming out in the next few weeks and months and will the marketplace be able to sustain itself? That remains to be seen."
Sponsor Content