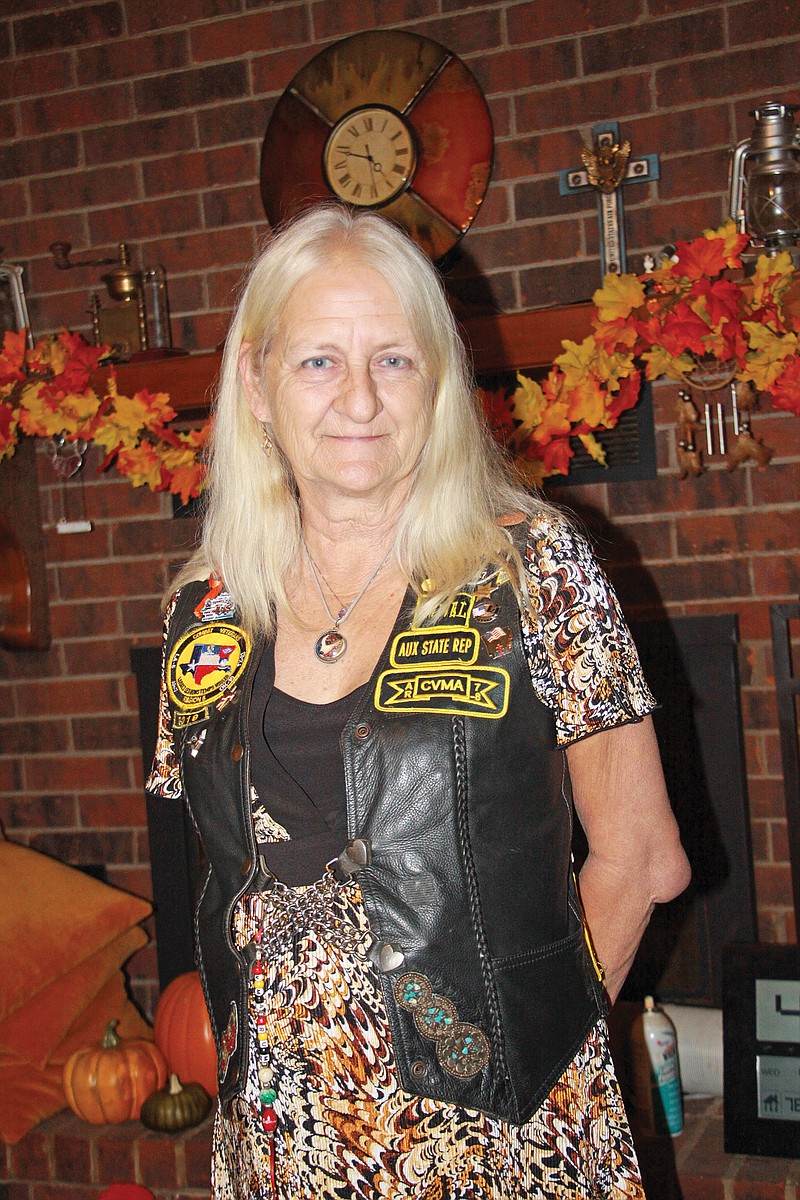 Beverly Waddell is in her second year as the state representative for the Arkansas Combat Veterans Motorcycle Association-Auxiliary. She has been a member for six years, joining the organization after she married Pete Waddell, a combat veteran. ( Sam Pierce)
JACKSONVILLE — When Beverly Waddell worked for the Arkansas Army National Guard, she saw the soldiers returning from overseas and couldn't help but want to do something to help them.
"There were some who were just kids, 19- or 20-year-olds, with eyes that told the whole story of what they had seen or gone through while they were deployed," Waddell said. "Others had physical injuries that could be fixed for the most part, but these guys with mental-health issues may or may not get over what happened over there."
Waddell is the state representative for the Arkansas Combat Veterans Motorcycle Association-Auxiliary. She has been a member for six years, joining the organization after she married a combat veteran.
She did not serve in the military herself, but she worked for the National Guard as an administrative assistant to several nurse case managers for four years. Waddell also worked for a medical unit in the United States Air Force as a scheduler for a little over two years.
"The mission of the Combat Vets Motorcycle Association-Auxiliary Unit is to create and foster a caring and appreciative environment for CVMA members," she said. "The focus of the CVMA-Auxiliary is to help CVMA accomplish its mission of Veterans Helping Veterans by offering support to related causes on national and state levels."
Waddell said the main goal of the auxiliary is to provide moral support and cultivate relationships.
"We want those who served and/or fought for this country to know they are truly respected and welcomed home," she said.
Waddell said she assists in conducting auxiliary functions and activities in a manner benefiting the members of the CVMA, as well as assisting with its functions and activities — either at the state or national level.
Bill Blecher is the full-member state representative for the Combat Veterans Motorcycle Association, and he said he served with Waddell's husband, Pete, in the military. Blecher said Pete was his first sergeant before they both retired from the Little Rock Air Force Base in Jacksonville.
"Beverly reports to me and also the Auxiliary Board of Directors," Blecher said. "She is basically my communication process for my auxiliary members, or spouses to the veterans.
"They help keep us in line. Our auxiliary is very important to our organization. They help come up with ideas — they are an integral part of our organization."
Blecher said Waddell is caring, kind and considerate.
"I convinced her to take the job," he said. "I needed an auxiliary state rep, and I rely on her to talk to my auxiliary members."
Blecher said he joined CVMA in 2014 because the sense of community among the other veterans really spoke to him and made him want to be a part of it.
"Not only do we help each other, but we also help other veterans in any number of ways," Blecher said. "We have had guys build wheelchair ramps, and we did some labor for a veteran in Greenbrier."
Waddell is currently serving her second year of her three-year term as the state representative, and some of her responsibilities include ensuring that state members carry out the bylaws of the CVMA National and CVMA Auxiliary. She said this position oversees the entire state auxiliary membership.
"Auxiliary state representatives can recommend that dismissal or disciplinary action be taken against auxiliary members in their respective state, and this recommendation must be submitted in writing to the Auxiliary Board of Directors and to the CVMA state representative," she said.
Waddell was raised in North Little Rock, graduating from North Little Rock's Ole Main High School in 1978. She moved to Jacksonville in 2006.
"I would like to see Arkansas have a real auxiliary chapter or two," she said. "At the moment, there are not any in the state.
"I have tried talking to all the members of the eight chapters in the state to see if they have had any interest in forming an auxiliary chapter, but so far, I haven't had much luck."
She said she had one chapter that was interested, and she sent its members the information they needed and the forms that needed to be filled out, but the process fizzled out.
"I will continue to try to get at least one chapter in the state during the rest of this tenure or maybe during the next term, if I can get the position back," she said.
She said that during her time serving as state rep, the CVMA-Auxiliary has added more members to the ranks, and Waddell said she "had the honor to actually patch in some of these ladies."
The CVMA Auxiliary administers a scholarship program for CVMA or CVMAA members and their spouses, children and grandchildren. Waddell said the auxiliary also helps full members with fundraising to buy Christmas presents for the veterans living in the Arkansas State Veterans Home at North Little Rock, as well as some of the patients at the Eugene J. Towbin VA Hospital Medical Center in North Little Rock. She said the auxiliary hasn't been able to have any events this year because of COVID-19, but hopefully, "we will soon be able to begin doing things again," she said.
Waddell said the CVMAA has also raised funds to give Christmas baskets to veterans who are living in nursing homes in Jacksonville.
"We have also done presents for children who would not otherwise have any," she said. "Most of our support has to go to the veterans or their families."
Sponsor Content