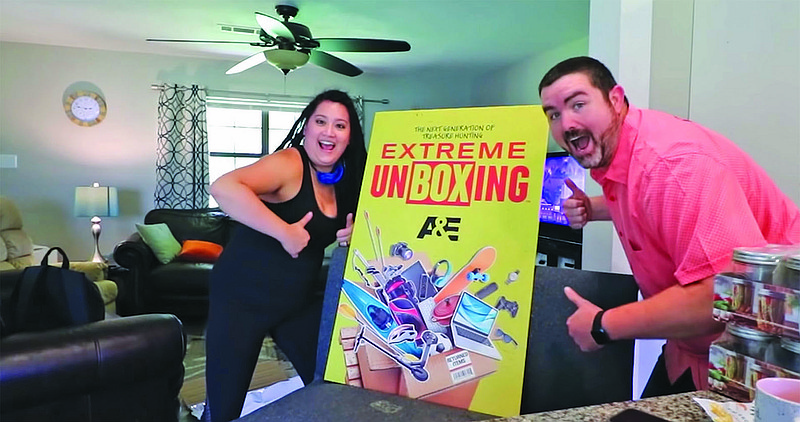 Jessica Rensing and her husband, Joe Rensing, show off a promotional poster for the A&E television show "Extreme Unboxing." The couple, who live in Conway, were featured on season 1 of the show.
CONWAY — When Joe and Jessica Rensing of Conway first started filming unboxing videos for their YouTube page, there was a huge learning curve.
"We did our first unboxing video two years ago in November," Jessica said. "We didn't even know it was a thing. We just started a live video and started talking — it was so bad. But everybody liked it, so we just started doing more of them."
She said they would shoot these videos as they unboxed 12 to 24 pallets of merchandise at a time, and slowly, their channel got more and more viewers. Joe and Jessica search for liquidation pallets from wholesale retailers or Big Box retailers such as Amazon and Target, bid on them and sell, or flip, the items individually at their flea-market booth or online through their Facebook page. Their YouTube channel, The Family Flips, has more than 24,000 subscribers.
"Those really terrible and badly edited videos is what got A&E's attention in the first place, which I find really funny," Jessica said.
The Rensings were featured on season 1 of A&E's "Extreme Unboxing," which premiered Aug. 4, airing two episodes a week for six weeks. According to the show's website, aetv.com/shows/extreme-unboxing, the series "follows a group of larger-than-life personalities from across the country as they buy liquidated merchandise for pennies on the dollar and unbox it with hopes for big profits."
The Rensings and five other pallet-flipping businesses from across the country were selected for the show, which aired its season finale Sept. 15. Joe said there were people from California, New York, St. Louis, Detroit and Ohio, and most of them had YouTube channels already, as well.
"The show features very unique and different groups of people," Jessica said. "We are very small and work out of our garage, but others had warehouses and storefronts — all these different walks of life, but we were all doing essentially the same thing and enjoying it."
Joe said it was an extensive process to be included on the show, beginning in January 2019. He said it wasn't until the end of July or the first week of August of that year that the Rensings knew they would be on the show.
He said filming began in late August or early September, and the crew finished up in November. Joe said the couple were asked to do some remote filming sessions in March.
"It was really exciting," Jessica said. "I got to do what I love and share it with everybody. We just did what we normally do, but we just slowed it down for television. … It was really nice to share what we do with other people."
She said having the cameras filming everything wasn't really that bad, considering that the couple were already used to shooting their own videos. She said the most nerve-wracking thing was all the crew members watching the couple unbox items in their garage.
"It was such a great experience. They were a great team, and it was really enjoyable. I really loved it," she said.
"I don't think it was really that challenging," Joe said. "We had already done unboxing videos for our YouTube channel, but we weren't used to two cameras, and we had to make sure we were staying open in a natural filming position so the cameras could catch everything.
"That was probably the most challenging thing, but they let us be ourselves, and we just recorded what we already do. It just took a lot longer to do it."
Because the show just ended, there has not been any word yet if there will be a season 2 or if the Rensings will be asked to come back on the show. Jessica said if they are asked to return, they will gladly do so.
The couple have been married for five years and have three children: Jolynn, 8; Lucy, 3; and Lucas, 2. Jessica said that with two children under 3 years old, their bedtime was usually at 8:30 p.m. The show didn't air until 9 p.m., so she and her husband had to spend time getting their kids to sleep before the show aired; thus the Rensings weren't able to have watch parties during the show.
"We did have some people watching the show, but they weren't with us at our house or anything," she said. "We did have a group chat, and I loved getting to share that with everyone."
Jessica said Jolynn was really excited about the YouTube channel more than anything.
"For her, it was more exciting than actually being on the television show," Jessica said. "Our two youngest don't know anything different, so they probably think everybody is on YouTube because they grew up with it."
Jessica said that working as pallet flippers provides a lifestyle that she and her husband were looking for.
"We wanted to stay home, live simply and home-school our children," she said. "We wanted to adopt a more natural lifestyle and not have anything too complicated, and we wanted to work from home and include our kids in this business.
"It wasn't a childhood dream of ours to be pallet flippers, but it was a dream of ours to be parents."
She said she didn't want a job that would require her to be away from her children 40 to 60 hours a week.
"I wanted to expose them to new things, take vacations in the middle of the week and eventually do some road schooling, where we take trips and see different cultures," Jessica said. "This is just a way for us to do that."
Sponsor Content