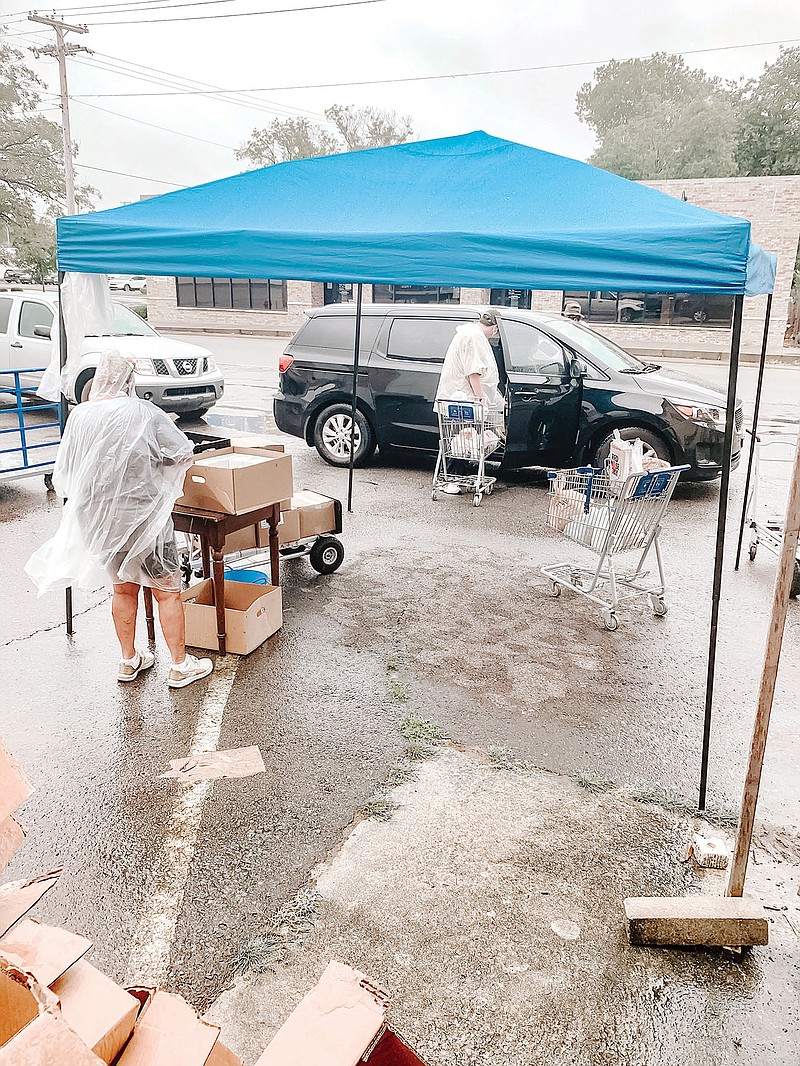 StoreHouse Pantry drive-thru volunteers serve a client during a rainy day. The Conway Ministry Center is hosting a Virtual Feed the Need campaign throughout October. The Virtual Feed the Need event will depend mostly on online monetary donations.
CONWAY — The state of Arkansas has one of the highest food insecurities in the nation, especially in seniors and children, according to the Arkansas Hunger Alliance.
"And there are a percentage of grandparents legally responsible for their grandchildren, so we have two of the most vulnerable groups living in the same house, and that was an existing need before COVID-19," said Sarah Henry, director of programs and outreach for the Conway Ministry Center.
In eight months, the Conway Ministry Center has distributed more than 110,000 pounds of food, or about 15,000 pounds a month. In August, 503 clients representing more than 1,400 individuals were served, and less than 20 percent were employed. Henry said that of those served, nearly 8 percent were new clients.
The Conway Ministry Center, at 701 Polk St., is hosting a Virtual Feed the Need campaign throughout October. The Virtual Feed the Need event will depend mostly on online monetary donations. Henry said anyone can contribute through the donation link, which can be shared on all social-media platforms, including Facebook. The link will go live on Thursday.
There will also be bins in stores from Oct. 4-11 to collect nonperishable food items for the StoreHouse Pantry. Henry said she hopes people will share through their personal social-media pages to help raise the needed money.
"We are actively and specifically praying that our virtual vision to mobilize our online community is supported by the church, volunteers and people all over Faulkner County," Henry said. "Hopefully, we will bring in a bounty of needed resources for our hungry neighbors this October."
Henry said the StoreHouse Pantry was unable to gather people in May for its annual Feed the Need event because of COVID-19. She said the event usually brings in thousands of pounds of needed food and several types of hygiene items. In 2019, the Conway Ministry Center collected more than 24,000 pounds of food at the one-day event.
"Although the church and our community have been so very faithful to give, we definitely felt the loss of that event this summer," Henry said. "Yet by God's great provision, the StoreHouse continues to meet needs each week, only taking a needed pause to reset in July."
Henry said that empowering an online community with information, links and graphics to promote the event and for volunteers to conduct their own virtual food drives helps the Conway Ministry Center, specifically the StoreHouse Pantry.
"Even $5 or $10 collected in an online campaign, when shared and multiplied across many Facebook accounts, can make a big impact to purchase needed food and hygiene items from the Arkansas Food Bank and local stores," Henry said.
She said the winter months are going to be tough for so many because of COVID-19 and the economic effect it has had, and "local families are struggling." CMC has switched to a drive-thru pantry for people in need, and staff members wear masks and conduct socially safe interviews with each person as they either come through the drive-thru or up to the window.
"We ask them a series of questions, including, 'How many people live in your home? Are you a veteran?' Things of that nature," Henry said. "There has been a rise in unemployment, with many being laid off or having their hours cut due to COVID-19.
"Everyone is feeling the effects differently here in September than they did in March."
She said that with school starting, a lot of parents or guardians had to buy supplies for their kids, as well as put food on the table, and "most people cut their grocery budget and don't spend what they normally do at the store."
The drive-thru pantry is available from 9:30-11:30 a.m. every Thursday. She said that in approximately two hours, CMC typically serves about 100 cars. There are no requirements for the drive-thru pantry, but the center will connect guests with other resources, as well as including food pantries around Arkansas that are specifically for veterans.
"If you are a veteran or homeless, we can point you in the direction to find further resources," Henry said. "We have a group of volunteers who come early in the week and bag up the needed essentials, including a hygiene bag, toilet paper and fresh bread. We have very generous local businesses that donate bread and day-old doughnuts or sandwiches and breakfast items."
Henry said that without the generosity of other churches and community partners, the center could not accomplish what it does.
"We are so grateful for our community and church and the support we have here in Conway and in Faulkner County," Henry said. "The Conway Ministry Center brings everyone together to serve the needs of our community."
For more information on the Conway Ministry Center, call (501) 358-6098 or visit www.conwayministercenter.org.
Sponsor Content