Christian Yelich and the Milwaukee Brewers got off to a ragged start this year. They never got above .500. And they dropped their last game to finish with a losing record.
Guess what? They're going to the playoffs.
"Weird. I guess that's the only way to describe it. It's fitting for 2020," Yelich said Sunday.
A pandemic-altered, 60-game regular season that many believed would never get completed and saw games postponed because of virus outbreaks, racial injustice protests and a hurricane went into the final day without a single playoff matchup set.
Then, in a flurry and fury, the entire, expanded 16-team postseason field was full.
Not a bad way to start, either: Gerrit Cole vs. Shane Bieber in a mega-watt duel as the New York Yankees face the Cleveland Indians in the best-of-three wild-card round Tuesday.
On Wednesday, the NL gets going. That's when the Brewers, at 29-31, open their series against Los Angeles ace Walker Buehler at Dodger Stadium.
In a win-and-you're-in game, St. Louis clinched by beating Milwaukee 5-2. But the Brewers also made it when San Francisco lost 5-4 to San Diego for the last wild-card spot.
Yelich, the former MVP who hit .205 this year after winning the last two NL batting titles, and the Brewers happily posed for a team picture in their playoff-clinch T-shirts on the Busch Stadium field.
The Astros and first-year Manager Dusty Baker also are in at 29-31. Houston got its spot by finishing second in the AL West, drawing an automatic berth.
The only other team in major league history to reach the playoffs with a losing record was the 1981 Kansas City Royals -- at 50-53 overall, they made it by winning the second half in a strike-split season.
"It's a celebration. We're in. We're in the playoffs. That's how you see it," Brewers Manager Craig Counsell said. "There's no reason to apologize for getting into the playoffs."
"The record's kind of irrelevant in my opinion," he said.
The other AL pairings: Top-seeded Tampa Bay-No. 8 Toronto, No. 2 Oakland-No. 7 Chicago White Sox and No. 3 Minnesota-No. 6 Houston, with all openers Tuesday.
In the NL, it's No. 1 Dodgers-No. 8 Brewers, No. 2 Atlanta-No. 7 Cincinnati, No. 3 Chicago Cubs-No. 6 Miami and No. 4 San Diego-No. 5 St. Louis on Wednesday.
The biggest losers Sunday were Philadelphia and the Giants. As it turned out, either team would've gotten in with a win.
"It's tough sitting here and not thinking [about the playoffs]," Phillies slugger Bryce Harper said after a 5-0 loss at Tampa Bay. "We had opportunities to win games and we just didn't get it done."
October on deck means the end of seven-inning games and no more automatic runners at second base to begin the 10th, but other new rules implemented this season apply: designated hitters in the National League and relievers must face three batters or end the inning.
Nothing else kooky in this 16-team tournament, though. Like, no penalty at-bats to decide extra long games.
"It's going to be wild, everything about it," Rays outfielder Kevin Kiermaier said as the playoffs approached.
"Anything can happen, we all know that, and that's why I think it's going to be must-see TV throughout both leagues. It is. I think there's going to be a lot of surprises, American League, National League, just with the three-game format for the first round," he said.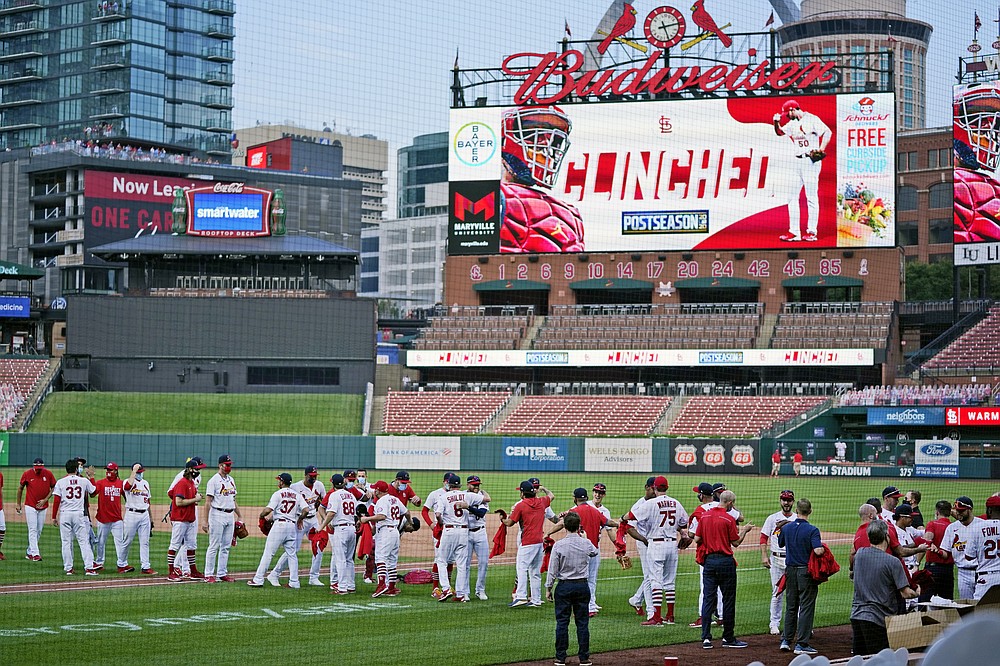 Members of the St. Louis Cardinals celebrate after defeating the Milwaukee Brewers in a baseball game to earn a playoff birth Sunday, Sept. 27, 2020, in St. Louis. (AP Photo/Jeff Roberson)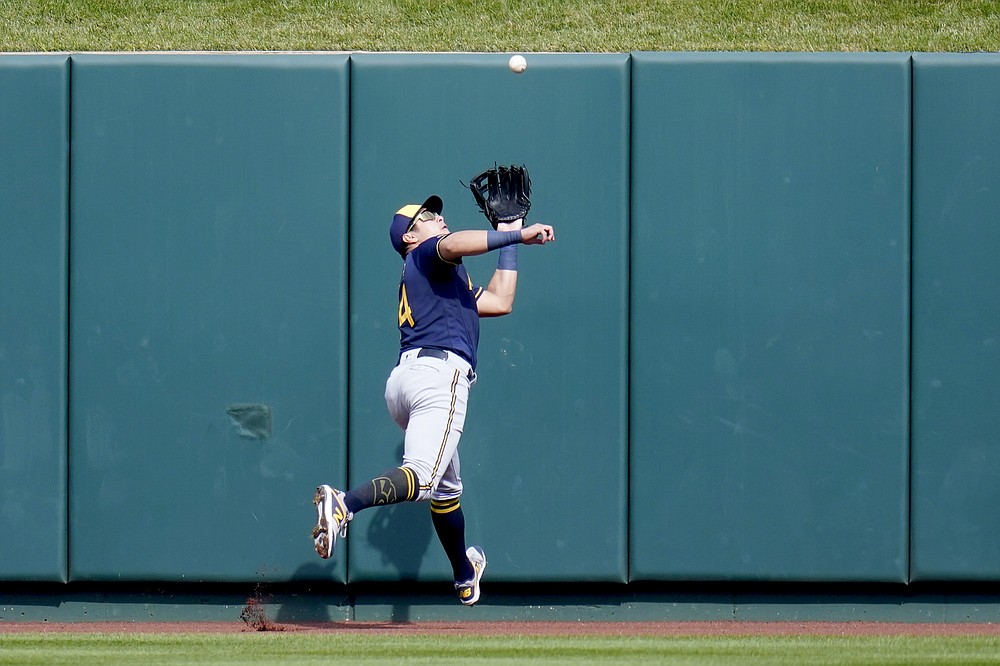 Milwaukee Brewers center fielder Avisail Garcia runs to catch a fly ball by St. Louis Cardinals' Paul DeJong during the second inning of a baseball game Sunday, Sept. 27, 2020, in St. Louis. (AP Photo/Jeff Roberson)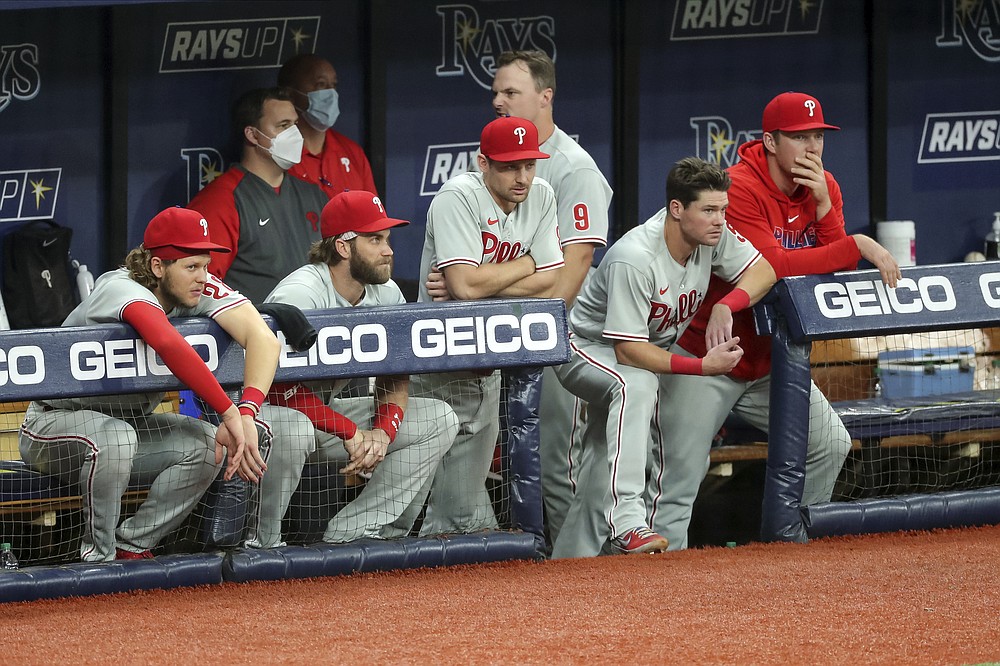 Member of the Philadelphia Phillies react at the end of a loss to the Tampa Bay Rays in a baseball game Sunday, Sept. 27, 2020, in St. Petersburg, Fla. (AP Photo/Mike Carlson)