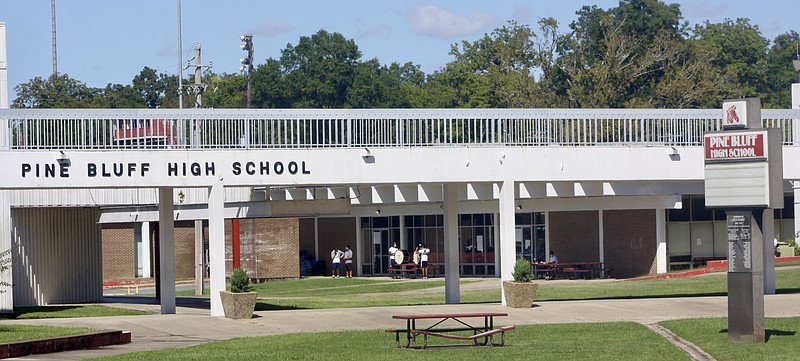 A community meeting will be held today at 6 p.m. at the Pine Bluff Convention Center to discuss the findings of the consolidation report of the Pine Bluff School Districts. (Eplunus Colvin/Pine Bluff Commercial)
Editor's note: This is part one of a two-part series on an education study regarding the three school districts in Pine Bluff.
In front of a socially distanced crowd, research consultant twins Tina Fletcher and Trina Fletcher presented their findings regarding the current and projected state of the Pine Bluff, Dollarway and Watson Chapel school districts.
But instead of making a recommendation as to whether those districts should be consolidated, the Fletchers said they would leave that up to the public to decide once the community has had the opportunity to digest their findings.
Hired by Go Forward Pine Bluff, the Fletchers have presented more than 100 programs, presentations and projects regarding K-12 and higher education programs. As their presentation began, they started by singling out the academic achievements at the districts, looking specifically at the ACT Aspires Scores for grades K-12.
"I want to make sure what stands out ... is that [over time] all three districts have less than 25% of their students' K-12 meeting or exceeding the state standards," said Tina Fletcher. "Most have decreased."
According to the data presented, during the 2019-20 school year, each of the three districts had less than 25% of their students, K-12, meet or exceed expectations on the annual ACT Aspire exam in literacy, math or science.
Watson Chapel's composite score average was slightly higher than the other two districts when it came to ACT, but according to the data, all three have seen a steady decline in ACT Composite scores since 2014 with a small increase by all three districts during the 2018-19 school year.
When it came to graduation rates, the three districts saw a fluctuation since 2014, and all fell below the state average during 2019-18. The state's average is roughly between 85% and 90%.
A decline in enrollment was also a big issue as Tina Fletcher pointed out that Pine Bluff's population has decreased by 15,000 since 2000 with a steady decline every year thereafter.
Enrollment in districts matches the city's decline with its population loss of over 22%. The Pine Bluff district saw the largest decrease, nearly 27%, in students since the 2015-16 school year.
According to a chart from 2015-2020, Dollarway's enrollment decreased 23.6%, Pine Bluff's decreased 26.9%, Watson Chapel's decreased 14.5% and White Hall's increased 6.7%
"We included White Hall so you could have a countywide glimpse of what's going on, and we were told by the committee members that the assumption is maybe the students were leaving the districts in the city and going to White Hall," said Tina Fletcher.
Tina Fletcher said through her research, students are choosing to go to private schools, charter schools or are attending schools outside Jefferson County.
According to state data, 61% enrolled in another school out of state and 12% dropped out or withdrew. "Other" was listed as a reason for 18% of the students who dropped out or withdrew, while suspensions, expulsion and incarceration made up only 3% of all reasons.
As of the 2019-20 school year, the White Hall district has the highest student enrollment in Jefferson County with about 100 more students.
"Parent engagement is something we have researched and deemed one of the top tools for improving student outcomes," said Tina Fletcher. "The more engaged community members are, the better a student's performance."
Another big focus was on teacher personnel and compensation.
"When you're looking inside of the school, teacher quality is the number one indicator of student outcome," Fletcher said. "We looked at the teacher personnel status in the city and noticed there was a sharp decline in the number of teachers, which makes sense because when you have a low enrollment you are going to have a lower number of teachers."
According to the data presented, Pine Bluff has experienced a decrease in its teacher workforce by over 22% since the 2013-14 school year. The Pine Bluff district has seen the largest decrease in the number of teachers, a 32% decline since the 2013-14 school year, which aligns with the enrollment decline. The starting salary for teachers in Jefferson County is at least $3,000 above the state's recommended minimum of $32,800.
Tina Fletcher said the certified teachers are leaving, and the districts are having to use waivers to use noncertified teachers, which have increased in the school districts. The percentage of inexperienced teachers has increased in both the Dollarway and Pine Bluff districts and exceeds the state average. For three years in a row, all three districts have seen a third of their teachers turnover, and that number is 10% higher than the state average for the three districts.
"At the current rate, all three districts are turning over an entire teaching staff all three years," said Tina Fletcher. "The thing that stood out the most is the Dollarway and Pine Bluff School District's percentage exceeds the state average and Watson Chapel is right there with the state's average."
The Pine Bluff district lost 50% of its teachers in the 2018 school year.
"You have a situation where you have a higher than average inexperienced teachers and then you also have a situation where a third of each school district's teacher are turning over each year," said Tina.
According to the data presented, all three districts within the city have seen an increase in the number of teachers for whom waivers are used.
"Waivers are exceptions given by the state to school districts who don't have enough certified applicants to teach in their school so they will apply to the state to receive a waiver to allow teachers who are not certified who may be working on their certification to teach," explained Tina Fletcher, who is a former educator.
Despite the number of teachers declining overall since 2016-17, the total number of teachers utilizing waivers or license exceptions throughout the city increased by 169.8%.
The Dollarway district has nearly doubled its number of teachers using waivers, while both the Pine Bluff and Watson Chapel districts have both more than tripled the number of teachers using waivers.
Out of 93 teachers at Dollarway, 61% were using waivers
At Watson Chapel, which has 134 teachers, 13% are using waivers.
And at Pine Bluff, which has 213 teachers, 35% are using waivers.
White Hall, having the same number of teachers as Pine Bluff, only had 6% using waivers.
"After doing a lot of extensive research, looking at teachers at every single school within the districts, we did learn that a child in the city of Pine Bluff could start kindergarten and go all the way through the system and graduate the 12th grade never having a certified teacher," said Tina Fletcher. "That's an important note that we wanted to capitalize on today."
Sponsor Content