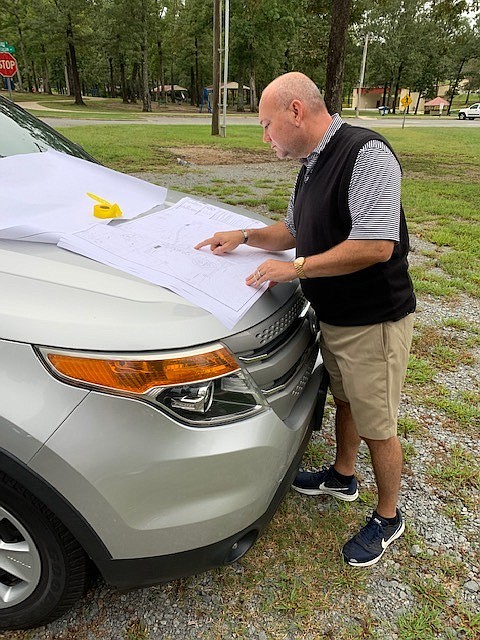 Jeff May, assistant to the White Hall mayor, reviews a map of the area where a dog park will be located inside White Hall City Park. Special to The Commercial/Deborah Horn
With the start of summer 2021, the White Hall canine population may have a reason to celebrate dogapalooza-style with a place of their own where they can run free.
"There's been a huge outcry for a dog park," said Jeff May, White Hall assistant to the mayor.
May often works on special projects and is overseeing the construction of the off-leash dog park that will be on the north corner of White Hall City Park and just right of the skate park.
Mayor Noel Foster said the dog park has been a priority for the City Council "and they have asked that we get this project underway."
Most people don't realize but there is more to the design than fences, said Foster, who added: "The city must be sure that the dog park is safe for the dogs and owners."
McClelland Consulting Engineers Inc. of Little Rock completed the design plans, which include elevations relating to proper drainage along with the appropriate fences and entries and exits for safety.
The city plans to work on the project itself, with the Public Work Department completing as much of it as possible.
Foster said officials are currently working on cost estimates.
Before tackling the project, May said he visited several parks in Central Arkansas and followed the construction of the one that's next to MacArthur Park in downtown Little Rock off East Ninth Street.
"I looked at the different features," before settling on ones like fire hydrants, covered tunnels and planks of different levels.
Like the one at MacArthur Park, plans call for separate areas for small and large dogs on the approximately quarter-acre mostly shaded lot.
Humans need a little love so, May said, the city plans to build two pavilions so visitors can sit and watch their canine friends play.
There are benches planned as well.
Most importantly, May said, "I want a dog park that the public enjoys and wants to visit."
Sponsor Content