When I would bring up Alice Walker in discussions about literature in college, other students would counter with, "Well, I've read Toni Morrison." Or they would mention reading Walker's short story, "Everyday Use," in an introduction to American Literature Class. In regard to "The Color Purple," the answer usually was, "Well, I've seen the movie." Despite Walker winning a Pulitzer Prize for the 1982 novel, it's often overshadowed by the film directed by Steven Spielberg and the musical.
However, the story's influence endures. The musical based on the book and driven partly by Oprah Winfrey, who played Sophia in the movie, did so well on Broadway that a theatrical version is set to come out in 2023. Yet, even in 2021, the novel is still relevant. In an op-ed written by rapper Megan Thee Stallion in October of last year she argues that the phrase "protect Black women" should not be controversial and talks about how not only did people attempt to blame her after she was shot by a man for walking away from him, that Black women are still fighting to not be diminished for owning their power by having pride in their appearance.
Walker drew inspiration for the novel from her own grandfather and his wife -- whom he chased through a field and tried to shoot when he was drunk. She lived because he missed and was given a second life as inspiration for the novel's main character, Celie. Her grandfather, whom Walker adored, was the basis for Celie's abusive husband, Albert.
The story is told through Celie as her letters to God and later by her sister, Nettie, as letters to Celie. Walker has said that she wrote Celie as a writer and that what the reader should see in her is the development of an artist; however, this is watered down in the movie. Celie, as an artist, tells her story and that of her husband whom she calls Mister, even though his name is Albert; her lover Shug Avery (who's also her husband's mistress); her stepson Harpo and his wife Sophia. She also shares the stories about other characters and the trials that they all face as Black people in rural 1930s Georgia. The book spans 40 years and shows the ways in which Celie was victimized as a child, oppressed by her husband and his children, but is ultimately saved by love and faith in herself.
One of the main things that helps Celie to heal herself is that she begins to view God differently after a conversation with with Shug, in which Walker's viewpoint of organized religion and spirituality comes through. After aligning herself within nature rather than the white, patriarchal religion passed down to her, she begins to find the strength to fight for herself.
Walker wrote about the making of the movie and her own personal struggles in the midst of the criticism that she faced in "The Same River Twice: Honoring the Difficult." In the book, she said that she wanted to write a book that her mother could read: "... It was deliberately written in a way that would not intimidate her, and other readers like her, with only a grade school education and a lifetime of reading the Bible, newspapers and magazine articles."
Despite the simplified language, Celie takes care of a farm, raises children and animals and lives off the land. She deftly tells the stories of others' struggles as well as her own. She loses herself upon realizing that her husband has hidden her sister's letters from her. After hitting a breaking point where she is mad at God for also keeping her sister from her, she comes back to God by learning how to break away from institutionalized religion -- which is a lofty concept.
In the conversation about her anger at God, Celie is surprised when Shug refers to God as "it" rather than he and says that she never found God in church, "just a bunch of people hoping for him to show." She goes on to say: "When I thought God was white, and a man, I lost interest. You mad 'cause he don't seem to listen to your prayers. Humph! Do the mayor listen to anything colored say?"
Shugs tells Celie, "God is inside you and inside everybody else. You come into the world with God. But only them that search for it inside find it." Shug goes on to explain that she found her interconnectedness first by looking at trees and then all of nature.
In an interview from 2012 on CSPAN's Book TV, Walker said: "For me, my spirituality is rooted in nature. It's not about organized religion at all, and I wanted to share that with people in this book. It's a theological book, 'The Color Purple,' it's about who is God. And for me, it could never be the traditional Christian God, it just doesn't work even though I was raised as a Methodist in a Christian church. So I wanted to affirm for people that we come here with our intuition about what is divine intact. We have that, all of us -- well, most of us. We should have more faith in it -- that the beauty of the earth is divine. We live in heaven already. So that was partly what I was exploring in 'The Color Purple.'"
It is through this connection with everything and everyone that Albert starts to take care if his own farm and realizes the pain and suffering that he has caused others. He and Celie reconcile, another important part of the book that is glossed over in the movie. Later Nettie returns to Celie, and the novel has a happy ending in which Celie thanks God for bringing her sister back to her.
Walker said that she chose the title "The Color Purple" because she noticed that purple occurs frequently in nature once you start looking for it. By the same token, abuse also occurs frequently -- you notice it when you start to look for it.
Because of the violence endured by the women of "The Color Purple," Walker was slammed for her depiction of Black men in the novel. When the movie came out there were protests, and one critic said it was as harmful as "Birth of a Nation." She wrote in "The Same River Twice: "It was a rare critic who showed any compassion for, or even noted, the suffering of women and children explored in the book, while I was called a liar for showing that black men sometimes perpetuate domestic violence."
Unfortunately Walker has lost her mind in recent years, and there's no defending her later work which is anti-Semitic and supports outrageous conspiracies. Still, it would be a shame to ignore importance of "The Color Purple," "Possessing the Secret of Joy" (the "sequel" to "The Color Purple"), her short story collections and the racial and political activism of her early career. Perhaps she's lost her own connection to the divine somehow. Like critic Roxane Gay has said, we should keep her early work and condemn her later work. It's my hope that, like Albert, Walker sees the error of her ways, reconnects to the divine nature in herself and comes back to us.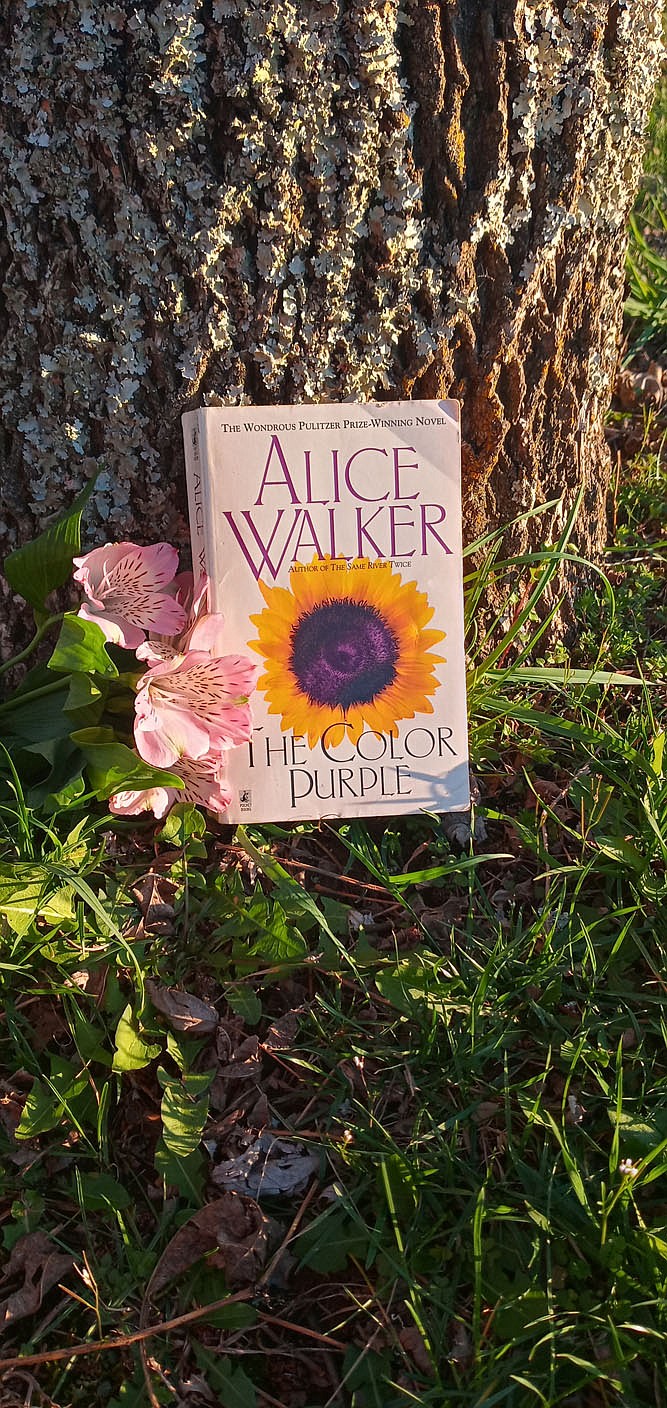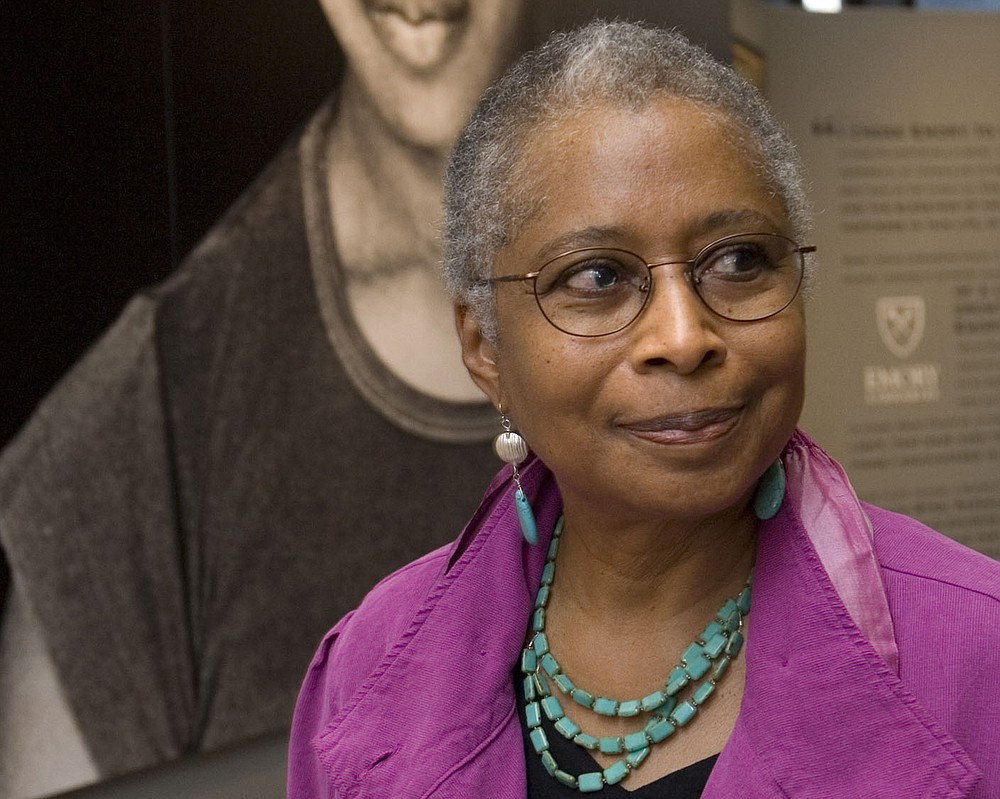 FILE - In this April 23, 2009 file photo, Alice Walker stands in front of a picture of herself from 1974 as she tours her archives at Emory University, in Atlanta. Walker and The New York Times are drawing fire after she praised an author who critics say is a conspiracy theorist who expresses anti-Semitism. In an interview in Sunday's "By The Book" column, the author of "The Color Purple" said David Icke's 1995 book, "And The Truth Shall Set You Free," is on her nightstand. A New York Times spokesperson says the column is not a list of recommendations from its editors. (AP Photo/John Amis, File)
More News
Read More
'The Color Purple'
By Alice Walker
Published in 1982 by Harcourt Brace Jovanovich
Winner of the 1983 Pulitzer Prize for Fiction