WASHINGTON -- Former Secretary of State George P. Shultz, a titan of American academia, business and diplomacy who spent most of the 1980s trying to improve Cold War relations with the Soviet Union and forging a course for peace in the Middle East, has died. He was 100.
Shultz died Saturday at his home on the campus of Stanford University, where he was a distinguished fellow at the Hoover Institution, a think tank, and professor emeritus at Stanford's Graduate School of Business.
The Hoover Institution announced Shultz's death on Sunday. A cause of death was not provided.
A lifelong Republican, Shultz held three major Cabinet positions in GOP administrations. He was labor secretary, treasury secretary and director of the Office of Management and Budget under President Richard M. Nixon before spending more than six years as President Ronald Reagan's secretary of state.
Shultz was the second-longest serving secretary of state since World War II and had been the oldest surviving former Cabinet member of any administration, and he was widely respected by his peers from both political parties.
After the October 1983 bombing of the Marine barracks in Beirut that killed 241 soldiers, Shultz worked tirelessly to end Lebanon's brutal civil war. He spent countless hours of shuttle diplomacy between Mideast capitals trying to secure the withdrawal of Israeli forces there.
[Video not showing up above? Click here to watch » https://www.youtube.com/watch?v=xs_k73P1Vuw]
Although Shultz fell short of his goal to put the Palestine Liberation Organization and Israel on a course to a peace agreement, he shaped the path for future administrations' Mideast efforts by legitimizing the Palestinians as a people with valid aspirations and a stake in determining their future.
Shultz negotiated the first-ever treaty to reduce the size of the Soviet Union's ground-based nuclear arsenals despite fierce objections from Soviet leader Mikhail Gorbachev to Reagan's "Strategic Defense Initiative," or Star Wars.
Former Secretary of State Henry A. Kissinger, reflecting in his memoirs, paid Shultz a compliment in his diary: "If I could choose one American to whom I would entrust the nation's fate in a crisis, it would be George Shultz."
George Pratt Shultz was born Dec. 13, 1920, in New York City and raised in Englewood, New Jersey. He studied economics and public and international affairs at Princeton University, graduating in 1942. After Princeton, Shultz joined the Marine Corps and rose to the rank of captain as an artillery officer during World War II.
He earned a Ph.D. in economics at MIT in 1949 and taught at MIT and at the University of Chicago, where he was dean of the business school. His administration experience included a stint as a senior staff economist with President Dwight D. Eisenhower's Council of Economic Advisers and as Nixon's budget office director.
Shultz was president of the construction and engineering company Bechtel Group from 1975-1982 and taught part-time at Stanford University before joining the Reagan administration in 1982, replacing Alexander Haig, who resigned after frequent clashes with other members of the administration.
After Reagan left office, Shultz returned to Bechtel. He retired from Bechtel's board in 2006 and returned to Stanford and the Hoover Institution.
[Gallery not loading above? Click here for more photos » arkansasonline.com/28shultz/]
Shultz was married to Helena "Obie" O'Brien, an Army nurse he met in the Pacific in World War II, and they had five children. After her death, in 1995, he married Charlotte Maillard, San Francisco's protocol chief, in 1997.
Survivors include his wife, five children, 11 grandchildren and nine great-grandchildren. Funeral arrangements were not immediately announced.
Information for this article was contributed by Barry Schweid of The Associated Press.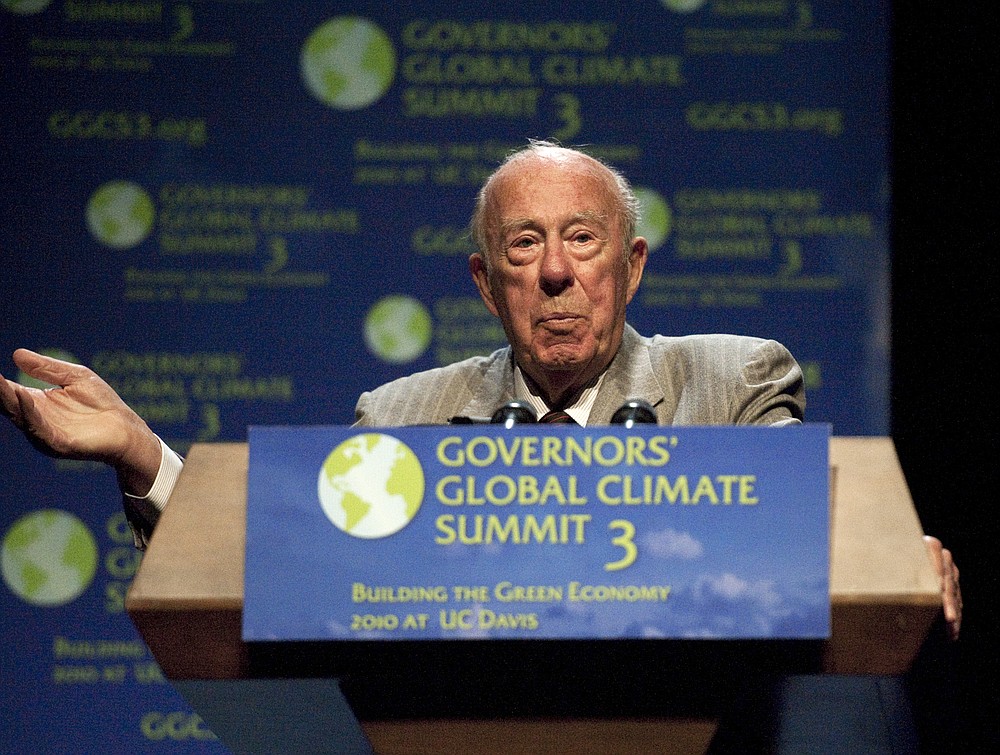 FILE - In this Nov. 15, 2010 file photo, former Secretary of State George Shultz speaks at University of California Davis during the Governors' Global Climate Summit 3: Building the Green Economy, in Sacramento, Calif. Shultz, former President Ronald Reagan's longtime secretary of state, who spent most of the 1980s trying to improve relations with the Soviet Union and forging a course for peace in the Middle East, died Saturday, Feb. 6, 2021. He was 100. (Hector Amezcua/The Sacramento Bee via AP, File)
FILE - In this Aug. 14, 2008 file photo, former Secretary of State, George Shultz, left, and California Gov. Arnold Schwarzenegger, listen during the opening of the 26th Border Governors Conference, in Los Angeles. Shultz, former President Ronald Reagan's longtime secretary of state, who spent most of the 1980s trying to improve relations with the Soviet Union and forging a course for peace in the Middle East, died Saturday, Feb. 6, 2021. He was 100. (AP Photo/Nick Ut, File)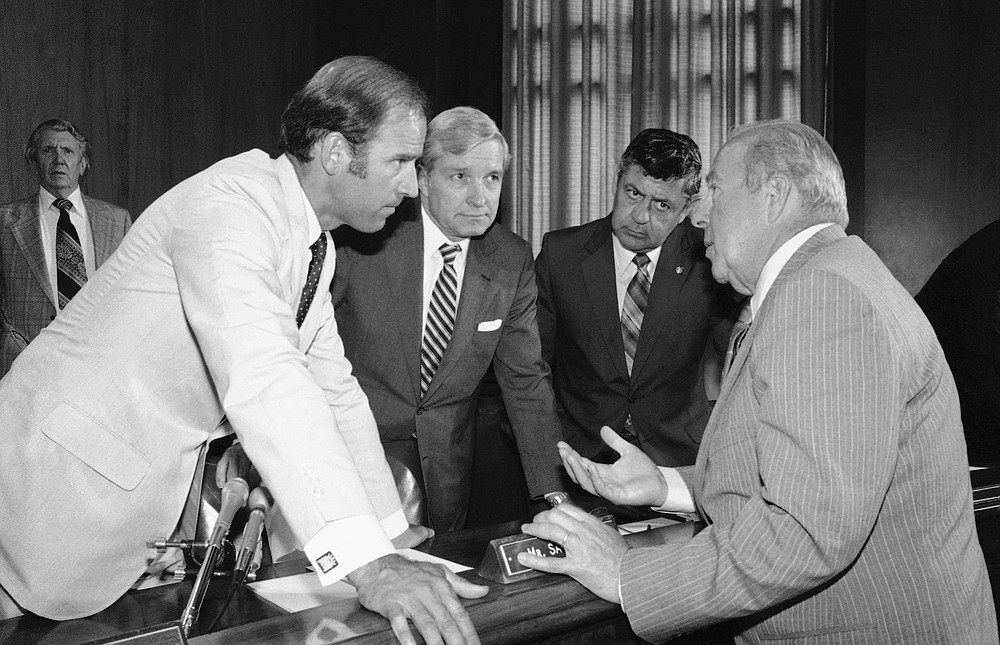 FILE - In this July 13, 1982, file photo Secretary of State designate George Shultz, right, speaks with members of the Senate Foreign Relations Committee prior to the start of the afternoon session of the panel on Capitol Hill in Washington. From left are, Sen. Joseph Biden, D-Del.; Sen. Charles Percy, R-Ill., chairman of the panel and Sen. Edward Zorinsky, D-Neb. Shultz, former President Ronald Reagan's longtime secretary of state, who spent most of the 1980s trying to improve relations with the Soviet Union and forging a course for peace in the Middle East, died Saturday, Feb. 6, 2021. He was 100. (AP Photo/Ira Schwarz, File)
FILE - In this Jan. 9, 1985 file photo, Secretary of State George Shultz, center, walks with President Ronald Reagan and Vice President George Bush upon his arrival at the White House in Washington, after two days of arms talks with the Soviet Union in Geneva. Shultz, former President Reagan's longtime secretary of state, who spent most of the 1980s trying to improve relations with the Soviet Union and forging a course for peace in the Middle East, died Saturday, Feb. 6, 2021. He was 100. (AP Photo/Barry Thumma, File)