A good memoir makes the reader laugh and cry. A great memoir has comics. Jennifer Hayden's "The Story of My Tits" checks all of those boxes.
In the tradition of Marjane Satrapi's "Persepolis," Hayden uses an art style similar to what one finds in the comics page of a newspaper to tell the story of her life as well as those of two other women with cancer. In a review of the memoir, National Public Radio said: "Cancer isn't allowed to shove joy, hope and humor offstage." Hayden's gift of humor is apparent even in some of the saddest moments in the book, and she avoids gushy, sentimental overtures that one would expect in a story about surviving a cancer diagnosis.
The story begins with the author as an adolescent longing to develop breasts just like her sister and her mother. Instead she develops a bit of an eating disorder and a smoking habit (she later gives it up). Eventually she develops small breasts (the story of her first bra shopping experience is a knee slapper), which she takes to college. There she studies art and meets the man she eventually marries, Jim.
It's at her college graduation that the story takes a serious turn as she notices something is wrong with her parents. They encourage her to enjoy the evening, then the next day she learns that her mother has breast cancer and will be undergoing treatment. Again, cancer doesn't take center stage here; instead, she explores the difference in how she and her mother handle emotions and the nagging realization that her father has been having an affair. In choosing to tell the whole story, she shows the reader that life doesn't stop with a devastating diagnosis. Hayden remains devoted to the truth of her narrative in relating how she felt shut out by her mother's stoicism and how she felt betrayed by her father's infidelity. She doesn't shy away from the effect of her actions either; she tells us that she refuses her father's affection in an effort to punish him. The next panel shows a stark black background with a drawing of her father's grave. She kneels next to it crying, while the text above it reads "and that's how I killed my father." Later she's honest about her struggles to accept the relationship and the other woman.
As her mother recovers, Hayden moves in with her boyfriend and his brothers. This is where we meet Alice, her future mother-in-law. Alice and the author bond, reluctantly on the author's part. Then Alice actually helps Hayden in her early career by connecting her with a friend at a public relations firm. Hayden adores her mother-in-law, and it's impossible not to love her too, when she relates how Alice played in a cemetery as a child and pretended to feed lambs on a tombstone. She illustrates this beautifully with a panel depicting a young Alice feeding the lambs and writes: "Because that's who she was -- the girl who would give love to a stone."
Unfortunately, Alice develops lung cancer and, while she beats it the first time, it returns, and she's told to go home and enjoy the life she has left. Hayden again tells the story about how life continues, this time with marriages and babies being born. Hayden, who'd been skeptical about marriage and children, marries Jim and has her first child. Meanwhile, Alice is in the "grace period" of her terminal diagnosis. It is Alice, she writes in the story, who teaches her sons and Hayden how to die.
Hayden uses a recurring allusion to "Whoso List to Hunt, I Know Where is an Hind" by Sir Thomas Wyatt when dealing with cancer. She specifically focuses on the line: "noli me tangere" which means "touch me not." The line is an allusion to Jesus' words to Mary Magdalene when she recognized him after his resurrection. Hayden depicts this scene humorously with a drawing of Jesus, surrounded by a halo of light and disciples, saying "Look, I know it's complicated. You can see me, but you can't touch me. I've been resurrected." To which one disciple looks at another and says, "Man, is it bright in here or what?"
Hayden illustrates herself, her mother and Alice as the subject of the poem in panels throughout the book. Each woman wears the sign, "noli me tangere" around her neck, each "untouchable" because of her closeness to death. It's this idea of untouchability that draws her to this reoccurring allusion. The effect is both humorous and heart breaking.
Devastating moments are often interchanged with humor and Hayden's fixation with art. She uses imagery from surrealist paintings when discussing her career and life choices. (Dali's clocks are very supportive.) The effect is humorous and speaks to both Hayden's intelligence and quirkiness. It also keeps the reader from running through an entire box of tissues while reading the book.
Hayden goes back to school to become an illustrator when her children are in their early adolescence, but at age 42, right as Hayden is about to begin writing a children's book, doctors discover that she has developed the same cancer that her mother had. Luckily she still has her mother, but as shown earlier in the story, her mother's stoicism means she doesn't remember much about the illness. With the support of her husband, Hayden decides to have a double mastectomy. This is not where the story of her breasts ends though.
Again, she alternates between sharp representations of her own fears and her sense of humor in her panels. Then despite her own down-to-earth sarcasm, she embraces a goddess after finding a pendant of the goddess' form. She imagines the deity guiding her healing. She also has the loving support of her husband. When they receive the good news that that cancer is gone, they celebrate with a fancy dinner. Then he quips "Thank God, I could never have raised those kids by myself."
She eventually has reconstructive surgery, so the story of her breasts continues. Hayden relates her survivor's guilt. She wonders why she survived and experiences anxiety wondering when "the other shoe will drop" as she witnesses tragedies that befall friends. However, with her goddess emblem around her neck, she learns to accept uncertainty and embrace her life. Instead of being overwhelmed with anxiety and too skeptical or sarcastic to accept support, she joins in cancer walks, takes yoga and goes on vacation with her husband.
The story is ultimately one of hope, but the irreverence and, of course, comics, will help ease that hope into the heart of the most cynical reader. Although this book would definitely benefit those fighting cancer and their families, there's also something here for those who love memoirs or comics -- and don't mind some dirty words.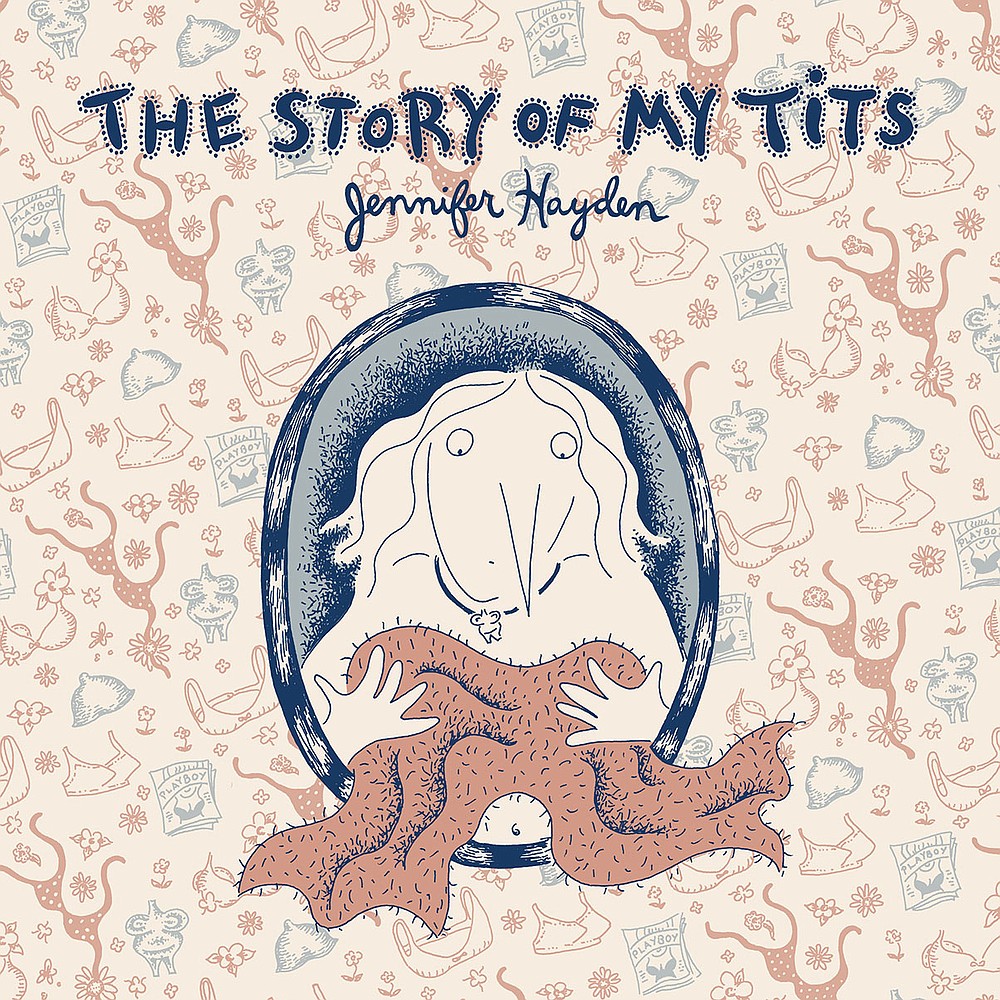 From The Story of My Tits. Reprinted with permission from Top Shelf Productions. © 2015 Jennifer Hayden. All rights reserved.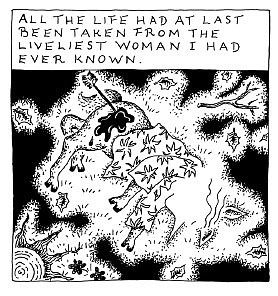 From The Story of My Tits. Reprinted with permission from Top Shelf Productions. © 2015 Jennifer Hayden. All rights reserved.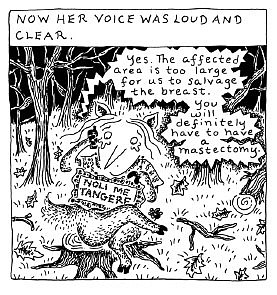 From The Story of My Tits. Reprinted with permission from Top Shelf Productions. © 2015 Jennifer Hayden. All rights reserved.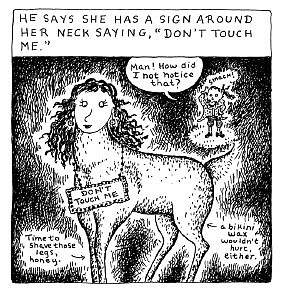 From The Story of My Tits. Reprinted with permission from Top Shelf Productions. © 2015 Jennifer Hayden. All rights reserved.
More News
Read More
Jennifer Hayden
Read more about this book and other works by Jennifer Hayden at jenniferhayden.com.