January was the deadliest month for Northwest Arkansas so far in the pandemic.
At least 143 Benton and Washington county residents died of the covid-19 virus in January, putting the total at 655 for April through the end of January, according to the county coroners. The data does not include residents who may have died outside the two counties.
An additional 130 people who lived outside Benton and Washington counties or whose residence was unknown have died in the region since the start of the pandemic, including 38 in January. Many died at Northwest Arkansas hospitals.
Dying patients
Dr. Michael Bolding has been treating covid-19 patients at Washington Regional Medical Center in Fayetteville since the start of the pandemic.
Hospitals in Benton and Washington counties had a record combined total of 140 patients in their covid-19 units Jan. 8, according to a joint statement from the region's largest health care organizations via Martine Pollard, spokeswoman for Mercy Health System. The number of patients has since decreased over the past several weeks. Hospitals had 62 patients in their covid-19 units Thursday.
"Unfortunately, it didn't come as a surprise. We all knew there would be a surge after holidays and group gatherings," Bolding said, referring to both the increase in hospitalizations and deaths in January.
Bolding has worked as a physician in hospitals for 12 years and said he's seen exponentially more deaths in the past year than ever before.
"It would be a rare occurrence to see patients in the hospital and put them on the right medicines and feel like we're doing all the right things and still have to call the family and tell loved ones they just didn't make it. That has not been a rare occurrence in the last year," he said.
Treating covid-19 is unique because few treatments have shown to help patients improve and some continuously get worse despite health care professionals doing everything they can, creating a feeling of helplessness, Bolding said.
Risk factors such as older age, hypertension, obesity or diabetes can make fighting the virus more dangerous for some patients. However, it's difficult to tell how sick individual patients will be.
"I've seen way too many people who don't meet any of those risk factors and are 20 and 30 years old and don't do well," Bolding said. "And I've seen patients that are 80 years old and have every one of those risk factors, and they get admitted and they're on two to four liters of oxygen and they go home in a few days.
"The messaging that, if you're young and healthy and you don't have this list of risk factors, you don't need your vaccine and you're not going to get sick when you get covid is just not correct," he said.
Dying of covid-19 also means dying without family members present. Bolding said nurses have done a great job of trying to meet patients' emotional needs and the hospital has helped patients talk to their families over video calls, but that doesn't replace family members being there as patients are getting sicker and more scared.
Bolding said he is hopeful the region will see fewer covid-19 hospitalizations and deaths as more people are vaccinated.
Nursing homes
Rachel Bunch, executive director of the Arkansas Health Care Association, also said she is hopeful the rollout of the covid-19 vaccines will soon result in fewer nursing home deaths. She said the state's nursing homes had about half as many cases at the beginning of February than they did around Christmas.
Nursing homes and assisted living facilities in the state had 465 residents test positive from Jan. 25 through Feb. 8, according to a report from the Arkansas Department of Health.
Forty-three or about 30% of all January deaths in Benton and Washington counties were nursing home residents, according to the Health Department. Nursing home residents account for at least 245, or about 37%, of the region's total deaths. The data does not include residents who may have died Dec. 29 through Jan. 3.
Long-term care facility staff and residents became eligible to receive the vaccines in December, making them the second group eligible after health care workers.
All nursing home residents in the state have been offered at least the first dose of a vaccine, Bunch said. Both the Pfizer and Moderna vaccines approved by the federal government require two doses weeks apart.
Bunch estimated that 30,000 nursing home residents had received at least one dose as of Feb. 4. The state has 38,000 to 40,000 nursing home residents, meaning roughly 75% to 79% were at least partly vaccinated.
The nursing homes with the most deaths in Northwest Arkansas include Fayetteville Health and Rehab with 26 deaths, Jamestown Nursing and Rehab in Rogers with 24, Innisfree Health and Rehab in Rogers with 21 deaths, the Maples at Har-Ber Meadows in Springdale with 17 and Springdale Health and Rehab with 15, according to the Health Department.
Demographics
January saw the region's first death in the Marshallese community since October. A 67-year-old Marshallese person of Springdale died of the virus, according to data from Roger Morris, Washington County coroner.
Marshallese or Pacific Islanders were overrepresented in the covid-19 death toll early in the pandemic, accounting for more than 50% of the June deaths despite making up less than 3% of the region's population. Those numbers dropped to two deaths in October and none in November nor December.
A total of 49 Northwest Arkansas residents who were Marshallese or Pacific Islander died of the virus from April through January, accounting for about 7% of the region's deaths.
The Marshallese community in Benton, Washington, Randolph and Greene counties had 22 active covid-19 cases as of Feb. 4, according to Dr. Sheldon Riklon of the University of Arkansas for Medical Sciences Northwest Regional Campus in Fayetteville. Active cases are those who have not recovered or died.
Census estimates show Hispanics make up about 17% of the region's population. Hispanic residents accounted for about 8% of January deaths with 11 and about 12% of the cumulative death toll with 79. They were also over represented earlier in the pandemic, accounting for 15, or 26%, of July's 56 deaths and 11, or 35%, of August's 31 deaths.
People 70 and older have made up the bulk of Northwest Arkansas deaths, accounting for 468, or about 71%, of total deaths April through January. People in their 50s and 60s accounted for 155, or about 23%, of deaths.
Twenty-five, or about 4% of total deaths, were people in their 30s and 40s. No Northwest Arkansas children or teens have died of the virus. However, five people in their 20s, including a 26-year-old Springdale man in January, died, according to data from the coroners.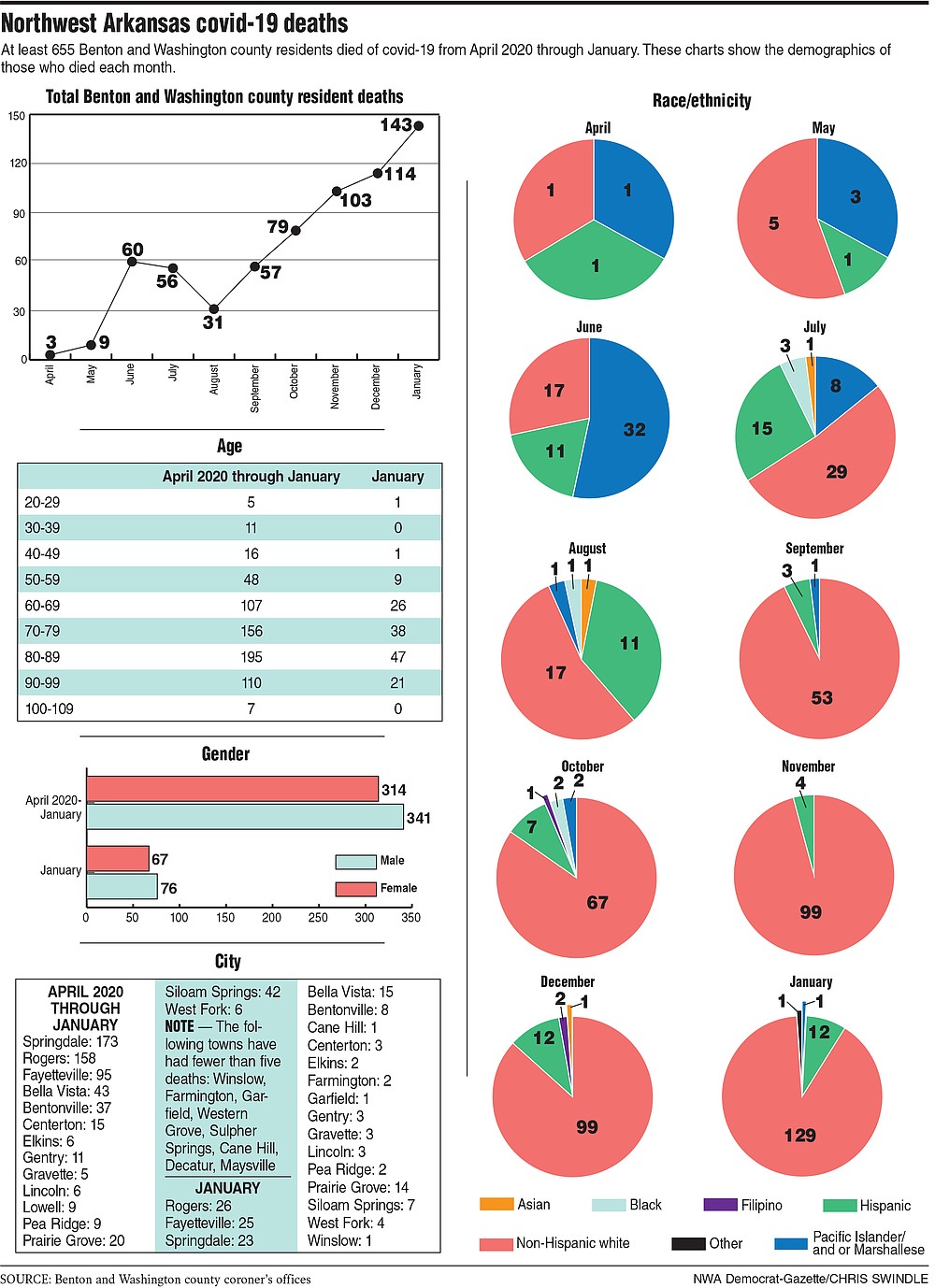 More News
Fast fact
More than 476,000 Americans have died of covid-19.
Source: Arkansas Department of Health