Entergy announced shortly after 9:30 p.m. that rolling outages had been ended and the system had returned to normal operations.
9:29 p.m.: Entergy announces rolling outages
Entergy announced Tuesday night that the utility would start rolling outages across its service area due to "an all-time high" demand for electricity.
The controlled outages were directed by Entergy's reliability coordinator, the Midcontinent Independent System Operator, and are meant to prevent longer outages that could "severely affect the reliability of the power grid."
Texas and Arkansas are in the affected area. Some parts of Northwest Arkansas had already seen rolling outages on Tuesday.
"Broadening the geographic area in which outages will occur, allows us to better manage the way in which we shed load," said Willie Wilson, vice president in operations and system storm incident commander, Entergy. "We know this is an inconvenience and we apologize. The loss of generation in the entire region, combined with a high level of demand for electricity has caused a strain on the system."
Around 7 p.m. Tuesday, weather radar showed a large area of snow heading toward Arkansas, according to a tweet from the National Weather Service.
We had some sunshine today, but that didn't last long. Clouds will thicken overnight, and the Tuesday evening radar (at 645 pm CST) showed a large area of snow building toward Arkansas from Oklahoma and north Texas.#arwx pic.twitter.com/oaQ4Iu2XZ1

— NWS Little Rock (@NWSLittleRock) February 17, 2021
– Maggie McNeary
4:30 p.m.: Entergy requests extra workers
Entergy Arkansas has requested 350 extra workers, including linemen, assessors and vegetation, in addition to the 1,400 extra they had already added, according to spokesperson Brandi Hinkle.
Reported outages from the Electric Cooperatives of Arkansas as of Tuesday afternoon were less than 50 statewide, according to Rob Roedel, director of corporate communications. The peak outages were reported early Tuesday at about 15,000, Roedel said.
Electric Cooperatives are not at a curtailment stage, but are asking members to conserve electricity, Roedel added.
– Brianna Kwasnik
3:23 p.m.: State feels sub-zero temperatures; Entergy reports 3,500 customers impacted by outages
As of Tuesday afternoon, Entergy Arkansas reported 3,500 customers impacted by outages, down from a peak of 23,000, according to spokeswoman Brandi Hinkle.
The company is not doing forced outages, Hinkle said.
– Brianna Kwasnik
2:39 p.m.: State feels sub-zero temperatures; thousands without power, governor reports
During Gov. Hutchinson's weekly covid-19 briefing, he announced he extended the deployment of the Arkansas National Guard through Friday.
One-hundred Guardsmen are currently deployed across the state and 26 Humvees have been engaged, Hutchinson said.
In addition, two ambulance crews have been approved to assist emergency workers providing ambulance service, and will continue to assist throughout the week, the governor noted.
As of the governor's briefing Tuesday afternoon, approximately 18-20,000 residents were without power across the state, Hutchinson said.
The most affected areas, he noted, were Montgomery, Garland, and Little River counties.
Southwest Power Pool had initiated controlled interruptions of service beginning at 7 a.m. Tuesday, which concluded by 10:15 a.m. Southwest Power Pool remains in emergency alert status, Hutchinson said, which means the system will continue to operate below reserve.
– Brianna Kwasnik
1:49 p.m.: State feels sub-zero temperatures; utility reports water line breaks in Central Arkansas
A 12-inch water line that saw a spontaneous break in downtown Little Rock on Tuesday morning was the largest of eight reported breaks in Central Arkansas Water's system, the utility said.
Crews were first notified about the water line break around 7:20 a.m., according to Central Arkansas Water spokesman Doug Shackelford.
Authorities blocked off a portion of the 100 block of West Fourth Street after the broken line spilled water onto the street and partially submerged vehicles in a nearby parking garage, a Twitter post by Little Rock police states.
Shackelford said the shut-off affected "about 10 services on West Fourth Street, between Louisiana and Main streets, and on Louisiana between Third and Fourth Streets."
Central Arkansas Water expected to return service to the area by early Tuesday evening, according to the spokesman.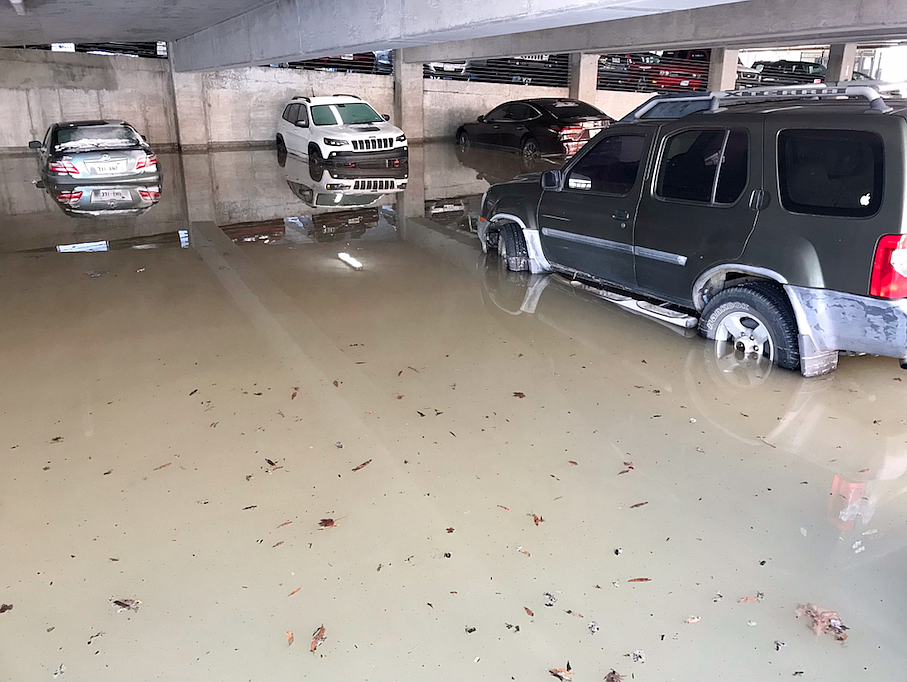 Cars are submerged in water in the Mann on Main parking deck after a water main broke on the 100 block of West 4th Street in downtown Little Rock. The road is closed between Main and Louisiana streets.
It would be difficult to determine if weather alone was the direct cause of this particular break, the utility said, but cold weather is conducive to pipe breaks. Shackelford said the cold can identify weaknesses present in some of the older pipes.
The utility has called in extra crews to work on the breaks, Shackelford said.
– Brianna Kwasnik
12:26 p.m.: Arkansas feels sub-zero temperatures; utility announces rolling outages
Many Arkansans awoke to sub-zero temperatures on Tuesday after a winter storm covered the state with snow on Monday.
The temperature plummeted to -20 degrees in Fayetteville's Drake Field, apparently breaking the previous record of -18 set in 2011.
Joe Sellers, a meteorologist with the National Weather Service in Tulsa, said it may be a few days before they can check the equipment and verify the reading.
Records have been kept at Drake Field since 1949.
The lowest temperature ever recorded in Fayetteville was -24 degrees in 1899, said Jeff Hood, a meteorologist with the National Weather Service in North Little Rock.
Hood said other low temperatures over last night include -15 in Clarksville and -14 in Nashville, Mena and Gilbert.
The heaviest snowfall on Monday was along the Interstate 30 corridor from Texarkana northeast through Little Rock, with most of that area getting 8 to 10 inches of accumulation, according to the Weather Service.
Hood said Greers Ferry got the most snow on Monday with 11 inches. North Little Rock was close behind with 10.9 inches.
Snowfall was in the 4 to 6-inch range in northwest and southeast Arkansas, said Hood.
Another 6 to 8 inches of snow is forecast to fall Tuesday night through Thursday across much of Arkansas. The Benton and Washington county areas of Northwest Arkansas will get another 4 to 6 inches, while extreme south and southeast Arkansas will receive 2 to 4 inches, according to the weather service.
It won't be quite as cold, though, with temperatures Tuesday night in the teens instead of the single digits. The high Wednesday is forecast to be in the 20s. The snow is expected to taper off by Thursday afternoon, and temperatures should rise above freezing on Friday.
Across the state, Entergy reported about 10,500 people without power shortly afternoon on Tuesday.
Rolling power outages are continuing in Northwest Arkansas.
Southwestern Electric Power Co. announced Tuesday morning it was beginning rolling outages.
The temporary shutdowns will reduce the load on the company's electric system and prevent wider blackouts, according to a news release.
The controlled outages should make sure customers are not out of power for more than a few hours, according to the company.
Customers who do have power during the shutdowns should still conserve energy, according to the release.
Ozark Gas & Electric was notified by the Southwest Power Pool that temporary outages were not necessary at around 10:15 a.m. Tuesday morning, according to a tweet by the company.
"Please continue taking steps to reduce natural gas & electricity use to minimize further interruptions," the tweet said.
[LIST: Closings » arkansasonline.com/closings/]
SWEPCO announced just after noon Monday the company was temporarily interrupting power to parts of its service area in response to the extreme winter temperatures and to prevent wider outages.
Members of the Southwest Power Pool on Sunday asked all customers to conserve power for 48 hours beginning at 12:01 a.m. on Monday. The Power Pool manages the electric grid across 17 central and western states including Arkansas.
– Bill Bowden and Northwest Arkansas Democrat-Gazette staff
10:38 a.m.: Water line ruptures in downtown Little Rock, police say
Police have blocked off a portion of West 4th Street in downtown Little Rock after a ruptured main spilled water onto the street and partially submerged vehicles in a nearby parking garage.
In a Twitter post, the Little Rock Police Department asked people to avoid the 100 block of West 4th Street, between Main and Louisiana streets, where the rupture happened.

On Monday, officers in Little Rock responded to 22 calls for vehicles stuck as a result of the inclement weather, according to spokesperson Mark Edwards.
Many agencies across the state are asking drivers only to go out if absolutely necessary.
According to a Facebook post from the Jonesboro Police Department, officers have assisted over 145 stranded motorists.
The post encourages drivers who must go out for work to use four-wheel-drive.
– Brianna Kwasnik
CORRECTION: Doug Shackelford's name was misspelled in an earlier version of this story.