​​​​​Little Rock, Prescott, Hope, and Sheridan are among the areas that experienced the heaviest snowfall Wednesday, according to the National Weather Service.
Little Rock had close to eight inches of snow reported, Prescott had upwards of 12, 11.5 in Hope, and up to 10 inches of snow reported in Sheridan, according to meteorologist John Lewis.
Snow has stopped in areas in the northern and northwestern portions of the state, while Little Rock may experience two to three more inches of snowfall up to 10 p.m. Wednesday, Lewis said.
Entergy Arkansas again asked customers to lower their electrical usage from 5 to 10 p.m. Wednesday in order to avoid mandatory forced outages. The utility asked customers to limit their use of large appliances and lower their thermostats.
As of Wednesday afternoon, Central Arkansas Water had no reported breaks.
The company had five crews on standby on Wednesday, and received help from Vessel, a dog trained to detect water breaks, according to spokesperson Douglas Shackelford.
Vessel was out Wednesday morning walking easements to search for any leaks present in larger pipes, Shackelford said.
Shackelford that when Vessel is out, she sniffs for the smell of chlorine, which is how she differentiates treated drinking water from rainwater or snow.
– Brianna Kwasnik
5:20 p.m.: Heavy snow blinds motorists during crashes on icy I-40
Heavy snowfall blinded motorists Wednesday as vehicles crashed in a slow chain reaction on an icy Interstate 40 near Lonoke.
Arkansas State Police said the accidents were spread over a 30-mile stretch, and involved a state trooper who was parked along the westbound I-40 lanes with blue lights flashing trying to warn drivers to slow down because there was a wreck ahead.
An 18-wheeler jackknifed, hitting Sgt. Chuck Lewis' patrol car, spinning it into a tree line on the north side of the interstate, according to a news release from state police. Neither Lewis nor the truck driver was seriously injured.
"From 10 a.m. to 2 p.m., it was whiteout type conditions," said Dave Parker, a spokesman for the Arkansas Department of Transportation.
"We've had 22 accidents today, statewide," said Parker. "The problem area has been I-40. First, we had five or six cars collide and there was a tractor trailer involved near Lonoke, on the westbound side. Then we had a couple of smaller accidents on I-40 behind it.
"Then we had incidents on I-40 eastbound. That was really the big one. Seven tractor trailers near Lonoke."
Parker said a tractor-trailer rig stalled in the eastbound lanes of I-40 near Galloway, so the Department of Transportation was routing all eastbound traffic off the interstate onto U.S. 70, where workers had already plowed snow from the pavement.
Parker said he didn't know if the tractor-trailer rigs had crashed or slid off the road, just that they were involved.
See a live map of road conditions at idrivearkansas.com.
– Bill Bowden
4:09 p.m.: Trooper narrowly escapes injury in I-40 crash; snow falling in southeast Arkansas
A state trooper parked alongside Interstate 40 west of Lonoke on Wednesday morning narrowly escaped serious injury when the trailer of an 18-wheeler jackknifed and struck the rear of his patrol car.
Using the car's emergency blue lights, Sgt. Chuck Lewis was attempting to warn westbound motorists of congested traffic ahead, where a vehicle had crashed, according to a news release from state police.
"Traffic approaching the area was moving at speeds in excess of 50 to 60 miles per hour across ice covered traffic lanes," according to the news release.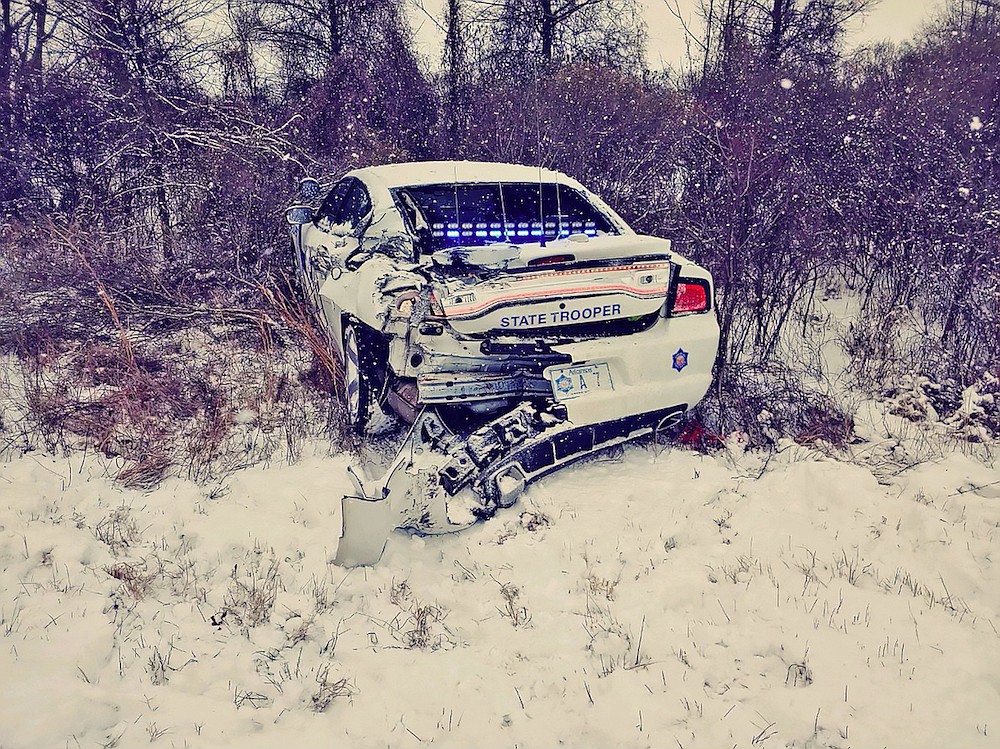 An Arkansas State Police vehicle is shown after a crash on I-40 Wednesday. Photo courtesy of state police
Joe A. Barbosa, 54, of San Antonio, Texas, the driver of a tractor-trailer truck approaching the area, lost control of his vehicle as he began to brake, causing the trailer to jackknife and hit the rear of the patrol car occupied by Sgt. Lewis. The car was spun into a tree line north of the interstate.
Neither Barbosa nor Sgt. Lewis was seriously injured.
"The first crash that occurred shortly before 9 a.m., along with the crash involving Sgt. Lewis began to cause multiple crashes in a slow chain reaction stretching east of the first crash scene by more than 30 miles," according to the news release.
As of 3:30 p.m., snowfall had moved to the southeast part of the state, according to the National Weather Service.
– Bill Bowden
As of 330 pm CST...moderate to occasionally heavy snow was confined to the southeast half of Arkansas, with not much happening across the north/west. The heaviest snow (at least 2 inches/hour) was in areas just south of Little Rock (Pulaski Co).#arwx pic.twitter.com/xMaQkvUnTp

— NWS Little Rock (@NWSLittleRock) February 17, 2021
2:24 p.m.: Snow squall warning ends for Central, Northwest Arkansas counties
The National Weather Service in Little Rock has ended its warning of dangerous snow squall in Arkansas effective at 1:45 p.m.
A snow squall is an "intense short-lived burst of heavy snowfall that leads to a quick reduction in visibilities and is often accompanied by gusty winds," according to a weather service document.
The snow squall affected Cleveland, northcentral Calhoun, eastern Dallas, southeastern Grant, Jefferson, Lincoln, and Northwest Arkansas counties, a Twitter post by the weather service states.
The weather service warned that visibility would "drop quickly to near zero" in the squall and that driving would be extremely hazardous.
– David Wilson
12:01 p.m.: Winter storm warning in effect through Thursday; I-40 crashes block westbound lanes
Two crashes blocked the westbound lanes of Interstate 40 east of Little Rock on Wednesday morning, according to the state Transportation Department.
All westbound I-40 lanes are blocked near the Arkansas 31 exit in Lonoke County due to a crash involving multiple commercial vehicles, a traffic alert from the agency states.
Traffic is diverting at the Arkansas 89 exit, according to the alert. Drivers are advised to use extra caution.
In Prairie County, a crash blocked all westbound lanes of I-40 near Hazen.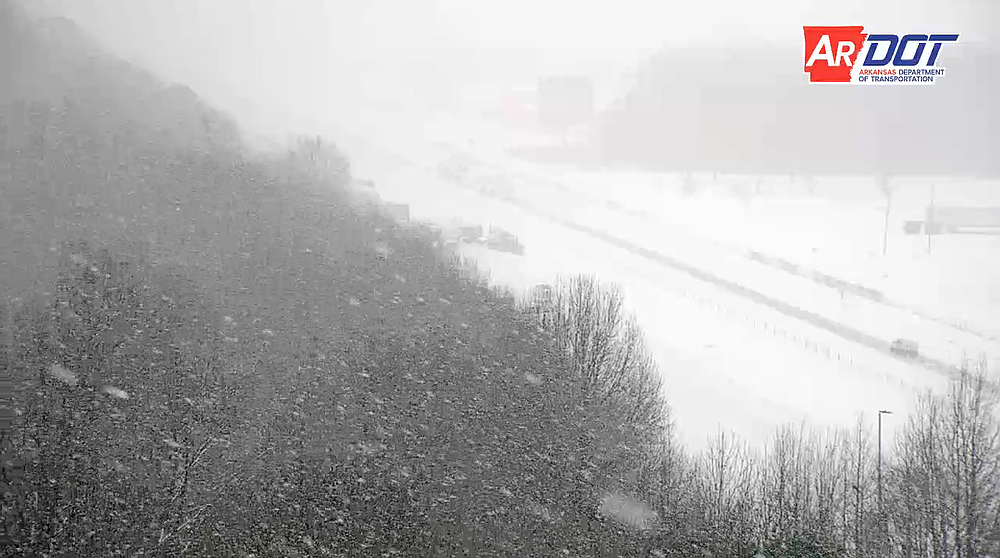 Interstate 40 near Lonoke on Wednesday morning is shown in this screen grab of video provided by the Arkansas Department of Transportation.
10:54 a.m.: Winter storm warning in effect through Thursday; utilities report few outages
A winter storm warning remains in effect for the state through Thursday morning, according to the National Weather Service.
Forecasters said 4 to 8 inches of snow are expected for the northern and central parts of the state, with a mix of snow, sleet and freezing rain expected in the southeast.
[LIST: School closings » arkansasonline.com/closings/]
Wind chill values are expected to be in the single digits for much of the state, the weather service said.
Central Arkansas Water worked through the night to refill tanks after several breaks in its lines on Tuesday resulted in water loss, spokesman Doug Shackelford said.
As of 9 a.m. Wednesday morning, no CAW lines were reported broken, Shackelford said, adding the system is performing well.
A band of heavier snowfall is moving northeast from the ArkLaTex area up along the I-30 corridor. This area of heavier snow will likely result in snowfall rates of one inch per hour as the higher radar returns (green colors) move over #ARwx and approach central #ARwx pic.twitter.com/4ABG3bhWLL

— NWS Little Rock (@NWSLittleRock) February 17, 2021
In a Twitter post shortly after 8 a.m. on Wednesday, Little Rock Police advised residents to avoid the area of Cantrell Road, west of Kavanaugh Boulevard due to a water main that has ruptured.
CAW said the break was on a private house line unaffiliated with the utility.
Electric Cooperatives of Arkansas had zero outages Wednesday morning, according to spokesman Rob Roedel. The utility had not been asked to enact temporary curtailments of service, Roedel said, but they are continuing to ask people to help conserve power as energy usage has set all-time records.
As of 10:30 Wednesday morning, roughly 544 Entergy customers were experiencing outages, according to a map on the company's website.
The company has no planned outages, though that could change depending on usage and demand, said spokeswoman Brandi Hinkle.
Hinkle said the company will try to alert customers of planned outages, but it might not always be possible.
– Brianna Kwasnik