Radine Trees Nehring writes about what she knows -- Arkansas -- and what she loves -- a good mystery. If her series of novels about amateur detectives Carrie and her beau Henry seems somewhat autobiographical, that's probably why.
"Others say they see me in Carrie, but I have never felt that myself," says Nehring, who now lives in Fayetteville after many years homesteading east of Gravette with her husband. "However, I can say she is probably my best friend! Henry is not specifically based on John, but the love that developed between them as a couple definitely is based on both of us and our marriage. From the beginning of the series of books, I knew Carrie and Henry would eventually marry."
Nehring is back with a new book, a series of short stories titled "Solving Peculiar Crimes." When husband John died in March 2019, "you might say I took a sabbatical," she says. "There was so much [technology] to learn that I did not know anything about, for one thing. And for a time I wasn't ready to forge ahead without him. I was in no mood to enter into the world of novel writing, a big commitment of time and thought. But short story ideas kept popping up inside my head."
In the anthology's first tale, "The Hanging," Carrie is on a tour for state employees when she sees something unbelievable at the Fort Smith National Historic Site. In the second, "Crime Goes On a Honeymoon," Carrie and Henry are honeymooning at the Crescent Hotel in Eureka Springs when they get a nasty surprise at breakfast. "Saved By a Train" takes them aboard the Arkansas & Missouri Railroad's historic passenger line, and "But They're Not Really Dead" is set at Pea Ridge National Military Park. All of them accomplish what Nehring set out to do in the early 1980s, when she began to write about her experiences for regional and national magazines and newspapers -- introduce people to the magic of Arkansas.
"We discovered the Arkansas Ozarks on a camping trip in 1978 and bought the first few acres of the land we called 'Spring Hollow' a few weeks later," she remembers, adding that the land did indeed have a spring in its hollow. "We lived and worked in Tulsa at that time, but usually came to our land on weekends, working to clear an opening in our forest."
She even learned to operate a chain saw, she says proudly, and together, she and John built a two-room cabin, working on weekends over two years to finish it. "We spent most weekends in Arkansas until 1988, when we moved to Spring Hollow full time, and John and two friends went to work to expand the cabin into a larger home.
"I always had a semi-interest in writing but never wrote for publication until John and I fell in love with the Arkansas Ozarks," she continues. "After my non-fiction book 'Dear Earth: A Love Letter from Spring Hollow' sold to a publisher in New York in 1993, I wanted to continue writing Arkansas-based books. Since I enjoyed reading traditional -- 'cozy' -- mystery stories -- think of Agatha Christie and Mary Stewart -- I wondered if I could write a mystery set here. The first book in my series, 'A Valley to Die For,' was released in 2002. It was set on land and in a home setting I knew quite well at Spring Hollow, though in the book it is called Blackberry Hollow."
After that, Nehring was off and running: "Music to Die For" was set at Ozark Folk Center State Park in Stone County; "A Treasure to Die For" in Hot Springs; "A Wedding to Die For" at the Crescent Hotel; "A River to Die For" at the Buffalo National River; and "A Portrait to Die For" at Crystal Bridges Museum of American Art. She has received many regional and national awards, including a National Silver Falchion for mystery writing and the Governor's Award for the best writing about Arkansas. She was a 2011 inductee into the Arkansas Writers' Hall of Fame.
"I have been fortunate to have an office of my own, both at Spring Hollow and here in Fayetteville," she says. "I usually write several hours each day, and when I began the mystery series, often would still be typing busily as suppertime approached. John sometimes appeared at my office door to remind me it was time to think about supper. I did get wrapped up in my work, and it was hard to get to a stopping place when I was inside a story. I find I am living in a story as I am writing it."
She was also fortunate to find a good publisher -- Brett Books -- for "Dear Earth," and her editor helped guide her to St. Kitts Press in Wichita, Kan., for her novels.
"Finding a publisher can be difficult," she admits. "It has become increasingly difficult over the years, and, today, using modern technology and the print-on-demand process, many authors self-publish their work. What IS important is finding a good editor for both story content and for punctuation and grammar if you self-publish. Most mid- to large-sized publishing companies have good editors, and I have been fortunate to have their expert help throughout my career. However, it is difficult for even the best writer to fully edit personal writing, especially in a novel. We tend to zoom along, sometimes reading what we think we wrote clearly, only to find out we didn't. Over my entire career, I have also been a member of a critique group of writers who met weekly or monthly to share their current writing and receive suggestions and comments."
And then, of course, the books must sell -- an additional challenge during a pandemic.
"Some bookstores who have had to close or limit visitors are still taking care of emailed or phoned orders and are experiencing an increase in sales since more people are sitting at home reading," Nehring says. "However, local public appearance sales -- always good because of my Arkansas focus -- have stopped for me. I used to do signing events regularly at area independent bookstores as well as at Barnes & Noble, but both local indies have closed permanently during recent times, and Barnes & Noble's book events have been curtailed."
What has helped immensely with the circulation of Nehring's novels has been a partnership with the regional Harps Food Stores chain. She's been able in the past to set up in person to sell her books in many of the markets in Northwest Arkansas, and during covid-19, has been allowed to leave copies of "Solving Peculiar Crimes" for sale on an endcap in each of those stores.
"I bought extra books, had posters made, and began calling on stores where, in most cases, I was already known," she says. "You can never imagine what a big blessing this has been for me. I have already had to begin restocking books in several stores in this new plan."
Nehring of course hopes her books bring readers enjoyment -- and more.
"Perhaps some bit of new comfort with a human condition that may have been underground in their lives," she muses. "Understanding the experience of redemption is another plus, and several mystery novel writers have said that, after all, traditional mystery stories are about redemption.
"One thing I hear over and over is how much readers enjoy getting to know Carrie and Henry," she adds. "Of course, especially while I am writing, Carrie becomes almost real to me and I live inside her thinking, more or less, as I write. I have learned that readers -- especially mature women -- also experience this. The experience continues even more deeply in the anthology, and, perhaps the redemption often found when a crime is solved and a person who has committed a crime is reformed or at least understood, even if punished, is a goal.
"But, in several of these short stories, crimes are understood and, even sometimes, justified in the thinking of Carrie and/or Henry. How a reader decides this is up to him or her. I even leave 'close down' endings off in the case of a few stories, letting the reader decide how things turn out if they wish to do so."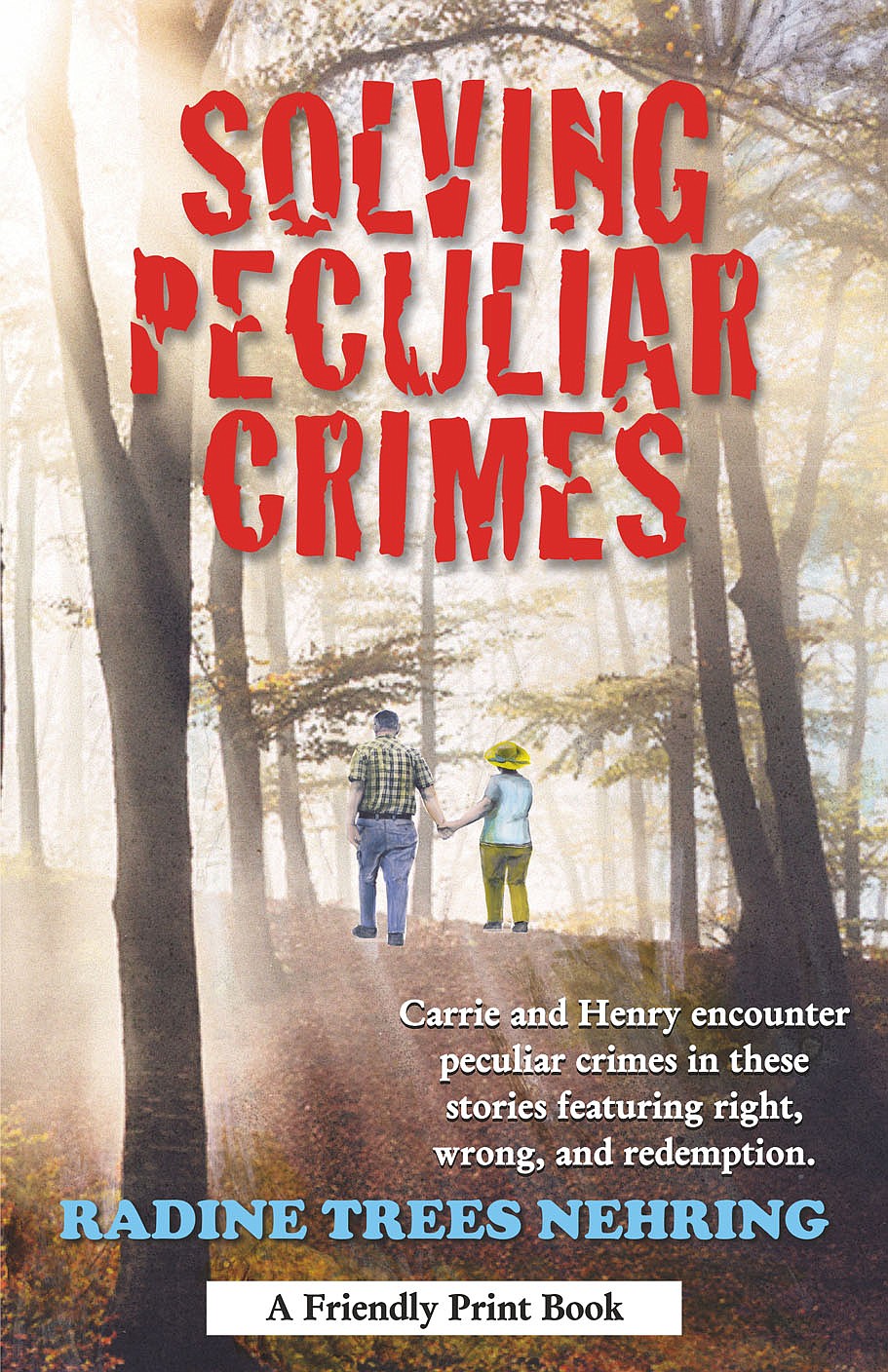 Read More 'Solving Peculiar Crimes' Read more about Radine Trees Nehring and order her novels at radinesbooks.com. Many of her books are also available for Kindle at Amazon.com.
More News
Read More
'Solving Peculiar Crimes'
Read more about Radine Trees Nehring and order her novels at radinesbooks.com. Many of her books are also available for Kindle at Amazon.com.