CENTERTON -- Abel Hutchinson stood in front of the Bentonville bench when he took the bounce pass from Jaylen Lee and fired up a shot just before the shot clock reached zero.
The junior's three-point attempt hit nothing but net with 14 seconds left, and it allowed the Tigers to enjoy 6A-West Conference perfection Friday night with a 56-50 victory over Bentonville West in Wolverine Arena.
"They had two guys on Jaylen, and I knew the shot clock was low," Hutchinson said. "I knew it was deep, but I knew the shot clock was low, so I just pulled it and it went in.
"It felt good, but I had to stand and watch it and make sure. I don't even think I got excited because I ran back on defense. I know Jaylen slapped my hand, and it's red right now."
Bentonville (20-1, 14-0) led 49-36 after Anthony Wilson went inside and scored the first bucket of the fourth quarter before West (16-10, 9-5) made things interesting. The Wolverines put together a 9-2 run and cut their deficit to 51-45 on Dawson Price's bucket with 3:39 left.
Hutchinson then broke the Tigers' four-minute dry spell without a bucket when he scored with 3:13 remaining, but West added another bucket by Price and a three-pointer by Evan White to make it a 53-50 game with 51.2 seconds left. Bentonville then held the ball and had only eight seconds on the shot clock before the ball finally got into Hutchinson's hands one last time.
"It was a good battle, and it's always a good battle," said Bentonville Coach Dick Rippee, whose team became the first team to go 14-0 in league play since Fayetteville did it in the 7A-West in 2013. "I'm just hoping now everybody gets out of here healthy on both sides going into the tournament.
"I'm really proud of our guys. It's really hard to do what we've done and not many people have done it. It's a difficult thing but 14 times our guys came out and hooked it up. They've been the favorite probably every single time, and somebody's always gunning for you. It won't be any different next week."
Hutchinson finished with 12 points and Lee 11 for Bentonville, which gets to wait until Thursday's semifinal round before playing a game in the 6A-West tournament. Riley Buccino led West with 14 points.
West enters the 6A-West tournament as the No. 3 seed and will play Wednesday against the winner of Tuesday's opening-round game between Springdale and Rogers Heritage.
GIRLS
BENTONVILLE 61,
BENTONVILLE WEST 47
Bentonville strung together 17 unanswered points over the second and third quarters, then held off West in order to claim the top seed for the 6A-West tournament.
The outburst came after the Lady Wolverines had cut the Lady Tigers' early lead to a 29-25 margin after a Mary Beth Dyson bucket with 2:18 before halftime. Bentonville scored nine points to close out the first half and enjoyed a 38-25 halftime cushion, then the Lady Tigers added seven more for a 46-25 cushion after a Gracie Eaves' three-pointer with 6:34 left in the third quarter.
Jada Brown had 23 points to lead Bentonville (17-3, 11-1), which played its third consecutive game without senior post Maryam Dauda, while Eaves added 15 on five three-pointers. Savannah Rangel had 10 points to lead West (8-15, 5-9), which enters the tournament as the fifth seed and hosts Fort Smith Southside in opening-round action Tuesday night.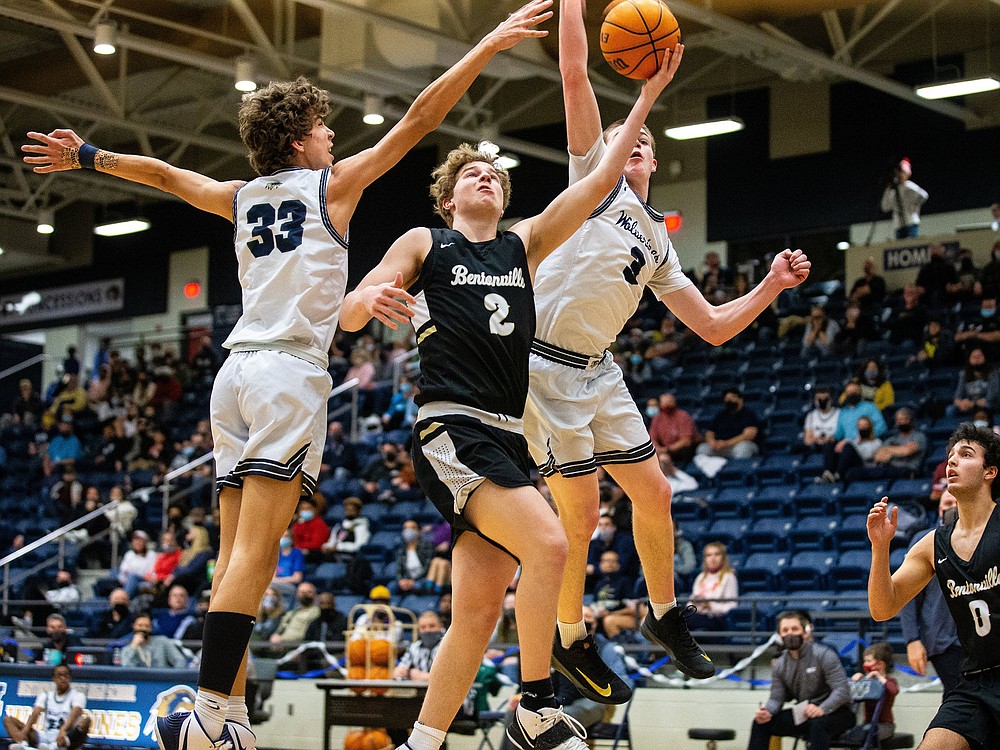 Bentonville's Abel Hutchinson (2) puts up a shot Friday between Bentonville West defenders Tucker Anderson (33) and Dawson Price during the Tigers' 56-50 victory over the Wolverines in Centerton. Hutchinson hit a three-pointer with 14 seconds left to seal the Tigers' victory. (Special to the Democrat-Gazette/David Beach)