BENTONVILLE -- The Public Library will expand and upgrade if voters approve a city bond issue.
Residents will be asked at a special election April 13 to approve up to $266 million in bonds by extending a 1% city sales tax. Included in the bond proposal is $4.9 million for library expansion. The Benton County Election Commission approved the ballot Monday.
The 38,500-square-foot library will celebrate 15 years at 405 S. Main St. this fall.
Bond plans call for a 6,400-square-foot addition and renovation to 10,000 square feet of the interior.
The addition would include a children's department with a larger story time area and expanded craft space in addition to a teen zone and activity room/maker space.
"The proposed improvements are important to enhance Bentonville Public Library's already vital role in our city by continuing to offer more services, materials and programs our patrons expect from a first-class library," Director Hadi Dudley said.
"An expansion is necessary to better align the library with growth in population, school enrollment and city development cited in the 2018 Bentonville Community Plan," she said.
Jennifer Newell said she has enjoyed the library.
"Since 2006, my family has grown by two children, so we've steadily started enjoying more and more of the children's library," she said. "We absolutely love the children's librarians and all the programming they offer. Story time has been a staple in our week for the last four to five years.
"My children and I would like to see more children's programming and borrow-able items. We envision a 'library of things' for the children where we could borrow imagination kits including costumes and dramatic play items with correlating books on the subject."
Teresa Stafford, executive director of the Bentonville Library Foundation, said the library is growing.
"Over the years, the Bentonville Library Foundation's Board has observed a tremendous growth in the library's collections, usage, services and the community's program attendance," Stafford said.
"We are aware that the library has expanded available materials in quantity and type and offered more literacy programs and new services based on community need, especially in youth services such as the children's library and the teen area. The library has clearly become a destination for many in Bentonville and continues to provide services during the challenges presented by the covid-19 pandemic," Stafford said.
Tami Thomas has seen the library grow and change over the past 15 years.
"I can remember thinking how empty it appeared when it first opened and wondering if the shelves would ever be full," she said. "Yes, indeed they are full now. Programming has expanded, and there is always something on the calendar. At first, the library seemed sparsely occupied and quiet; now it is bustling with activity that is not limited to reading books. There are art exhibits, author presentations and special events, as well as regularly scheduled activities."
Since 2006, there have been more than 3.75 million library visits, with over 7.7 million checkouts, Dudley said. An all-time high for checkouts was 725,056 in 2019. The library opened with more than 70,000 items, and that number has grown to 152,813 in the collection.
The library initiated a needs assessment study by MSR Design. It is a six-month project supported by a grant from the Walton Family Foundation, in partnership with the Bentonville Library Foundation, Dudley said. A final report will be published in early March and will be posted on the library's website, she said.
Further planning and development will determine the actual design for expansion, Dudley said.
Thomas said a monthly book club she is a part of has outgrown its meeting space twice, and she said it appears to her the young adult and children's spaces have also become crowded.
"We have a very young demographic in Bentonville as evidenced by the consistent addition of new schools. I think our library needs to keep pace with that," she said.
Expansion could go beyond what is in the bond but will cost more money. The City Council heard from Matthew S. Kruntorad with MSR Design on the library's needs at a meeting in January. MSR Design is based in Minneapolis.
The full needs assessment shows a proposed 65,055 square feet of new and renovated space, which includes the current 38,500 square feet, at a cost a shade under $15 million, or more than three times the bond amount.
That endeavor would require a public/private partnership, similar to the 2006 facility project, Dudley said. The Bentonville Library Foundation is committed to supporting the library's expansion project, she said.
The City Council approved an agreement with the library foundation in November to purchase two pieces of property adjacent to the library for $1. The parcels are just north of Southwest Fourth Street.
The council unanimously approved an agreement in October with the Charles H. and Marilyn S. Turner Revocable Trust and Lawrence H. and Linda J. Hawkins for $850,000, plus closing costs estimated at $9,000 and $10,000 earnest money for the purchase of 401 S. Main St. Additional costs of $19,800 will pay for other services associated with the purchase. The property will provide greater expansion opportunities for the library, according to council documents. The money came from city reserve.
Eighty percent of the revenue raised by the city's 1% sales tax goes to repay bonds and 20% goes to ongoing capital needs. The city would maintain the same ratio if the sales tax is extended, according to Jake Harper, city director of finance and administration.
The 1% sales tax would expire in 2046. The tax brings in about $15 million a year.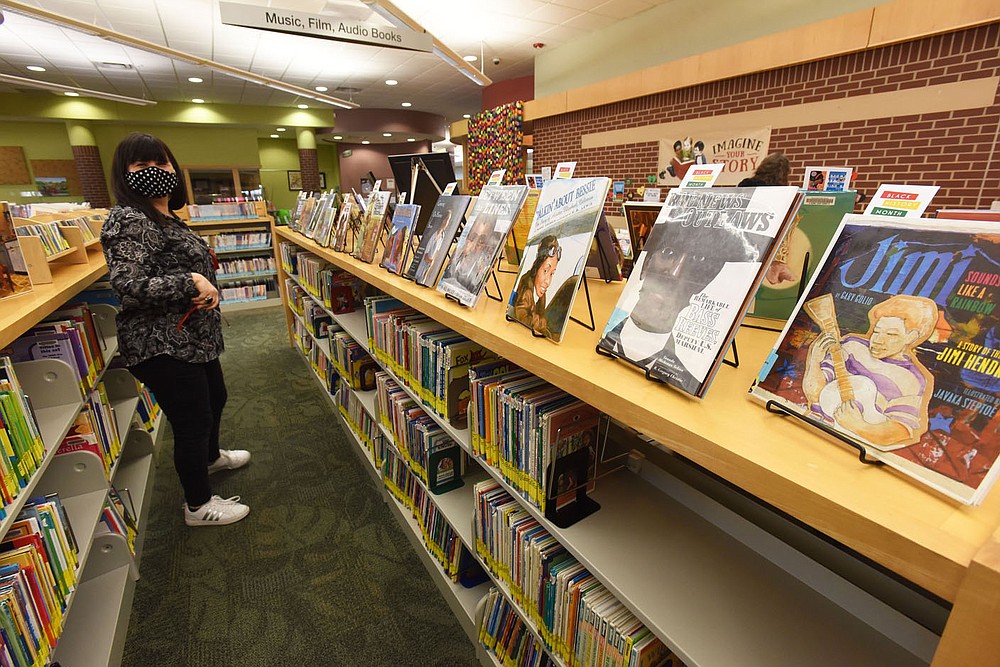 Asele Mack, library specialist at the Bentonville Public Library, shows Wednesday Feb. 24 2021 books available in the children's library area. (NWA Democrat-Gazette/Flip Putthoff)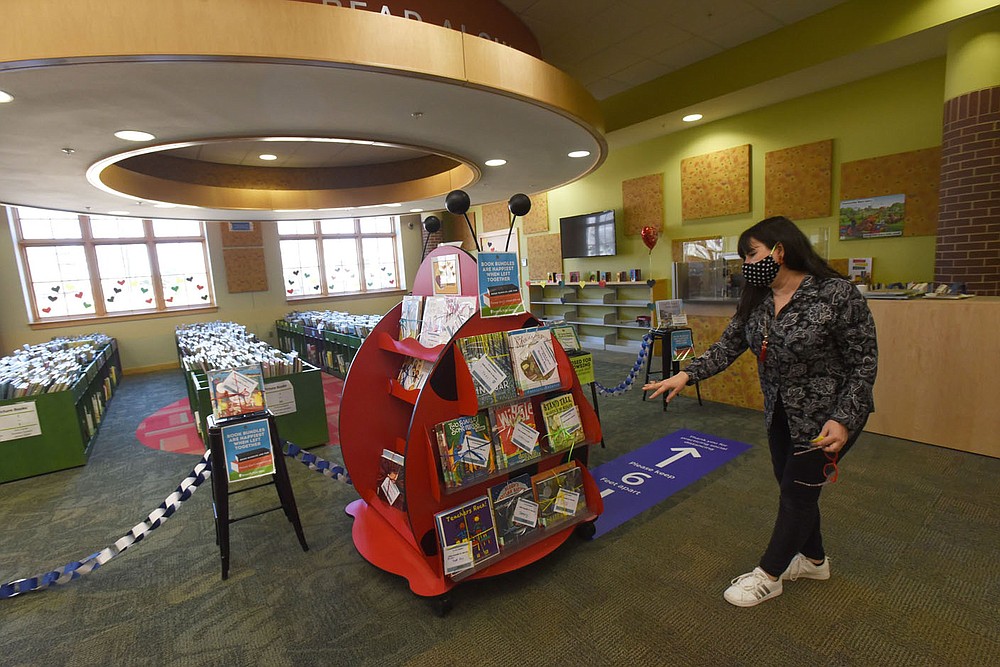 Asele Mack, library specialist at the Bentonville Public Library, shows Wednesday Feb. 24 2021 books available in the children's library area. (NWA Democrat-Gazette/Flip Putthoff)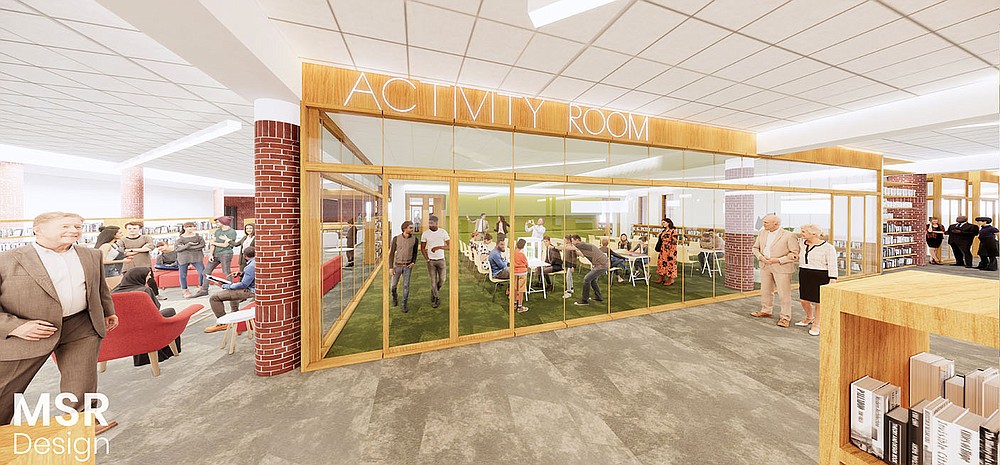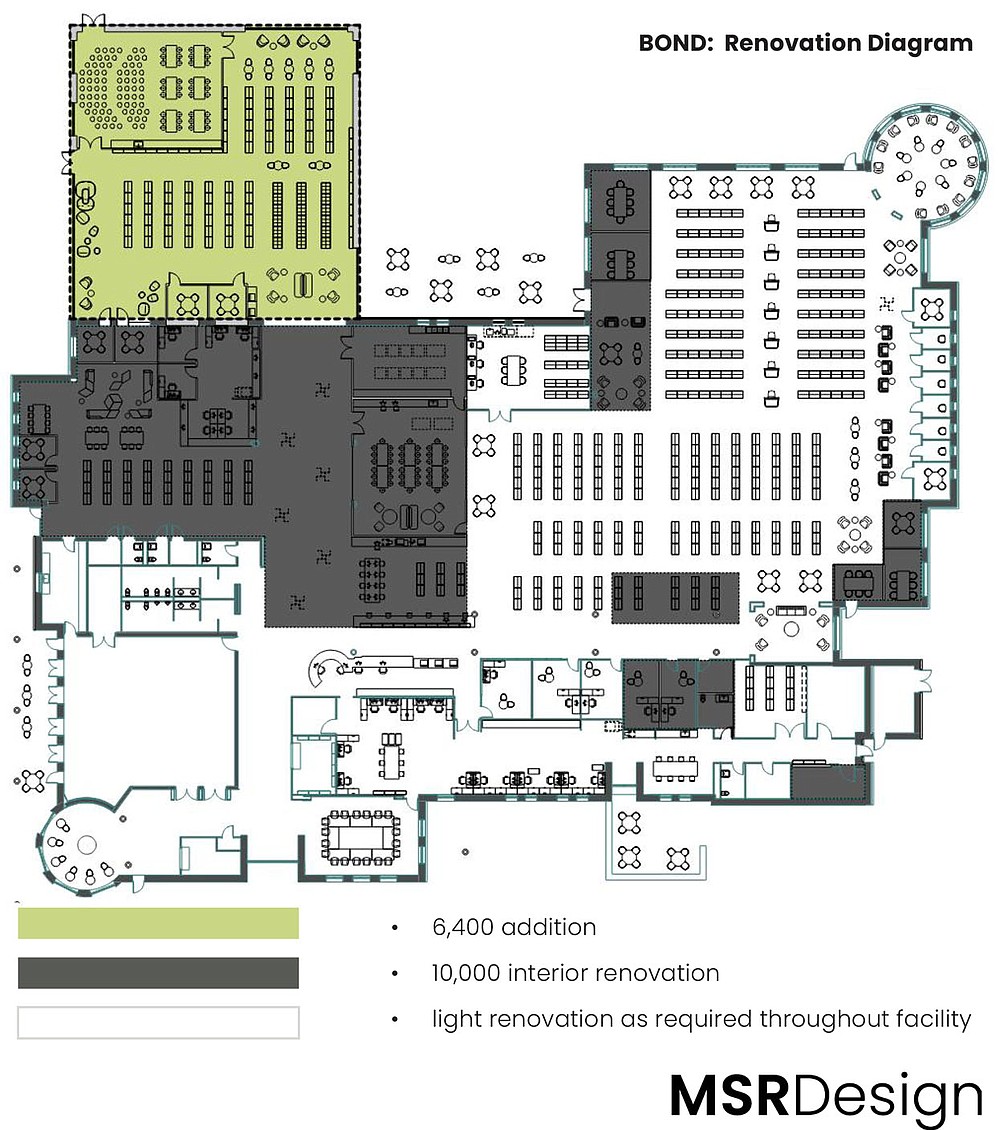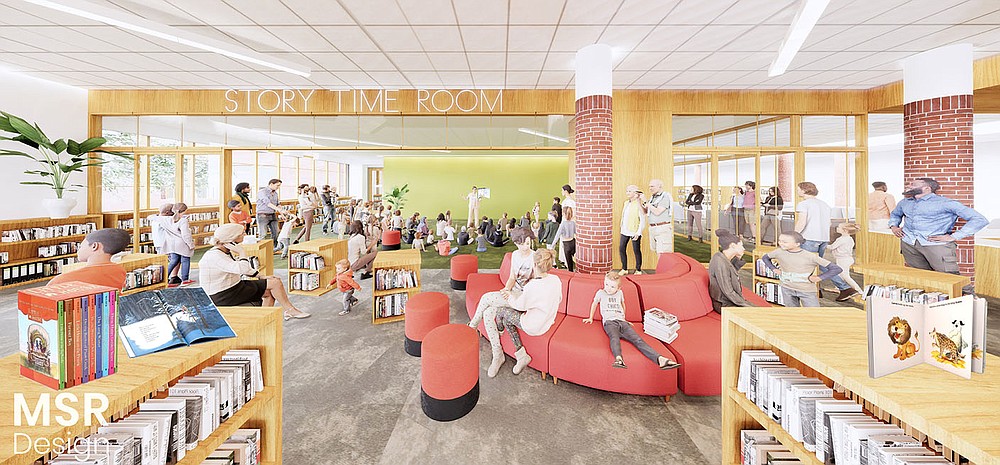 More News
Web watch
The city has a website dedicated to the bond issue. It can be found at www.BentonvilleBond.com.