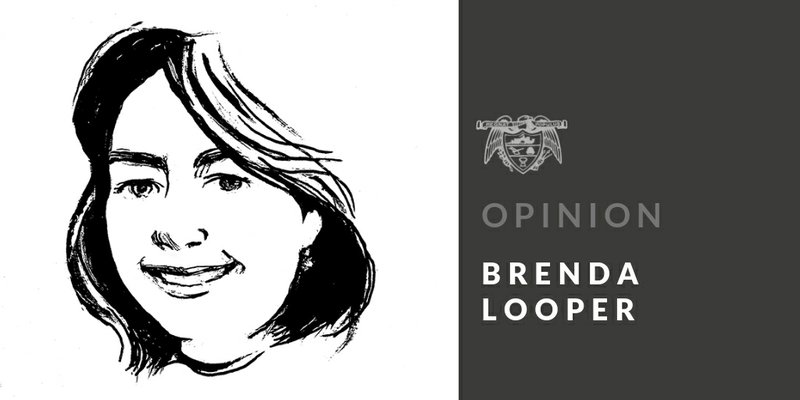 Brenda Looper
I hear there's some big to-do going on in D.C. today with potential for both horror and hilarity. So yeah, I'm just gonna ignore that for now, and instead talk about what makes word-nerd hearts flutter (or maybe that was the peas ...).
Last Thursday, Michigan's Lake Superior State University released its annual list of words and phrases to be banished for misuse, overuse or overall uselessness and--no surprise--covid-19 figured prominently, having made up around 250 of the more than 1,450 nominations, and nabbing seven of the final 10 spots.
Overachiever, that one is.
Peter Szatmary, executive director of marketing and communications, said in a press release: "It should surprise no one that this year's list was dominated by words and terms related to covid-19. LSSU's Banished Words List has reflected signs of the times since debuting in the mid-1970s, and the zeitgeist this year is: We're all in this together by banishing expressions like 'We're all in this together.' To be sure, covid-19 is unprecedented in wreaking havoc and destroying lives. But so is the over-reliance on 'unprecedented' to frame things, so it has to go, too."
If I might be so bold, I'd suggest "to be sure" as an introductory phrase be eradicated as well, but it may just be me who's annoyed by it.
Some of my friends' and email correspondents' pet peeves just happened to be on the list, which had nominations this time from many U.S. states and most major U.S. cities as well as Australia, the Czech Republic, England and Canada. Many of us have been guilty of using the phrases or equivalents, but there are some we in the media can't go without saying, like "covid-19" and "social distancing," the first two entries on the list.
In banishing "covid-19" (and several variants: covid, coronavirus, Rona), the university wrote: "A large number of nominators are clearly resentful of the virus and how it has overtaken our vocabulary. No matter how necessary or socially and medically useful these words are, the committee cannot help but wish we could banish them along with the virus itself. Coincidentally, this list arrives as does a vaccine--the committee hopes this proves a type of double whammy."
The university admits that the term "social distancing" is useful, "as wearing a mask and keeping your distance have a massive effect on preventing the spread of infection. But we'd be lying if we said we weren't ready for this phrase to become 'useless'."
The other five covid-related terms are mostly those that have been used in news and commentary (and I'm guilty of variants of at least one of them) seeking to calm people or to refer to figuring our way out of this mess: "We're all in this together," "in an abundance of caution," "in these uncertain times," "pivot" and "unprecedented."
"Unprecedented," by the way, was banished in 2002. The university said, "Given that it was nominated many times this year for misuse in describing events that do have precedent, inclusion again seems warranted."
Gosh, it's like people forgot that words have meaning!
"We're all in this together" has outlived its usefulness, said the university: "As the virus made its way across the globe and nation, it became clear that we are all dealing with covid-19 in different ways and that we confront some vastly different challenges in coping with it." I would argue that it's still useful, but apparently only when used with people who don't feel that following public-health guidelines for the good of all is an infringement of their rights and the next step toward socialism.
Of "in these uncertain times" the university wrote: "Putting things into imprecise context doesn't help matters. The blur dilutes reality and, to some, sounds like the beginning of a movie trailer. Keep as wide a berth of trite parlance as those who don't wear masks in public."
Well, I've been doing that all along, really. Sheltering in place isn't fun, but with so many averse to public health guidelines, especially as cases and deaths spike, it's necessary.
Mostly because I'm thinking of making a potato gun for use with those people, and I have really good aim. I really hate to waste good potatoes.
As for the other three entries, I had never heard of one because I don't play Among Us: "sus," which is short for suspicious. The game is designed around identifying "sus" imposters to throw into the lava. How about we throw "sus" into the lava?
"I know, right?" is often seen on social media (yeah, I use it) to convey empathy with agreement. Said the university: "As one wordsmith put it, if you know, why do you need to ask if it's correct or seek further approval? Another grammarian suggested that the desire for confirmation connotes insecurity."
Lastly, we come to "Karen," shorthand for the behavior of white women in response to other races, but now seen as a "misogynist umbrella term for critiquing the perceived overemotional behavior of women." The majority of the Karens in my life regularly crack me up and are pretty open-minded, so I'm not crazy about the term. There's a better one for the brusque "I want to speak to the manager" types, but we generally don't print it here.
I know, right?
--–––––v–––––--
Assistant Editor Brenda Looper is editor of the Voices page. Read her blog at blooper0223.wordpress.com. Email her at blooper@adgnewsroom.com.
Sponsor Content