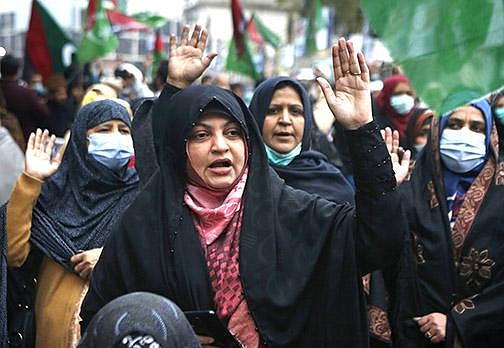 Shiite Muslims chant slogans during a sit-in Wednesday in Lahore, Pakistan, to protest the killing of coal mine workers by gunmen near the Machh coal field. (AP/K.M. Chaudary)
Sit-in over miners' deaths in 4th day
QUETTA, Pakistan -- Hundreds of minority Shiites continued a sit-in for a fourth-straight day Wednesday in southwestern Pakistan to protest the killing of 11 Shiite Hazara coal miners by the Islamic State group.
Despite Prime Minister Imran Khan's request that the miners be buried, family members insisted that they would do so only when Prime Minister Imran Khan personally visits them to assure their protection.
Residents and relatives began their protest Sunday on the outskirts of the city of Quetta after Islamic State militants abducted and then shot and killed the miners in Baluchistan province. Six died at the scene, and five, critically wounded, died on the way to a hospital.
The Sunni Islamic State affiliate has declared war on minority Shiite Muslims in Pakistan and Afghanistan, and staged dozens of attacks in the two counties since emerging in the region in 2014.
Pakistan's Hazara community has been targeted many times in recent years by Sunni militant groups, including the Islamic State, which quickly claimed responsibility after the abduction and killing of the miners.
Police video of the bodies revealed the miners were blindfolded and had their hands tied behind their backs before being shot. Sunday's attack took place near the Machh coal field, about 30 miles east of Quetta, the capital of Baluchistan.
Armenia premier skips Christmas event
YEREVAN, Armenia -- Armenia's prime minister, who is under harsh criticism from the country's dominant Orthodox Christian church in connection with the recent war with Azerbaijan, stayed away from Christmas services Wednesday.
Prime Minister Nikol Pashinyan was self-isolating because of the coronavirus pandemic, spokeswoman Mane Grigoryan said. Pashinyan contracted the virus in June, and it was not clear if he had been reinfected.
The prime minister has been widely denounced in Armenia for signing a November cease-fire agreement that ceded parts of the separatist Nagorno-Karabakh region and large swaths of surrounding territory to Azerbaijan. The areas had been under the control of ethnic Armenian forces for a quarter-century before full-scale fighting broke out in late September.
About 3,300 Armenian servicemen were killed in the war, and the territorial cessions forced thousands of Armenians to flee their homes. The cease-fire sparked weeks of demonstrations calling for Pashinyan's resignation. Armenian Apostolic Church head Catholicos Garegin II and other top clerics have called for him to step down.
Many Orthodox churches mark Jan. 7 as Christmas; the Armenian church observes Christmas and Epiphany on Jan. 6.
Palestinian activist guilty of protesting
JERUSALEM -- An Israeli military court Wednesday found a prominent Palestinian activist guilty on six charges related to his participation in demonstrations in the occupied West Bank city of Hebron against Jewish settlements and alleged human rights violations.
Issa Amro was convicted on three counts of protesting without a permit, two counts of obstructing security forces and one count of assault. The charges date back to 2010, according to a statement put out by his supporters, which said sentencing is scheduled for Feb. 8.
It was not clear what kind of sentence he might receive. The Israeli military and Amro's lawyer did not immediately respond to a request for comment.
Amro is a well-known activist who has been detained multiple times, often after confrontations with settlers in which he says he was attacked and beaten. The Palestinian Authority detained him for a week in 2017 over a Facebook post critical of President Mahmoud Abbas.
Amro's supporters say the charges are linked to his participation in various peaceful protests over the years. They said the assault charge stems from a previously closed case in 2010 in which Amro reportedly shoved someone during a scuffle in which he said he was assaulted.
40 people feared dead after boat sinks
BENI, Congo -- Authorities in eastern Congo fear more than 40 people are dead after a motorized wooden boat capsized on Lake Kivu overnight, officials said Wednesday.
The boat was headed toward the regional capital of Goma when it sank near Kalehe in South Kivu province.
Three bodies have been recovered and more than 40 other people are still missing, according to Delphin Birimbi, head of a civil society group in Kalehe. Authorities also said 56 people had been rescued.
Eastern Congo has long been plagued by disastrous boat accidents since vessels are often overloaded with passengers and cargo. Road networks in the country's far east are poor and often under the control of armed groups so many choose to travel by water despite the risks of drowning.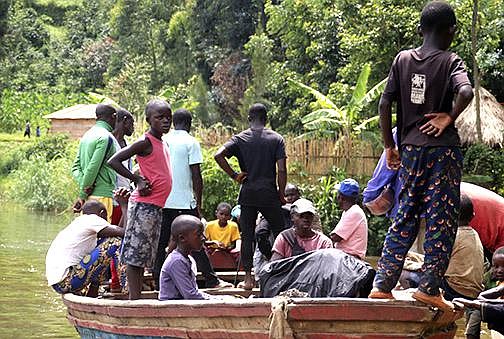 Children gather around a wooden boat conveying two bodies Wednesday in Mukwija in Eastern Congo, after a motorized boat capsized overnight on Lake Kivu, officials said. (AP/Justin Kabumba)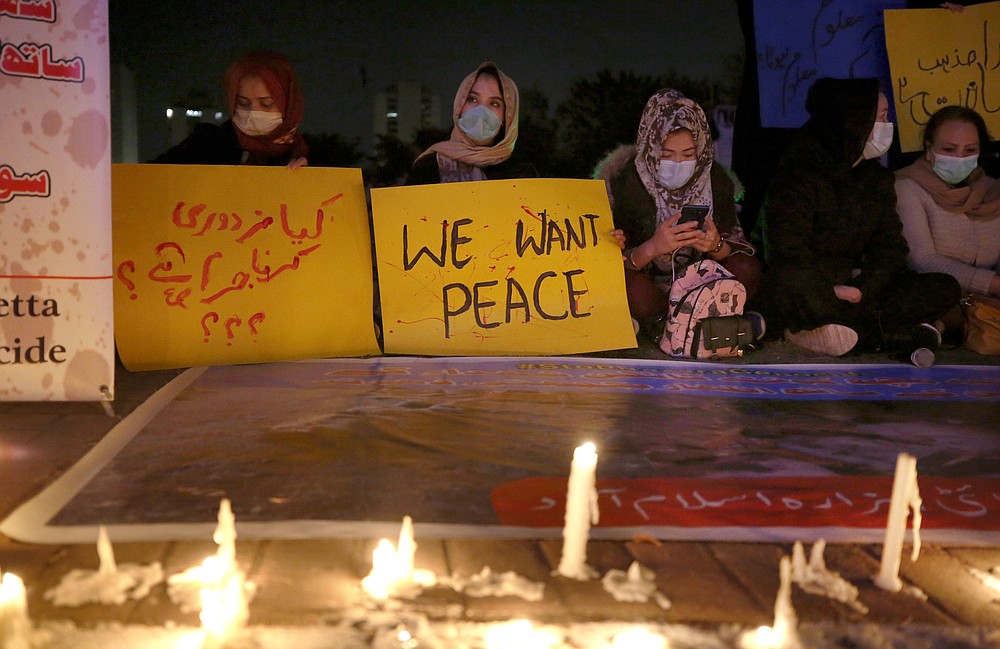 Members of a civil society hold a candle light vigil for coal mine workers killed by gunmen near the Machh coal field, in Islamabad, Pakistan, Wednesday, Jan. 6, 2021. Pakistan's minority Shiites continued their sit-in for a fourth straight day insisting they will bury their dead only when Prime Minister Imran Khan personally visits them to assure protection. (AP Photo/Anjum Naveed)
Shiite Muslims chant slogans during a sit-in to protest the killing of coal mine workers by gunmen near the Machh coal field, in Lahore, Pakistan, Wednesday, Jan. 6, 2021. Pakistan's minority Shiites continued their sit-in for a fourth straight day insisting they will bury their dead only when Prime Minister Imran Khan personally visits them to assure protection. (AP Photo/K.M. Chaudary)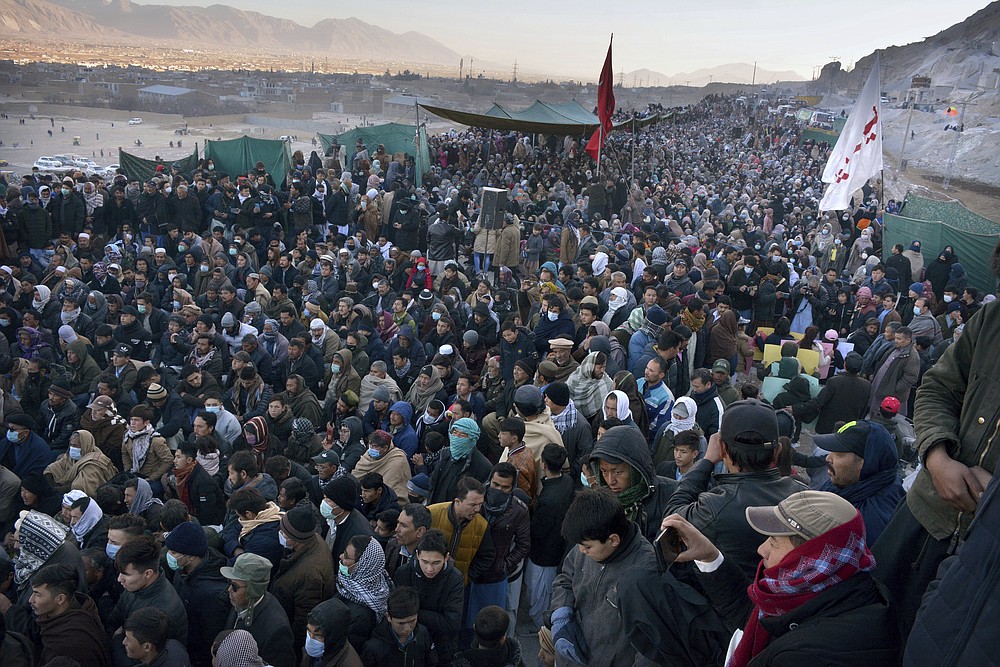 People from the Shiite Hazara community hold a sit-in to protest the killing of coal mine workers by gunmen near the Machh coal field, in Quetta, Pakistan, Wednesday, Jan. 6, 2021. Pakistan's minority Shiites continued their sit-in for a fourth straight day on the outskirts of the southwestern city of Quetta to protest the killing Sunday of 11 coal miners by the Islamic State group, insisting they will bury their dead only when Prime Minister Imran Khan personally visits them to assure protection. (AP Photo/Arshad Butt)
Sponsor Content