The Urban Renewal Agency is renovating three downtown buildings to get them ready for occupancy. Here, workers scrape paint off a building's columns on Friday. (Pine Bluff Commercial/Byron Tate)
A special Pine Bluff Urban Renewal Agency meeting was held via Zoom Friday to approve the 2021 budget of $3.5 million to allow Executive Director Maurice Taggart to move forward and pay bills before the agency's Jan. 26 meeting.
Though the budget was approved by the City Council during their December meeting, the funds could not be released until approved by the agency's commissioners. Also, in attendance were City Council members Steven Mays and Bruce Lockett, who are members of both the Development and Planning and the Economic and Community Development committees.
The $3.5 million included the 2021 city of Pine Bluff Budget Narrative and Operating Plan amount of approximately $2.4 million with the remaining funds carried over from the 2020 budget.
The budget will go toward many projects already in the works for the agency as well as some vested interest and potential partnerships with private investors.
"We are continuing work with the downtown building owners, specifically between Third and Fourth streets to return those buildings to productive use," said Taggart. "We're working on three buildings right now."
Downtown district projects include the completion of the downtown master plan of renovating the downtown historic district that highlights places of cultural significance to Pine Bluff such as the Masonic Temple, Saenger Theatre and the Pine Bluff Jefferson County Railroad Museum.
"We're working with a private investor to do some things with the Saenger Theater, and I have had conversations with Prince Hall Masons of Arkansas to look at ways to partner to return the temple back to productive use."
Taggart said plans to finalize a deal with Apex Cinema are in the works and significant movement will be made this year concerning market-rate housing and affordable housing.
Taggart has projected at least 100 blight removals for 2021, with demolitions already scheduled through March. Both Lockett and Mays will be working with the agency as they plan to clean up the 4th Ward to remove burnouts.
Moving forward with the go-cart track, Taggart said he has released a request for proposals for the asbestos analysis and abatement for the demolition of that area located at the former Admiral Benbow Inn at 2100 E. Harding.
"We have a lot of things going on," said Taggart. "2021 is going to be a good year for both Urban Renewal and the city because together we can move forward. Bringing everybody to the table and addressing some of the issues is paramount to make sure everyone is on the same page."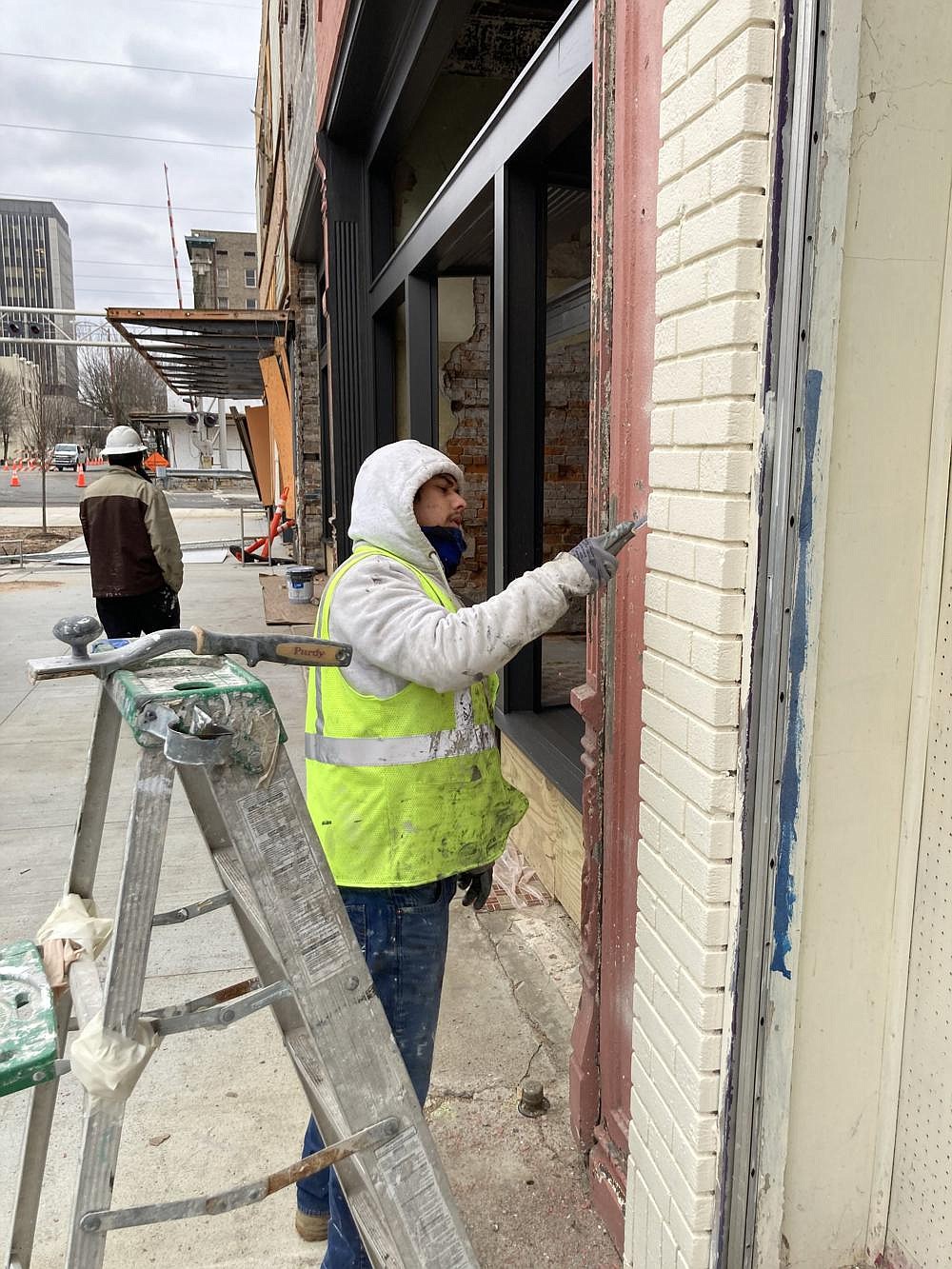 Workers do prep work Friday on the exterior on one of the three buildings the Urban Renewal Agency is renovating. (Pine Bluff Commercial/Byron Tate)
Sponsor Content