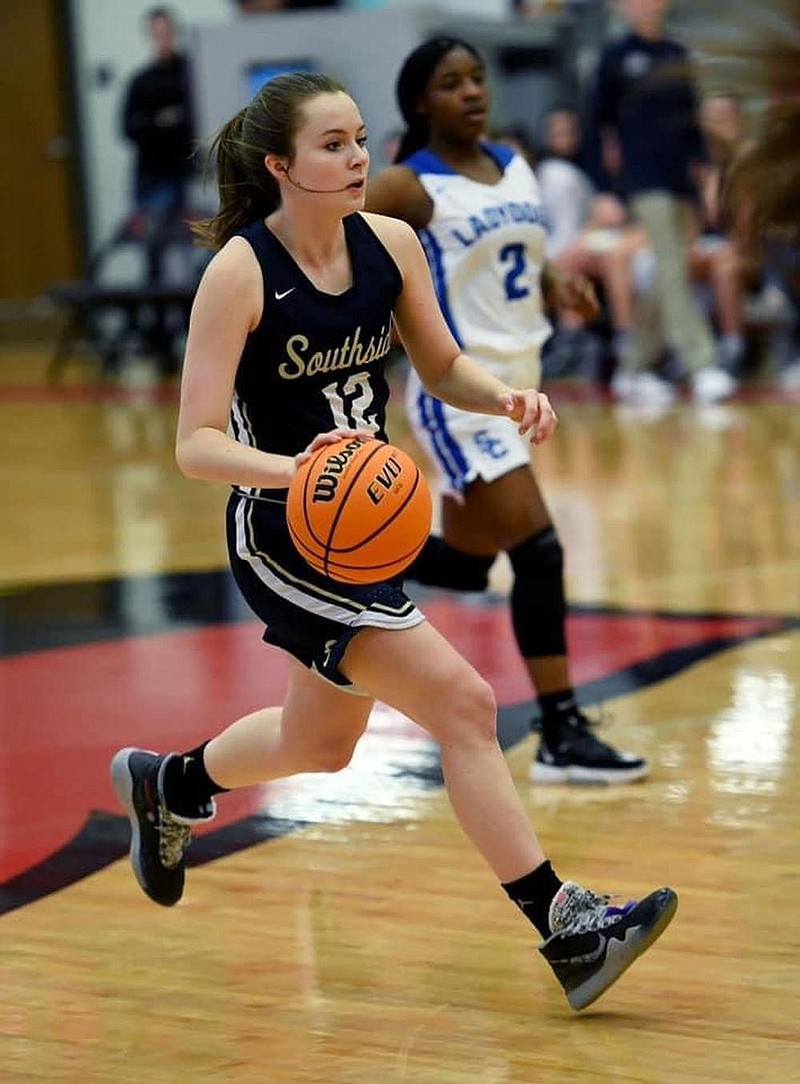 Junior guard Brett Gardner is averaging just over 18 points per game this season for Southside Batesville. "This year, she's just had to carry the load a little bit more, but I think she was prepared for it," Coach Jordan Riley said. (Submitted photo)
Attrition has forced Southside Batesville Coach Jordan Riley to do a little more shuffling with his team this season than he would have liked.
That's not to say he wasn't ready for it.
Southside Batesville advanced to the quarterfinals of the Class 4A state tournament last season behind a mix of underclassmen and upperclassmen that blended well throughout the season. Reese Gardner and London Cuzzort were all-state players who were the catalysts to the Lady Southerners' postseason push in Riley's first season as coach.
But neither are around this year. Gardner is playing collegiately in Texas, while Cuzzort transferred to crosstown-rival Batesville for her senior season. Riley, however, does have several youngsters in place that contributed to the team's success in 2019-20, starting with Reese's little sister, Brett.
"I don't know if I can even put a word on the level of importance that she plays for us," Riley said of Brett Gardner, who averaged double figures in scoring last season as a sophomore. "We lost a ton of offense from last season's team. So she's had to play a completely different role than what she'd played in the past. Last year, she had a good year and shot the ball fairly well.
"This year, she's just had to carry the load a little bit more, but I think she was prepared for it. She knew what we were losing and what we had coming back, knew that we'd be really young. But she stays in the gym constantly, and she's embraced her role."
Gardner, a 5-6 guard, is averaging just over 18 points per game for Southside Batesville (6-3, 1-2 4A-3). The junior has her running mate and best friend, Olivia Allen, to help run the show in the backcourt for a Lady Southerners team that'll receive an added boost when standout sophomore forward Kamie Jenkins returns from an injury she sustained in a 53-49 victory over Little Rock Central on Dec. 10
To put in perspective just how much Gardner means to Southside Batesville's success, she averages at least 15 shot attempts and more than 20 points on 50% shooting in the team's six victories. In the team's three losses, Gardner puts up just over nine field-goal attempts and shoots under 40%.
"It's been a little different for me, to say the least," Gardner said. "I've had to do some things that I hadn't really done before. But at the same time, I enjoy it a lot. Having to play the role that I'm in now is kind of natural in a way because I've always been more of a scorer before high school ball.
"But last year, I didn't have to score as much because we had a little better team. This year, I've had to step up more, and it's really been enjoyable."
Gardner admitted that it was tough getting use to her new-found spot in the team's pecking order, especially after the first few games of the season.
"Eventually, I realized that I kind of just had to," she explained. "I knew I had to do more. I'm going to do everything I can to help my team win."
Gardner's play on the floor has revealed that she's more than just a scorer, as noted by her 21-point, 5-rebound and 3-assist performance in a 42-41 victory over Class 2A power Quitman or her 19-point, 5-rebound, 3-assist and 2-steal effort during a 54-29 blasting of conference foe Highland.
But Riley revealed that Gardner's a "floor general" as well because she has the ball in her hands more than anyone else. To her credit, he also said she has the least amount of turnovers, too.
"Her turnover percentage is under 10 percent, which is really good," Riley said. "Olivia handles the ball a lot as well because she's playing a similar role as to what Brett has had to play. So with those two, we kind of go as they go."
Allen, also a junior, has had monster games as well this year. She had a team-high 25 points against Bauxite and 17 points in the overtime victory over Central. Those numbers aren't surprising to Gardner, considering she may know better than anyone what her friend is capable of.
"We've always played together, even when we were younger in AAU ball," she said. "I love playing with her because it's natural. We basically grew up together, know each other's tendencies and things like that.
"But to be honest, the whole team works really good together. We're all friends, and that makes it that much better. We've improved a lot from the very start of the year as well. Once Kamie gets back and we become whole, I think we'll be even better."
More News
Gardner at a glance
SCHOOL Southside Batesville
CLASS Junior
POSITION Guard
HEIGHT 5-6
NOTEWORTHY Had a season-high 29 points in a 64-34 victory over Maumelle on Nov. 16. … Scored 23 points against Mayflower on Nov. 23. … Plays summer basketball for the Arkansas Sting. … Older sister Reese, who is a freshman guard at Cisco (Texas) College, was an all-state player last year for the Lady Southerners. … Holds an offer from Cisco as well.
Sponsor Content