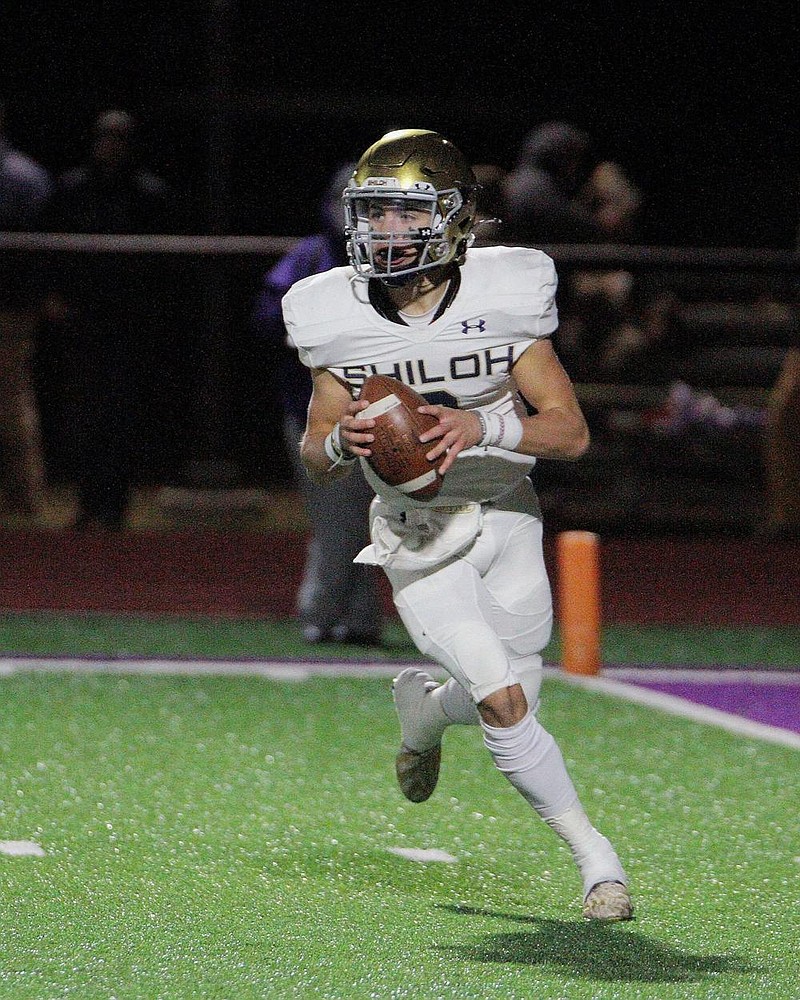 Shiloh Christian sophomore Eli Wisdom is the NWA Democrat-Gazette Division II Player of the Year. Wisdom compiled the rare 2,000-yard passing, 1,000-yard rushing season at quarterback, while also starting at cornerback, where he had 20 pass-breakups for the 4A-1 Conference champions. (Special to NWA Democrat-Gazette/Brent Soule)
Shiloh Christian was ready to end its decade-long drought of not winning a state championship.
To achieve the feat, the Saints turned to a sophomore quarterback to get it done.
Eli Wisdom took control of the Shiloh Christian offense, accounting for 47 touchdowns, and the Saints won their first state title since 2010 with a 58-20 victory over Rivercrest in the Class 4A state championship game, where he earned MVP honors.
For his accomplishments, Wisdom is the Arkansas Democrat-Gazette's All-Arkansas Preps Underclassman of the Year for the 2020 season.
Wisdom was 145-of-240 passing for 2,125 yards with 23 touchdowns and 7 interceptions. He also had 1,464 yards and 24 scores on 166 carries as the Saints finished 14-1 with their only loss coming out of state in Sand Springs, Okla.
Shiloh Christian Coach Jeff Conaway said Wisdom met with him during the offseason to express his desire to become the Saints' starting quarterback. Wisdom had three goals: to be the starting quarterback, to win a state title and to earn all-state.
"He went 3 for 3," Conaway said. "He continued to get better as the year went on."
Wisdom played wide receiver in junior high, but it was quarterback where he dreamed of playing since he was a little kid.
"I knew I wanted to be a quarterback," Wisdom said. "I like the pressure."
Conaway expects big things for Wisdom.
"He's a talented kid," Conaway said. "He's improved on his leadership skills. He's improved on his accuracy. He's really diligent. The sky's the limit for him."
During the offseason, in which teams were forced to go virtual from mid-March until June 1 because of the coronavirus pandemic, Wisdom said he was meeting with Shiloh Christian coaches daily on Zoom.
Conaway said the meetings, while not in-person, were beneficial for Wisdom.
"He jumped on board," Conaway said. "He was dialed in and ready to go."
Two highlights for Wisdom were the Saints' comeback victory at Elkins and the state championship game.
Shiloh Christian trailed 21-0 before pulling within 21-7 at halftime against Elkins, then went on to win 49-28 thanks in large part to two touchdown runs by Wisdom. In the state championship game, Wisdom completed 17 of 21 passes for 239 yards with 3 touchdowns, and rushed for 110 yards and 3 scores on 16 carries.
Wisdom is looking to play deep into December during his junior year.
"I want to help the football program win state championships," Wisdom said. "To do it in my sophomore year was a blessing."
More News
Wisdom at a glance
SCHOOL Shiloh Christian
CLASS Sophomore
POSITION Quarterback
HIGHLIGHTS Passed for 2,125 yards, 23 touchdowns and 7 interceptions. Rushed for 1,464 yards and 24 touchdowns on 166 carries. … Led Shiloh Christian to a 14-1 record and Class 4A state championship, its first title since 2010. … Earned MVP honors in the state championship game.
Sponsor Content