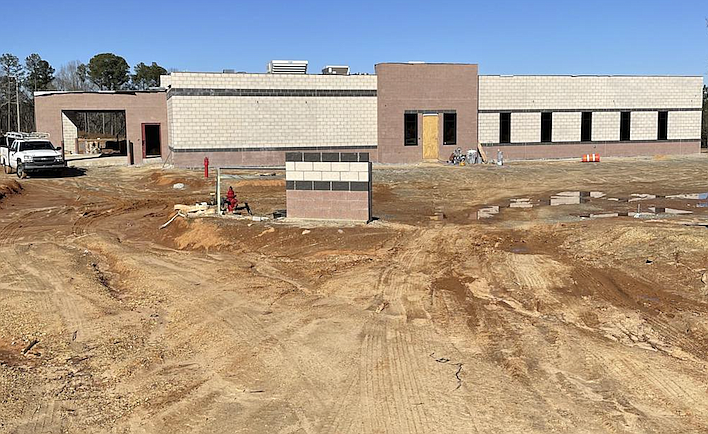 The new 13,600-square-foot Lincoln County jail is being funded by a voter-approved county sales tax, and it is expected to be completed by early summer. It's located on 5 acres on Arkansas Highway 11, about a half-mile from Star City. (Special to The Commercial)
With a little luck, Lincoln County will finish its new $6 million jail under budget and ahead of its construction deadline date.
"It's going great, with about 70% of the construction already completed," Lincoln County Sheriff Leonard Hogg said.
The 13,600-square-foot jail is being funded by a 2018 voter-approved 1-cent county sales tax that caps construction costs at $6 million.
SouthBuild Team of Tennessee is overseeing the project. The group that specializes in correctional facilities includes SpiritArchitecture Group and Smith-Doyle Contractors Inc.
So far, costs have remained below the budget, said County Judge Buddy Earnest, a former law enforcement officer.
Hogg said the facility is expected to be completed in early June, instead of mid-summer, after which he and his deputies will have to learn to operate the state-of-the-art security features.
"It will take about a month," Hogg said.
He said he hopes to hire additional staff, including a jailer and female guards to oversee female inmates.
Both Hogg and Earnest worked together on the design and meeting the needs associated with the 40-plus bed facility.
"It's been a unique experience," Hogg said.
It's located on 5 acres about a half-mile from Star City on Arkansas Highway 11. The Lincoln County sheriff's office will relocate from the basement of the Lincoln County Courthouse to the new jail once it's completed.
The facility offers inmates more space. The old jail is cramped and has poor ventilation, Hogg said.
Also, it will house 20 male and 20 female inmates, with a flex cell that can hold about 10 inmates of either gender but not at the same time, Earnest said.
Normally, the county holds on average about 20 inmates at a time.
Instead of cells, it will house about eight inmates in individual pods, each with access to televisions and phones. There will be video chat access to inmates and their lawyers.
The facility was designed so that all interior areas can be seen from a ground level observational station, and with about 70 security cameras inside and out. It also has electronic, button-operated doors.
It has a full-service kitchen, allowing all meals to be prepared on-site.
A covered sally port, with internal and external automatic locking doors, is located at the entrance-exit so that prisoners can't escape while being brought in or out.
"It will prevent them from running," Earnest said.
The new jail will house inmates from Lincoln County, Star City, Grady and Gould, and possibly those convicted and waiting to be placed in a state prison, Hogg said.
The state pays $32 per day to house prisoners.
Once completed, the county will be given a monthly operating budget, but Earnest said he hopes the jail will help offset those costs by temporarily housing state inmates.
Hogg estimated that it will cost the county, also funded by the one-cent sales tax, about $50,000 a year for food, medical and other incidentals.
Sponsor Content