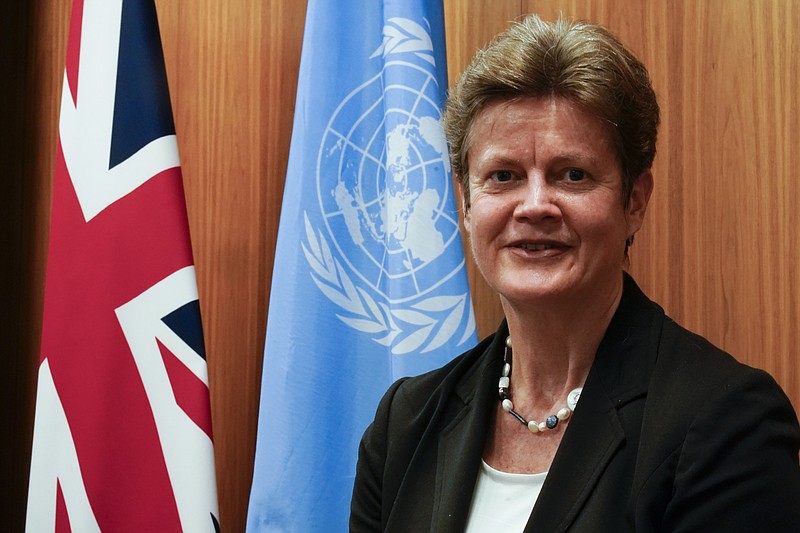 British Ambassador to the United Nations Barbara Woodward poses for a photo, Tuesday, Jan. 5, 2021, in New York. (AP Photo/Mary Altaffer)
UNITED NATIONS -- Britain's new U.N. ambassador says the government is feeling "gung-ho" about continuing its role as an important player on the world stage despite its exit from the European Union.
Barbara Woodward pointed to the United Kingdom's permanent seat on the powerful U.N. Security Council, its presidency this year of the Group of Seven major industrialized nations, its membership in the Group of 20 leading economic powers and NATO, and its hosting of the next United Nations global climate summit in Glasgow, Scotland, in November.
"Don't underestimate the power of the relationship with the EU," she stressed in an interview with The Associated Press last week. "There's a lot of values and principles which we share with European partners which I think will stand us in good stead."
Britain's long and sometimes contentious divorce from the EU became final on Dec. 31, a split that left the 27-member bloc without one of its major economic powers.
An article in the U.S.-based World Politics Review in October identified three visions for Britain's future: "Catastrophists who argue that the U.K. has become completely irrelevant on the international stage as a result of Brexit; the nostalgics, who see a powerful Britain through the lens of a great colonial power; and the denialists, who refuse to accept that Britain must adapt to a changing global context."
Authors Ben Judah, a British-French journalist and author, and Georgina Wright, a Brexit researcher at the Institute for Government, a U.K. think tank, said that since Britain voted to leave the EU in 2016 "it is undeniable that both British leadership and influence over global affairs have taken a hit."
"In international circles, it has become fashionable to be overly dismissive of Britain's weight in world affairs," they said. "Yet the country continues to carry weight."
Woodward, who went to the U.N. after more than five years as ambassador to China and previously served in Russia, agrees.
"We've had a pretty introspective three years with Brexit negotiations and managing covid," she said, but with the upcoming climate summit and Britain's presidency of the G-7 as the group grapples with economic recovery from the pandemic, "I think we've got quite a big role to play."
Sponsor Content