LOWELL -- The city plans to add a staff position and replace some equipment this year.
The City Council has approved a 2021 budget anticipating $11.2 million in revenue and $10.8 million in expenses, leaving a surplus of $146,000.
Nearly $298,000 is allotted for nonrecurring expenses, including $192,950 for the Police Department, $75,000 in information technology services and $30,000 for administration.
The city's 2020 budget included about $8.63 million in revenue and about $8.62 million in expenses, leaving a surplus of about $9,800.
The Police Department plans to buy four vehicles to replace old ones, Mayor Chris Moore said.
The city has about 60 full-time employees, according to the city's website. Lowell didn't lay anyone off as a result of the covid-19 pandemic, Moore said.
The Planning and Economic Development Department plans to add a planning coordinator position, which will offer a salary of up to $35,000, said Karen Davis, planning director. The city's Engineering and Building Services departments contribute to the city's planning, but Davis is the Planning Department's only staff member.
"We are growing at a rate faster than one person can keep up with," Davis said.
The city has seven subdivisions with 714 homes under construction and several commercial projects, including a Starbucks, underway, she said.
Lowell recently revised its land development code in an effort to concentrate growth in urbanized areas and avoid sprawl, according to Davis. The goal is to revise the land use map within the next year, in part to accommodate the growing population, she said.
The city's population grew from 7,330 in 2010 to an estimated 9,420 in 2018, according to the U.S. Census Bureau.
The city is also making progress on developing the Kathleen Johnson Memorial Park, which will be on about 100 acres off Bellview Street west of Interstate 49. Glenn and April Jones donated the land.
The park is under construction with plans to be completed by late August, Davis said. The city is building a pavilion to house a city-owned farmer's market, a parking lot and a trailhead connecting the park to the Razorback Greenway.
The park is home to Lowell's second fire station and a veterans memorial. A few nonprofit organizations have said they plan to move there, but have not done so yet, Davis said.
Construction of the park is budgeted to cost more than $2.3 million. The Lowell Advertising and Promotion Commission will help pay to build a playground at the park, which cost about $161,000, according to Davis.
Lowell received two grants, one for $302,000 and one for $485,000, from the Arkansas Department of Transportation and a $90,000 grant from Northwest Arkansas Regional Planning Commission. The Walton Family Foundation contributed $650,126, and the Leonard Johnson Revocable Trust contributed $600,000. The money from the foundation and from the trust more than covered what the city was required to match to receive the state grants.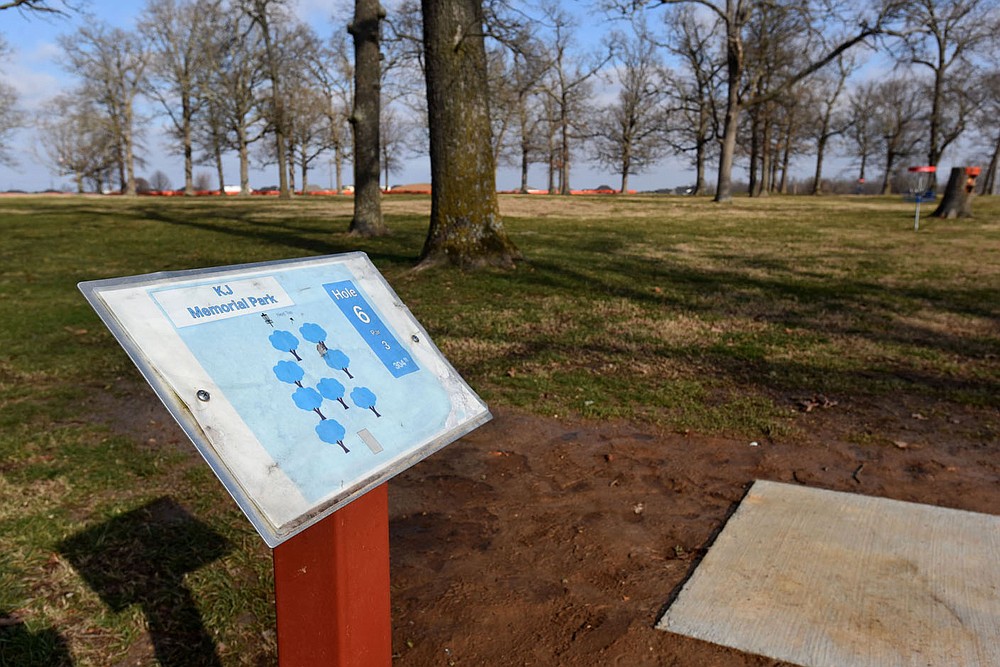 A disc golf course is located at Kathleen Johnson Memorial Park in Lowell. Go to nwaonline.com/210111Daily/ to see more photos. (NWA Democrat-Gazette/Flip Putthoff)