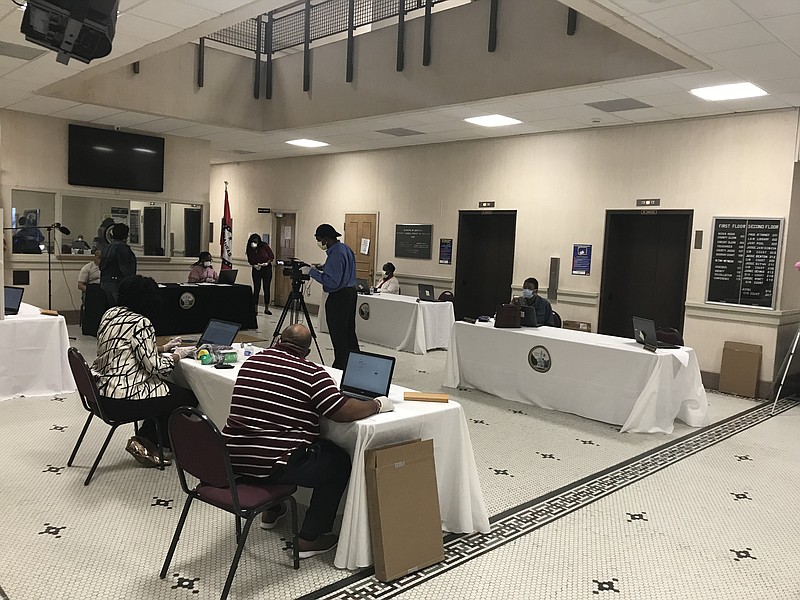 FILE - Members of the Jefferson County Quorum Court and staff maintain a safe social distance of at least six feet between other people during a meeting in April in Pine Bluff. ( Dale Ellis)
The Jefferson County Tax Collector will have to wait another month to properly submit his proposal to increase the salary for his chief deputy's spot after County Judge Gerald Robinson announced during the regularly scheduled quorum court meeting Monday that the justices of the peace could not rescind the vote to take the money back that had already approved by the court.
"We can't rescind it in a committee meeting," said Robinson. "It has to go to full court to be passed before we can take any action on it."
The original vote on the matter occurred in November and allowed Tax Collector Tony Washington to increase the pay of his chief deputy to $50,000. It was later discovered that the pay raise was placed in the bookkeeper's slot instead of the chief deputy's. That discrepancy irritated several members of the quorum court to the point that they voted last week to rescind the increase in allocation and to make Washington resubmit the paperwork with the correct names and titles on it.
But Robinson said the quorum court would have to be in full session to be able to take care of the matter.
"I discovered we couldn't do it that way," said Robinson, who said he has already spoken to Washington. The tax collector, Robinson said, said he would be willing to submit his proposal during February's meeting.
On another matter, Samella Thomas, a deputy tax collector who had submitted a complaint about what she alleges is unfair treatment in the tax collector's office, came before the quorum court for help. She read her letter to the justices of the peace, which detailed her longevity in the same position as newer hires while still receiving the lowest pay.
"I've written a letter to my boss explaining and complaining of unfair practices and discrimination in the Jefferson County's Tax Collector's Office," said Thomas.
"I've talked to him on several occasions and he told me there was nothing he could do and that it would have to come to quorum court."
Thomas said she has been a deputy tax collector since March, 2008 and says she is still in the same position. Last week Washington said Thomas' complaints happened before his time, as this was his second year in office.
"I pray to the Lord that nobody else has to go through what I'm going through now," said Thomas. "I'm asking if there is anything that the quorum court can do to help me get my salary raised."
Officials said there was nothing they could do. According to Robinson, the quorum court can only take action that is presented to them by the elected official. "That has not been done," said Robinson. "There is really no action we can take on that."
In other business, action was taken on the three ordinances, and a vote was taken to fill a vacancy in the county clerk's office.
An ordinance establishing and adopting procedures for the Jefferson County Quorum Court at all regular and special meetings through 2021-2022 was approved.
The regular monthly meetings of the Jefferson County Quorum Court will be held on the second Monday of each month, beginning at 5:30 p.m. at the Jefferson County Courthouse. Committee meetings will be held the Tuesday before the second Monday at 5:30 p.m.
An appropriation ordinance to provide a transfer within fund 1000 County General - Assessor's Budget, and an appropriation ordinance to appropriate funds to the County Clerk Coronavirus Relief Grant Fund 1005 were both approved by the court.
The Jefferson County Quorum Court voted to approve a hiring freeze in December that would go through the end of 2021. An exemption is determined if the position is necessary for a critical health or safety function, to satisfy a legal mandate, or substantially funded by a state or federal grant or other dedicated revenue sources.
Jefferson County Clerk Shawndra Taggart asked last month if she could fill a recent resignation to fulfill the job duties left vacant.
"The beginning of the year is busy for my staff as we have multiple tasks to complete," she said. "My voter registration clerk is tasked with handling the upcoming school election, certifications, and has always served as backup to all other positions within the office."
The Quorum Court voted in favor of allowing the position to be filled.
Sponsor Content