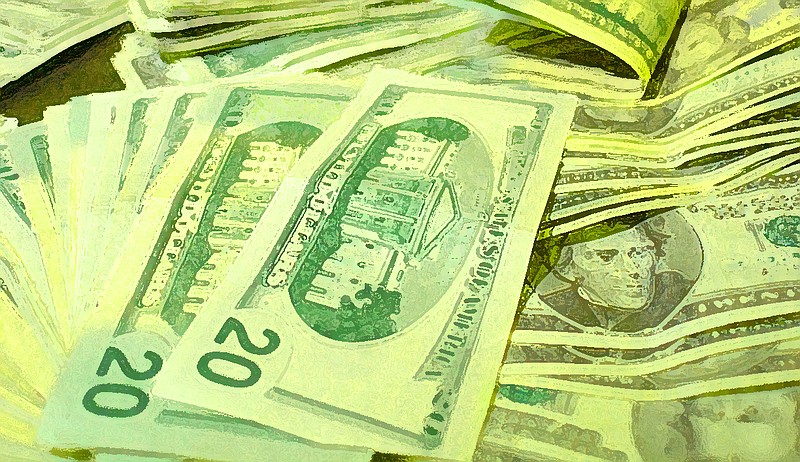 (Democrat-Gazette photo illustration)
One of four Texas men accused in connection with the theft of more than $14,000 from two ATMs in Central Arkansas pleaded guilty Monday to federal charges of transporting stolen money and conspiring to transport stolen money before U.S. District Judge Brian S. Miller.
James Darron Miller Jr. of Dallas was arrested Jan. 16, 2020, with three other Dallas residents -- Antonio Denard Few, 35; Christopher Landelle Burns, 32; and Steven Jadon Williams, 40 -- after a federal grand jury indicted the four, alleging they drove to Oklahoma and Arkansas to break into automated teller machines in Walmart stores, including in Conway and Benton.
The four men reportedly embarked on a string of crimes that began in December 2018 and ended in January 2019, hitting multiple ATMs in Arkansas and Oklahoma. Federal authorities said the suspects used vehicles rented in Dallas to hit ATMs in Arkansas and Oklahoma, communicating by cellphone to orchestrate the thefts.
At the time of their arrests, authorities seized 15 firearms, including eight handguns and seven rifles; about $15,000 in cash; a currency counter; and several crowbars, bolt cutters and heavy-gauge cables with hooks.
Miller appeared Friday morning by video-conference from the West Tennessee Detention Center in Mason, Tenn., to plead guilty to two charges of transporting $5,000 or more in stolen money and conspiracy to transport $5,000 in stolen money. The judge presided from Helena-West Helena via the video-conference link. Assistant U.S. Attorney Bart Dickinson and defense attorney Lea Ellen Fowler of Little Rock were present in the courtroom.
Dickinson said that Miller, along with his three co-defendants, broke into a Walmart Neighborhood Market in Conway on Jan. 7, 2019, and, using yellow pry bars, broke into an ATM and took $7,520 from it. He said a surveillance camera at a nearby school showed a dark, late model SUV parked nearby.
"Investigators later determined the SUV was used by the four individuals to leave the area," he said.
Ten days later, Dickson said, the four men broke into a Shell Superstop in Benton, removed the ATM from the store and broke into the store's safe as well, making off with between $4,000 and $5,000 contained in the ATM and another $1,500 from the safe.
The ATM from that burglary was found the next day in New Boston, Texas, he said.
"Video surveillance from various stores in the vicinity showed a dark, late model SUV around the store at the time of the burglary," Dickinson said, adding that the video showed four men exiting the vehicle before the burglary and being picked up again afterward.
He said that during the break-in, one of the men was seen on video with his mask down, talking on a cellphone. He said that records of the four men's cellphones obtained by a search warrant placed the cellphones in Conway and Benton at the times of the burglaries.
"The phone records of the men were also consistent with other break-ins in Texas and Oklahoma," Dickinson said. "Video surveillance showed men dressed the same way they were in Conway and Benton with the same build."
The conspiracy count, he said, stemmed from the two Arkansas burglaries as well as three burglaries in Oklahoma at Walmart Neighborhood Market stores in Edmond on Dec. 18, 2018, Oklahoma City on Jan. 16, 2019, and Broken Arrow on Jan. 31, 2019, in which a total of $46,690 was taken.
Miller is being housed in the West Tennessee Detention Center until his case is resolved in federal court, as are his three co-defendants. He had petitioned the court for pre-trial release last May, citing the danger of covid-19 in detention centers, but was denied.
According to a detention order from the U.S. District Court for the Northern District of Texas, dated Jan. 23, 2020, Miller was ordered detained after authorities determined that the defendants had participated in a "wide-ranging, significant interstate criminal enterprise, involving at least 21 Arkansas burglaries with thefts of ATMs and possibly more in the state of Texas."
The detention order said that Miller's criminal background included felony convictions, including a 4-year sentence imposed in July 2013 for a conviction of "Engaging in Organized Criminal Activity." It noted that when Miller's home was searched after his arrest, authorities discovered $12,000 in cash and multiple firearms, which Miller's wife told authorities belonged to Miller.
Upon sentencing, Miller could receive a maximum of 10 years in prison and up to a $250,000 fine on each of the two stolen money transport charges. The conspiracy charge carries a maximum jail term of five years and up to a $250,000 fine.
Asked by the judge if he understood the charges, the severity of the charges, and the potential penalties for each charge, Miller said quietly, "Yes, sir."
Asked for his plea on each of the three charges, Miller replied, "guilty."
"Did you in fact commit the offenses you are charged with in counts one, two, and three?" the judge asked.
"Yes, sir," Miller replied.
Miller will be sentenced after the conclusion of a pre-sentencing investigation conducted by federal probation officers.
After court recessed, Miller could be overheard asking Fowler to request a hearing for his sentencing as soon as it could be arranged.
"I'd just like to get this over with," he told her.
Sponsor Content