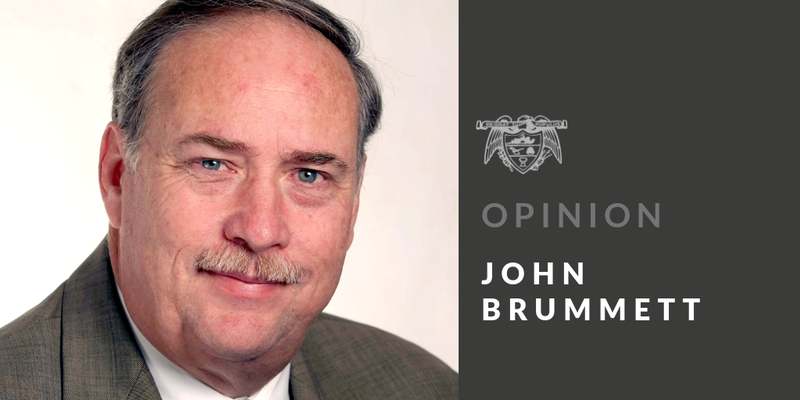 As one sometimes criticized for weighing political considerations too heavily, I recognize that we now live in a new era occurring after the president led a violent insurrection.
This week, moral and patriotic imperative must prevail over political calculation.
It's not acceptable for a traitor to remain president for a few days. Inspiring and directing violent seditionists to invade the U.S. Capitol while Congress is in session certifying our votes imposing your defeat ... that's a non-negotiable affront to our country.
Don't say heal. Say impeach. Say convict. Then say heal.
Let's get conciliatory toward the Constitution before we worry about being conciliatory toward seditionists and their enablers.
Do we invite history to record that an ego-crazed sociopath lied to misrepresent his election defeat and mobilized ill-informed believers to invade, loot and menace our seat of government to further his attempt to stay in office undemocratically, and that, in January 2021, a will-weakened America let him get away with it?
Will we invite history to record that we were paralyzed from fear of a political backlash against what the Republicans are calling Democratic "overreach?"
What is it that Republicans believe we should not reach to address? That the violent invasion of our Capitol amounted to insurrection? That Trump unconstitutionally gave "aid and comfort" to that insurrection? That foundational American principle is more important than what political operatives might spin against Democrats for defending that principle?
Will history record that we were afraid of what angry followers of Trump might do if we sent federal marshals to help this anti-American atrocity exit the White House?
Will it record that the United States spent the last days of the Trump presidency cowering, hoping from the bunker that a once-great nation could survive the madness of a business cheat and television reality show host?
Do we think Trump's base would be less emboldened by our cowering than by our standing strong? Do we think the nation will long survive anyway if standing up for it is a losing political calculation?
Enough with the questions. On to the answer: Impeach this disgrace in the House on the prima facie evidence of live television and work through the night in the Senate to get him convicted and removed before he is allowed to depart routinely as if he is not the criminal he is.
Show him that he underestimates us--though his underestimation is understandable, considering that we elected him preposterously in the first place.
He thinks we lack the stomach or will to interfere with his last-week plan to serve himself with pardons and reprisals against social media platforms that decided they could no longer let him use them to threaten democracy and personal harm.
Joe Biden is said to frown on the international spectacle of American upheaval in forcibly removing his predecessor moments before he rises to take his oath of office.
But it's not Biden's call. He becomes president Jan. 20, at which time his task begins to re-introduce decency to the once-greatest office in the world.
Until then, it's the job of the impeaching body and the convicting body to stand up for the country against the crime of Biden's predecessor. It is the job of the impeaching body and the convicting body to declare by the ultimate power of our Constitution that it besmirches our nation for this creature to hold title for another minute to our highest office.
Yes, it would be better for Trump to resign. But that's a matter of personal discretion, and Trump hasn't any.
Yes, it would be better for Trump's excuse for a Cabinet to remove him as dangerously unfit by power of the 25th Amendment. But can you imagine that anyone still willing to hold a Cabinet position under this atrocity would have the ability to determine much less perform the right thing?
One more consideration: Let's say Mitch McConnell declares that the time remaining is insufficient to dispose properly of an impeachment coming over Wednesday or Thursday from the House. Let's say the new Democratic-controlled Senate would choose to consider the article after Trump is gone--as a constitutional principle and to deny this menace the option to try to regain the presidency.
What about that?
It would be appropriate as long as Biden declared he had absolutely nothing to do with it--that he was too busy today to concern himself with the Senate's constitutional responsibility to deal with yesterday.
And as post-impeachment criminal investigation and prosecution of Trump arises, it would be appropriate if Biden declared that the Justice Department is not his, but the people's, and the cause of justice's, and that he would accept no communication from that agency in any matter involving Trump's investigation or prosecution.
What a vital and joyous festival of renewed personal discretion and American principle that would be.
--–––––v–––––--
John Brummett, whose column appears regularly in the Arkansas Democrat-Gazette, is a member of the Arkansas Writers' Hall of Fame. Email him at jbrummett@arkansasonline.com. Read his @johnbrummett Twitter feed.
Sponsor Content