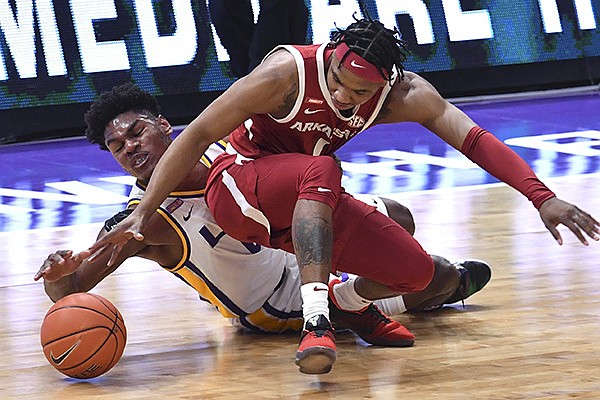 LSU forward Mwani Wilkinson, left, and Arkansas guard JD Notae (1) vie for the ball during the first half of an NCAA college basketball game Wednesday, Jan. 13, 2021, in Baton Rouge, La. (Hilary Scheinuk/The Advocate via AP)
BATON ROUGE, La. — Trendon Watford scored 23 points, Cam Thomas added 17, combining for 24 points in a dominating first half, and LSU rolled to a 92-76 victory over Arkansas on Wednesday night.
The Tigers made six 3-pointers and shot 50% (18 of 36) in racing to a 51-31 halftime lead with Watford scoring 13 points and Thomas 11. LSU shot 55% in the second half (16 of 29) to maintain the lead.
Darius Days scored 18 points and grabbed 13 rebounds for the Tigers (9-2, 4-1 Southeastern Conference). Javonte Smart scored 13 points and Mwani Wilkinson 11. Watford finished with 10 rebounds.
JD Notae led the Razorbacks (10-3, 2-3) with 22 points. Moses Moody added 18 and Desi Sills 14.
Less than three minutes into the game Thomas, who was a game-time decision after injuring an ankle in LSU's last game, hit a jumper to ignite an 18-0 run. Watford's two free throws made it 22-7.
Sills ended Arkansas' seven-straight misses and 6 1/2-minute scoring drought but Aundre Hyatt and Watford quickly answered with 3s and LSU scored 22 of the next 26 points to lead 44-13.
Arkansas, which finished at 34% from the field, going 8 of 31 from 3-point range, never challenged in the second half.
The teams entered leading the SEC in scoring, with the Razorbacks averaging 88.2 and the Tigers 85.6. It was LSU which imposed its will, surpassing its league-leading 49% shooting from the field. Arkansas, which leads the league at 16 assists a game, only had eight against 15 turnovers.
On Saturday, Arkansas plays at Alabama and LSU is home against South Carolina.
Earlier
LSU 92, Arkansas 76 - Final
LSU rode a 26-2 run early in the first half and cruised to a big home win over Arkansas on Wednesday.
Trendon Watford and Darius Days each recorded double-doubles for the Tigers. Watford finished with 23 points and 10 boards, and Days added 18 points and 13 rebounds. All five of LSU's starters scored at least 11 points.
JD Notae scored 22 points for Arkansas on 8 of 20 shooting, and Moses Moody had 18 on 7 of 18 from the floor. Desi Sills had 14 points in 29 minutes.
Jaylin Williams grabbed a career-high 10 rebounds before fouling out late. He scored seven points.
LSU 86, Arkansas 71 - 3:25 left
The Razorbacks are on an 11-2 run over the last two minutes, 39 seconds. Jalen Tate knocked down a 3 from the left wing to bring Arkansas within 15.
JD Notae is up to 22 points, Moses Moody has 16 and Desi Sills 14. They have been the only real sources of offense tonight.
Darius Days has a 14-point, 11-rebound double-double tonight, and Trendon Watford has 23 points.
Arkansas will have possession out of the timeout.
LSU 82, Arkansas 58 - 7:18 left
The Razorbacks' defense has been porous all night long. LSU is scoring at a 1.302 PPP clip with less than 10 minutes to play.
Trendon Watford has 21 points on 8 of 14 shooting, and Cam Thomas has 16, Darius Days 14 and Javonte Smart 12 points and five assists.
JD Notae has 19 to lead Arkansas and Moses Moody has added 15. The silver lining in this game, if there is one, is Desi Sills has 12 points on 4 of 7 shooting. He is, though, minus-33 on the floor tonight.
Jaylin Williams has five points and seven rebounds.
LSU 71, Arkansas 48 - 10:53 left
To give you an idea of how tonight is going for the Razorbacks, Jalen Tate knocked down a midrange jumper that at its peak was probably 15 feet high. It went in.
Three seconds later, an LSU guard was throwing down an uncontested dunk. Arkansas is all the way around out of sorts and not with it on either end. It is shooting 36%, and Moses Moody and JD Notae have a combined 27 points.
Desi Sills has nine points in his 18 minutes, but the Razorbacks are minus-32 in his run.
Trendon Watford is up to 19 points, and LSU has added 21 second-chance points off 12 offensive boards.
LSU 63, Arkansas 39 - 15:30 left
Darius Days is now taking his turn leading the LSU offense in the early stages of the second half. He has six of LSU's 12 points since the break and is the third Tigers player in double figures with 12.
Trendon Watford has 15 points and Cam Thomas has 13.
The Razorbacks came out of the locker room about as lifeless as they were early in the first half. They have hit 2 of 7 shots since the break and turned the ball over three more times, giving them 14 for the game.
JD Notae and Jaylin Williams started the second half for Arkansas, replacing Jalen Tate and Connor Vanover. Moses Moody and Desi Sills each have four points since halftime.
LSU 51, Arkansas 31 - Half
The Razorbacks could not have performed much worse in that first half. They scored 18 of their points in the final five and a half minutes before the break thanks to a surge from JD Notae.
Notae leads the way with 14 points. Moses Moody and Jaylin Williams each have five points.
Arkansas turned the ball over 11 times in the first half and recorded a turnover rate of 26.8%. Meanwhile, LSU shot 50 percent from the floor and its stars - Cam Thomas and Trenton Watford - combined for 24 points on 8 of 17 shooting.
After falling behind 7-4, LSU went on a 26-2 run to gain full control of the game. The Tigers led by as many as 31.
Mwani Wilkinson, who the Razorbacks opted to completely ignore offensively as part of their defensive plan, matched his conference-high with seven points. LSU hit 6 of 14 from 3-point range, and Wilkinson hit his first triple of the season.
Overall, a serious lack of energy and effort on both ends for much of the first half. The Razorbacks have been incredibly easy to defend outside of Notae.
LSU scored at a 1.308 PPP rate prior to halftime. Going to be interesting to see what Eric Musselman does in the second half as far as adjustments. Who does Arkansas turn to? Notae and who else?
LSU 44, Arkansas 28 - 2:21 left first half
JD Notae showing signs of life offensively. He has a team-high 11 points after nailing a left-wing 3. The Razorbacks should just turn the offense over to him and let him operate. No one else has shown they can create much of anything tonight.
Notae is 5 of 7 from the floor. No other Razorback has hit more than two shots.
LSU 44, Arkansas 17 - 4:25 left first half
A timeout was called on the floor after LSU forward Darius Days dove on the floor for a loose ball was was accidentally kicked in the face by JD Notae. There was absolutely no ill-intent from Notae there.
Notae has the Razorbacks' last four points on a couple of layups. He has a team-high six points. Arkansas is shooting 28% and has turned the ball over on 33.3% of its possessions.
LSU is 17 of 30 from the floor, and Cam Thomas and Trendon Watford have combined for 20 points on 8 of 16 shooting. Mwani Wilkinson has seven points. It is tied for the second most points he has contributed in a game this season.
LSU 35, Arkansas 13 - 8:00 left first half
The Razorbacks just don't have an answer defensively for anything the Tigers are doing, plus they're just flat on both ends and turning the ball over on 32% of their possessions to this point.
Trendon Watford is up to a game-high nine points for LSU. The Tigers are 13 of 23 from the floor and 4 of 9 from deep. Every LSU player to check in tonight has scored.
Arkansas is up to eight turnovers in this one. The Razorbacks just forced an LSU turnover then threw the ball away in transition in a sequence that really just sums this game up. Moses Moody, Jalen Tate and JD Notae each have two miscues.
LSU 25, Arkansas 9 - 11:16 left first half
Pretty brutal stretch for the Razorbacks. LSU went on a 18-0 run following Connor Vanover's early 3.
All five Tigers starters contributed to the run. Trendon Watford and Javonte Smart each have six points for LSU, which is shooting 53% so far. The Tigers are 3 of 6 from deep, too, while Arkansas is 1 of 6 from 3 and 4 of 14 from the floor.
A Vance Jackson layup snapped a scoreless streak of five minutes, 35 seconds. He has four points to lead Arkansas.
LSU 11, Arkansas 7 - 15:30 left first half
So, not great results on the initial defensive plan, but the Razorbacks' semi-slow start defensively wasn't all on Connor Vanover at the rim. Arkansas' initial defenders still need to be sound on the ball and allow Vanover to help, not be their saving grace.
Mwani Wilkinson, who Vanover was ignoring on the offensive end, knocked down a right-corner 3. It was his first perimeter bucket of the season. He's now 1 of 2. Trendon Watford has four points to lead LSU, and Cam Thomas and Javonte Smart each have two points.
Arkansas' first two buckets came on second-chance opportunities by Vance Jackson and Moses Moody. The Razorbacks are 1 of their last 5 from the floor. Vanover also hit a left-wing 3.
Pregame
Arkansas' starting lineup: Jalen Tate, Moses Moody, Davonte Davis, Vance Jackson and Connor Vanover.
On the Razorbacks' pre-game show, Eric Musselman said the plan to begin the game is for Vanover to essentially stand in the lane and serve as a rim protector and defensive rebounder, not paying attention to LSU small forward Mwani Wilkinson, who has attempted one 3 all season. Arkansas is going to dare him to beat them from the perimeter.
If that plan doesn't work, Musselman said, the staff will scrap it. But that is how Arkansas will open tonight's game defensively. Wilkinson is 0 of 1 from 3-point range in 10 games this season.
LSU's starters: Javonte Smart, Cam Thomas, Darius Days, Trendon Watford and Mwani Wilkinson.
The Tigers are one of the best offensive teams in the country to this point in the season. LSU owns the nation's No. 5 offensive efficiency rating 117.6 and the No. 1 mark in SEC games at 112.1. As a team, it has been very effective on the interior and at the foul line.
LSU can really fill it up from the perimeter, though. Thomas, a freshman who injured his ankle Saturday at Ole Miss, is the Tigers' biggest offensive weapon and leads the conference in scoring. He has taken 36.4% of LSU's shots when on the floor this season, a mark that ranks 9th nationally.
Smart and Days have also hit 20-plus 3-pointers this season, including a combined 16 in league games. Smart can be a high-assist player, and Days is aggressive on the glass, serving as the Tigers' energy big. And since scoring only four points in the SEC opener vs. Texas A&M, Watford has added 21, 17 and 21 points the last three games.
LSU enters tonight's home game at No. 24 in the KenPom rankings, and Arkansas is No. 26.
Sponsor Content