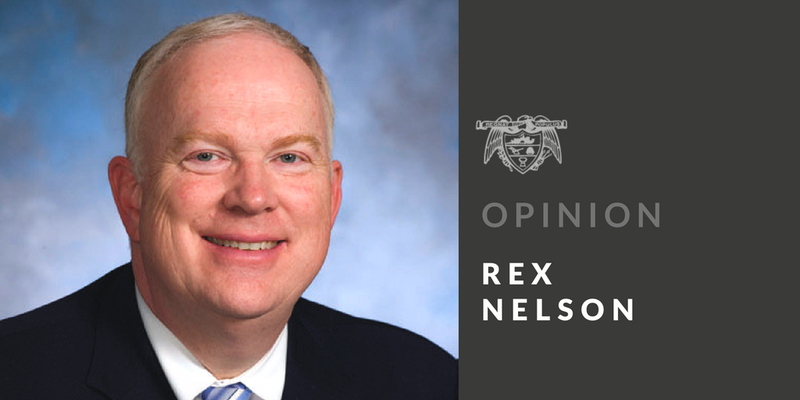 Only three cities in Arkansas--Little Rock, Conway and Arkadelphia--have multiple four-year institutions of higher learning. Little Rock now has almost 200,000 residents. Conway has more than 65,000 residents. Arkadelphia has fewer than 11,000 people living there.
In that sense, Arkadelphia might be the closest thing we have in Arkansas to a true college town--a place where colleges dominate the economy and every other aspect of the community. What are now Ouachita Baptist University and Henderson State University began as Baptist and Methodist schools, respectively.
Ouachita was founded on April 8, 1886. Henderson began in 1890 as Arkadelphia Methodist College. The story of how they came to be is fascinating.
"Samuel Stevenson and James Gilkey established the first in a string of Baptist schools in Arkadelphia," writes Ouachita historian Ray Granade. "It and what's now the Arkansas School for the Blind preceded the Civil War, followed by the Arkadelphia Baptist High School (later Red River Baptist Academy). Ouachita Baptist College was the first of four institutions of higher education (two for whites and two for Blacks) begun between 1886 and 1896 in a town that locals liked to promote as the Athens of Arkansas and the City of Colleges.
"OBU was advertised as an institution created not 'as a financial speculation, but solely upon an educational basis.' Free tuition for all ministers 'irrespective of denomination' (until 1937), a tuition waiver for ministers' children and another for siblings simultaneously at school exacerbated the financial situation and led one historian to estimate that more than a third of OBC students between 1886 and 1933 paid no tuition at all."
Arkadelphia residents put up 13 acres, a building and $10,000 to attract the school, which was at a site overlooking the Ouachita River that had been left vacant when the School for the Blind moved to Little Rock.
"Founding president John William Conger and his wife made up a third of the initial faculty," Granade writes. "OBC began with instruction at all levels--primary, preparatory and collegiate. Primary disappeared by about 1900. Enrollment grew from the original 166 to averaging in the 300s under Conger, and the school maintained a low student-teacher ratio, 17 to 1, in 1907. Initially women lived on campus while men boarded in town. Student life centered on literary clubs (two for females and two for males) while sports stirred deep passions.
"The curriculum, standard for colleges of its day, contained a few surprises (like bookkeeping) and featured compulsory military training until 1991. Continuing financial difficulties led Arkadelphia citizens to pay the institution's debt in 1914 and again in 1936 in return for the promise to keep OBC in Arkadelphia. Presidents and supporters began endowment drives several times, but the institution accumulated little until World War I."
Methodists in Arkadelphia saw what the Baptists were accomplishing at Ouachita in the late 1880s and wanted their own school to serve southern Arkansas.
"Arkadelphia Methodist College was the third Methodist college in the state, joining male-only Hendrix College in Conway and Galloway Female College in Searcy," writes Henderson historian David Sesser. "Arkadelphia Methodist College was the first co-educational school in the Methodist state convention. Methodists in Arkadelphia originally tried to secure Hendrix when its location was moved in 1889 from Altus to Conway, but they were unsuccessful in their efforts.
"With $30,000 and a location already pledged to the school, the people of Arkadelphia set out to create their own institution. After receiving the blessing of the board of education of the Little Rock Conference of the Methodist Church, a 15-member board of trustees was selected. On April 19, 1890, a nine-acre campus, located north of Arkadelphia, was purchased from Harriet Barkman."
A couple of ravines separated the new campus from Ouachita. Architect Thomas Harding was hired, and the first term was scheduled to begin the first Wednesday in September 1890. There were 110 students enrolled. Sidewalks linking Ouachita and Henderson were completed in the early 1900s. The school yearbook started in 1905, and the school newspaper was established in 1908.
"The college grew slowly through the 1890s, adding a kindergarten and education classes in 1896," Sesser writes. "Participation in debate and oratory competitions led to the adoption of the original school colors, cream and pink. In 1893, the main building was finally ready to be occupied. Housing everything from the library and classrooms to the women's dormitory, the building quickly became the center of campus. Housing for men didn't open until 1903 when a former private residence was converted to that use."
In honor of Charles Christopher Henderson's service on the board of trustees and his financial support, the name of the school was changed to Henderson College in 1904. The name was changed again in 1911 to Henderson-Brown College to honor Walter William Brown, C.C. Henderson's business partner.
Henderson was board chairman from 1903-22. After a 1914 fire destroyed the main building, he donated $5,000 toward the rebuilding effort.
In 1929, Methodist leaders decided to consolidate Henderson-Brown and Hendrix. Arkadelphia business leaders were incensed. They convinced state legislators to take over the school. It became known as Henderson State Teachers College and has been a state institution ever since.
--–––––v–––––--
Senior Editor Rex Nelson's column appears regularly in the Arkansas Democrat-Gazette. He's also the author of the Southern Fried blog at rexnelsonsouthernfried.com.
Sponsor Content