In a hoodie and a green safety vest, Pine Bluff Mayor Shirley Washington didn't stand out from any of the other 120 volunteers working on the streets Saturday morning.
Their goal was to fill two large construction dumpsters with the bags and buckets of trash collected during Dr. Martin Luther King Jr. Day of Service.
Washington gathered with the others at 8 a.m. at Good Faith Carr United Methodist Church, 3703 Ryburn Road. Many took assignments around town, but Washington and her partner worked their way along Ryburn.
Four players from the University of Arkansas at Pine Bluff women's volleyball team, from around the country and one from Belize, volunteered their time that morning.
They added several full trash bags to the two nearly filled Waste Management dumpsters sitting next to the church.
One of the players, Ambria Schneringer of California said, "We wanted to help out the community. It's important."
Washington likes a clean house, and that need for clean extends to the entire city. So it's not surprising that one of her professional goals, she said, is "to fix up, clean up and build up Pine Bluff."
Since she took office in January 2017, a clean city has been a priority of her administration and generally held three or four times a year. She said her office has held 17 cleanups to date.
"[Washington] is committed to a clean and healthy city, so combating litter is a natural part of it," said William Fells III, the city's special-projects coordinator. "We do cleanups on a regular basis, usually three times a year."
So litter pickup was a perfect fit for a day of service in honor of Monday's Martin Luther King Jr. holiday.
The Waste Management company partnered with the city on this event, supplying trucks, dumpsters and drivers, as well as adjusting employee work hours, Fells said.
Keep Arkansas Beautiful provided the city with supplies.
The day of service follows in the footsteps of King, Fells said.
King was a Baptist minister and social rights activist in the 1950s and 1960s. He was one of the leaders of the American civil-rights movement, and spoke on March 18, 1968, to members and supporters of the Memphis sanitation workers' strike.
He was assassinated a few days later, on April 4. Almost five years earlier in August 1963 in Washington, D.C., King said in his "I Have a Dream" speech, "Everyone can be great because everybody can serve."
Fells said that at past events, there had been as many as 200 volunteers working at 50 sites around the city. They filled two dumpsters with litter, furniture and other debris Saturday morning.
Fells said more than words, "We're doing our part to keep the city clean."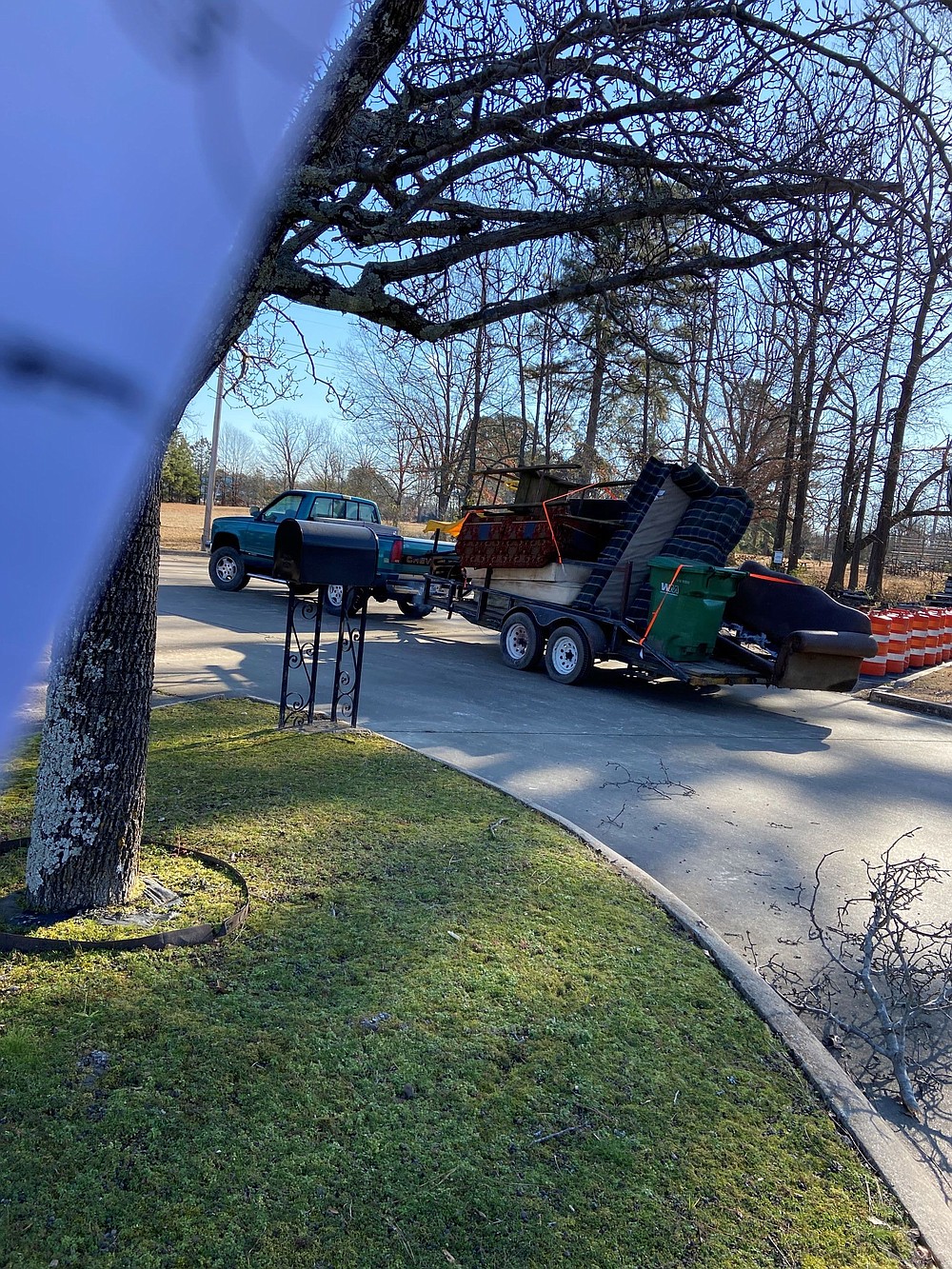 A truck and trailer are filled with debris and other furniture picked up Saturday morning as part of the cleanup. (Special to The Commercial/Deborah Horn)