JERUSALEM -- Prime Minister Benjamin Netanyahu, who has spent much of his long career casting Israel's Arab minority as a potential fifth column led by terrorist sympathizers, is now openly courting their support as he seeks reelection in the country's fourth vote in less than two years.
Few Arabs are likely to heed his call, underscoring the desperation of Netanyahu's political somersault. But the relative absence of incitement against the community in this campaign and the potential breakup of an Arab party alliance could dampen turnout -- to Netanyahu's advantage. He might even pick up just enough votes to swing a tight election.
Either way, Netanyahu's overtures have shaken up the Arab community. The Joint List, an alliance of Arab parties that secured a record 15 seats in the 120-member Knesset in March, is riven by a dispute over whether it should work with Netanyahu's right-wing Likud at a time when less objectionable center-left parties are in disarray.
Its demise would leave the community with even less representation as it confronts a crime wave, coronavirus-fueled unemployment and persistent inequality. But given the complexities of Israel's coalition system, a breakaway Arab party could gain outsized influence if it is willing to work with Netanyahu or other traditionally hostile leaders.
The struggle was on vivid display last week when Netanyahu traveled to Nazareth, the largest Arab-majority city in Israel, his third visit to an Arab district in less than two weeks. Outside the venue, dozens of people, including a number of Arab members of parliament, protested his visit and scuffled with police, even as the city's mayor welcomed and praised him.
Arabs make up around 20% of Israel's population. They have full citizenship, including the right to vote, and have a large and growing presence in universities, the health care sector and other professions. But they face widespread discrimination and blame lax Israeli law enforcement for a rising wave of violent crime in their communities.
They have close familial ties to Palestinians in the occupied West Bank and Gaza, and largely identify with their cause. That has led many Jews to view them as sympathetic to Israel's enemies, sentiments fanned by Netanyahu and other right-wing politicians.
On the eve of elections in 2015, Netanyahu warned his supporters that Arabs were voting in "droves." During back-to-back elections in 2019, his campaign sent poll observers to Arab districts and pushed for cameras in voting booths, in what critics said was a ploy to intimidate Arab voters and whip up false allegations of election fraud.
Those moves backfired.
The Joint List, an unwieldy alliance of Islamists, communists and other leftists, boosted turnout and emerged as one of the largest blocs in parliament. At times, it looked like it might help deny Netanyahu a majority coalition or even emerge as the official opposition.
But in May, after three deadlocked elections in less than a year, Netanyahu formed a coalition with his main rival and the Joint List was left out in the cold.
No Arab party has ever asked or been invited to join a ruling coalition.
Information for this article was contributed by Areej Hazboun and Ami Bentov of The Associated Press.
FILE - In this Jan. 13, 2021 file photo, Israeli Prime Minister Benjamin Netanyahu visits a coronavirus vaccination facility in the northern Arab city of Nazareth, Israel. Netanyahu, who has spent much of his long career casting Israel's Arab minority as a potential fifth column led by terrorist sympathizers, is now openly courting their support as he seeks reelection in the country's fourth vote in less than two years. (Gil Eliyahu/Pool via AP, File)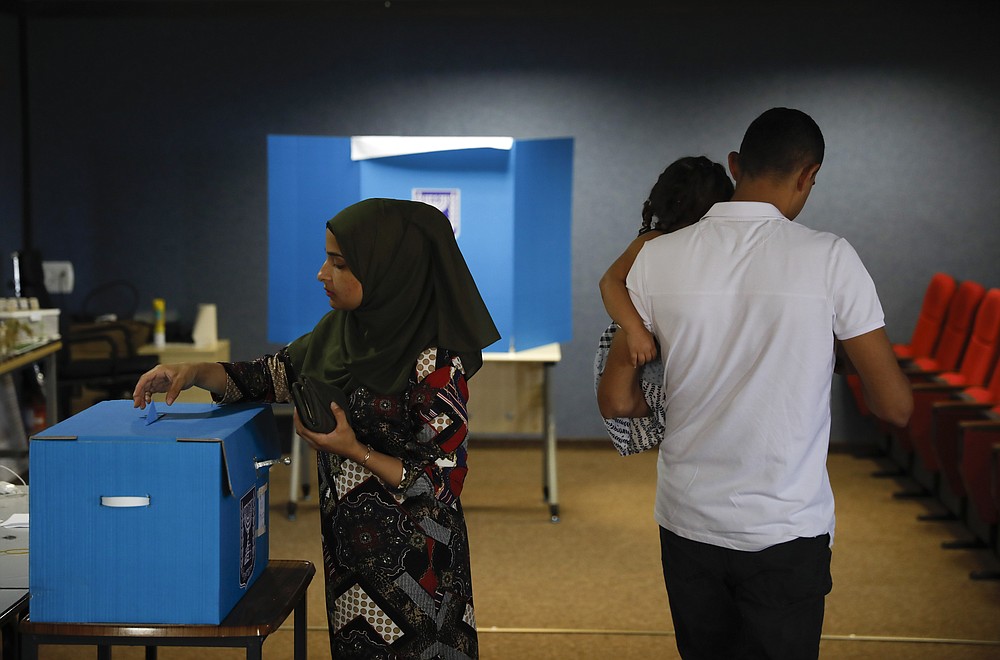 FILE - In this Sept. 17, 2019 file photo, a woman votes in Kfar Manda, an Arab town in Israel. Prime Minister Benjamin Netanyahu, who has spent much of his long career casting Israel's Arab minority as a potential fifth column led by terrorist sympathizers, is now openly courting their support as he seeks reelection in the country's fourth vote in less than two years. (AP Photo/Ariel Schalit, File)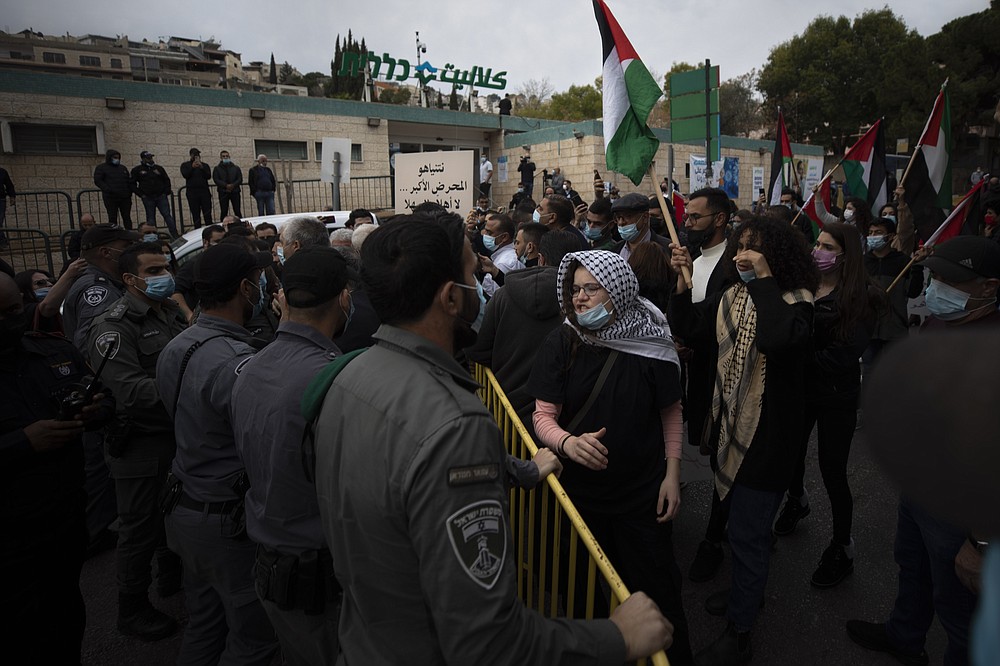 Israeli border police stand guard during a demonstration against a visit of Israeli Prime Minister Benjamin Netanyahu to the northern Arab city of Nazareth, Israel, Wednesday, Jan. 13, 2021. Netanyahu, who has spent much of his long career casting Israel's Arab minority as a potential fifth column led by terrorist sympathizers, is now openly courting their support as he seeks reelection in the country's fourth vote in less than two years. (AP Photo/Sebastian Scheiner)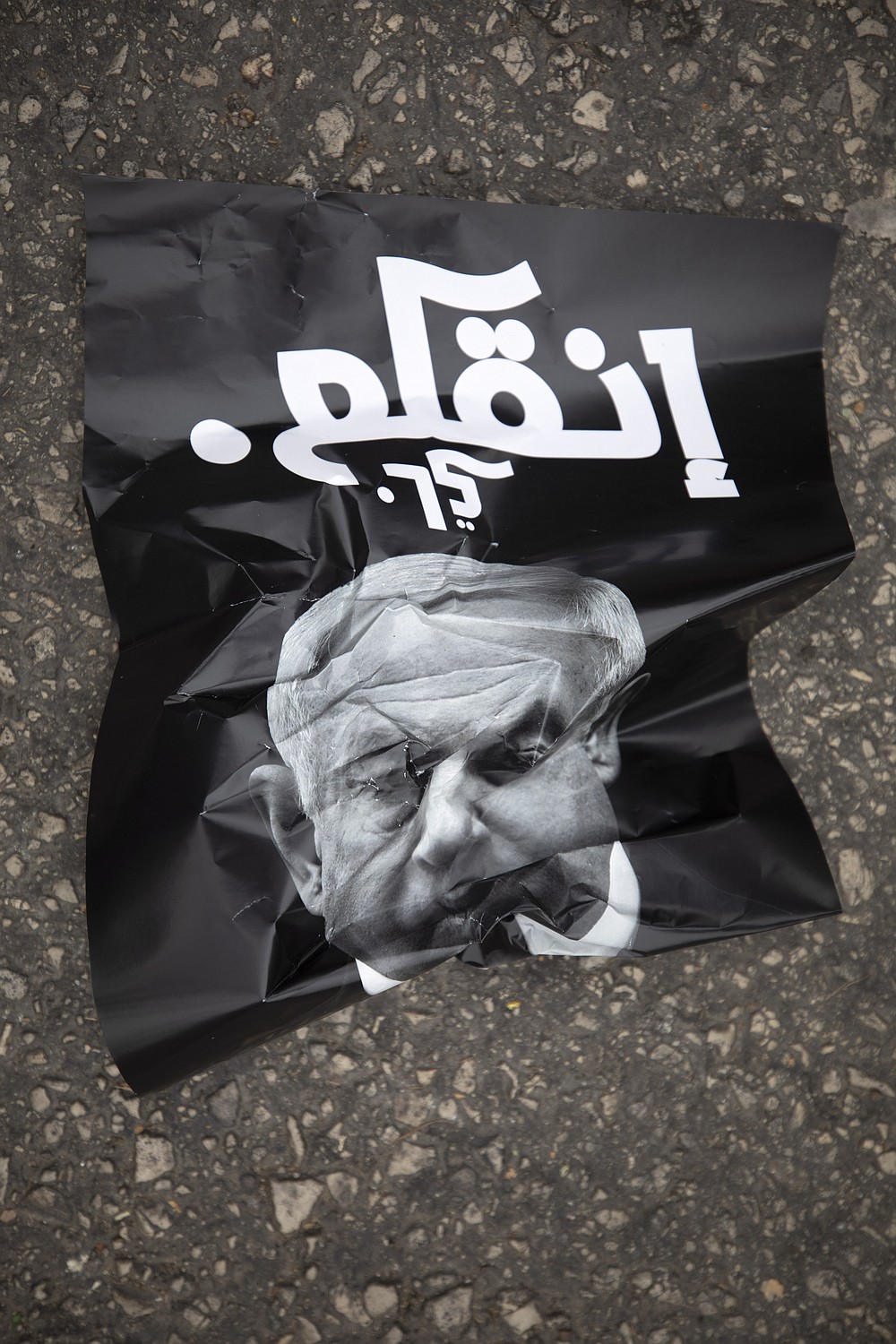 A poster that reads, "leave," lies on the ground during a demonstration against a visit by Israeli Prime Minister Benjamin Netanyahu to the northern Arab city of Nazareth, Israel, Wednesday, Jan. 13, 2021. Netanyahu, who has spent much of his long career casting Israel's Arab minority as a potential fifth column led by terrorist sympathizers, is now openly courting their support as he seeks reelection in the country's fourth vote in less than two years. (AP Photo/Sebastian Scheiner)