Barbara Luebker had algebra class with Robert McCarley in ninth grade, but it was her cousin who completed the equation that got them together.
Barbara went to Catholic schools until ninth grade, when she started at Stuttgart High School in 1958. She met Robert there, and though she thought he was cute, she also thought he probably wasn't her type. Trying to describe her first impression of him nicely, she calls him "happy-go-lucky."
Her cousin and Robert were friends, and one night when she and her cousin were out riding around with some other friends, she asked Robert to join them.
"He did," she says. "We were in that class but I didn't really know him before that. He was cute. He just had a great personality. He was fun to be with."
Robert remembered Barbara from much earlier.
"I hung out with her cousin and we would go out to their farm and go frog hunting," he says. "I didn't make an impression."
Robert didn't have a car so their seeing each other outside of school in the early days was rare.
"I had a motor scooter and I delivered newspapers," says Robert, who was a grade ahead of Barbara.
After he got a car, he invited her to go for a ride with him during lunch.
"That's what we did. Everybody just got in their cars and just kind of drove around school," Robert says. "There wasn't a whole lot going on. We lived in a little town, you know. We just eased around."
Robert showed up at Barbara's house unannounced one weekend night, before they were an item, hoping he could pick her up and take her out. Barbara, however, had a date with someone else. Robert turned around and left when he saw the other guy at her house but called her that evening to talk things over.
"From then on, I kind of straightened my act up and she knew what I was doing," he says.
On Saturday nights they would cruise the 2-mile strip in Stuttgart's downtown, sometimes stopping at Dairy Queen while they were out. On Sundays they went to the movies.
Robert fastidiously cleaned his black car every weekend before he picked up Barbara, even though the dirt road he traveled to her house always left it looking like it needed a wash before he got there.
"I had to wash it when I got back to town," he says, though he didn't really mind if that meant seeing Barbara.
Robert graduated from high school in 1960 and soon after told his parents he wanted to ask Barbara to marry him. They weren't thrilled with his decision. That Barbara had another year of high school was concerning enough, but the McCarleys were Baptist and the Luebkers were Catholic and her mother's side of the family considered that a no-go. Robert's father handed him a stack of jewelry catalogs nonetheless, and he and Robert's mother sat at the kitchen table and helped him choose a ring to order from Tiffany's of New York.
When the ring came in the mail, Robert tucked the box under the sun visor in his car and went to pick her up.
"I thought it was the most beautiful thing I'd ever seen," he says of the ring.
His plan was to stop the car on the way to or from the high school football game they were going to, under the guise of having a flat or some mechanical problem and using that opportunity to propose. But when Barbara got in the car and slid across the bench seat to sit close to him, she spied that box.
"I don't know why I looked underneath the sun visor," she says. "Well, I knew what it was, and I started screaming and hollering. It was the biggest diamond I had ever seen."
For Robert, this created a potential problem.
"She had three brothers and her daddy was about 6 feet tall," Robert says. "Everybody came running outside. They didn't know what was wrong with her, and I didn't know what was going to happen."
Without waiting for a proposal, Barbara ran inside the house to show off the ring she had found to her family.
She was to graduate in May and, according to Robert, she sent out wedding invitations and graduation announcements at the same time.
They exchanged their vows on June 1, 1961, in Holy Rosary Catholic Church in Stuttgart and honeymooned in Pensacola, Fla.
Robert and Barbara raised two children -- Brent McCarley, who died almost four years ago, and Leslie Guffey, who lives in Conway. They have four grandchildren.
Robert took over his father's electrical business, and when he was ready to retire he sold it to his son. Robert and Barbara moved to Arizona, where he worked in the parks department for five years, before moving back to Stuttgart.
"I would do it again. I don't know what I would change -- probably nothing," he says. "We've had a great life. We've had good times and bad times, but we've had a lot of fun over the years."
If you have an interesting how-we-met story or if you know someone who does, please call (501) 425-7228 or email:
kimdighongh@gmail.com
More News
The first time I saw my future spouse:
He says: "She was a little freckle-faced girl."
She says: "He was happy-go-lucky and just full of fun."
On our wedding day:
He says: "We stopped in Pine Bluff after the wedding to eat lunch and whatever we ate had hot dogs in it. She's Catholic and she wasn't supposed to eat meat on Fridays so afterward she went, 'Oh, I wasn't supposed to eat meat!'"
She says: "I was scared — petrified. I'm not one who enjoys the spotlight."
My advice for a long happy marriage:
He says: "We pretty much grew up together, so we pretty much think alike, but you have to be able to compromise and work things out."
She says: "Keep the fun in it."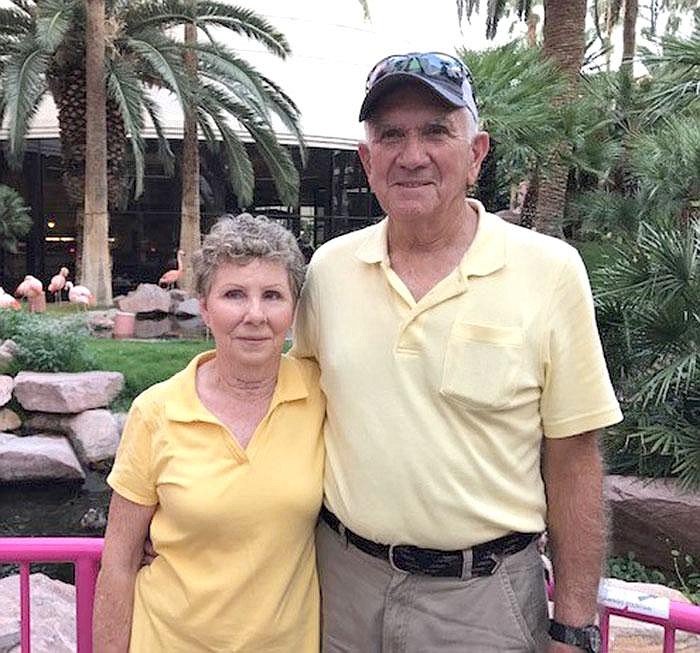 Barbara and Robert McCarley will celebrate their 60th anniversary this summer. They were 17 and 19 when they married. "We were so young. Everybody said it's not ever gonna work," Barbara says. "We've had our ups and downs like everybody else, but we're still here." (Special to the Democrat-Gazette)