SPRINGDALE -- Many tongues have spoken, and they overwhelmingly asked for the same result from a reimagined Jones Center: "Un lugar para reunirse" in Spanish;" Jinkin eo nan aolep" in Marshallese; or in English, a place to come together.
The Walton Family Foundation awarded a design excellence grant to the Jones Trust to improve its Springdale campus, said Ed Clifford, executive director of the trust.
The trust supports and manages the legacy left by the late Bernice Jones, widow of Harvey Jones, the founder of Jones Truck Lines. The company's truck terminal, mechanical shop and offices were turned into a community center and a home for nonprofit agencies.
The 52 acres of the Jones campus includes three buildings: the Jones Center, the Center for Nonprofits at the JTL Shops and the Harvey Jones Education Building. The trust also operates the Center for Nonprofits at St. Mary's in Rogers.
An online survey for the public started in November and has received about 800 responses as of Thursday, Clifford said. The second phase of the survey launched Friday and asks respondents to consider specific ideas such as a worship space, memorial walk, outdoor classroom, and small business and entrepreneurial events. The public input period will end in May.
Both surveys are available in English, Spanish and Marshallese.
Civitas, a landscape architecture firm in Denver, will turn the dreams for the campus into reality, said Mark Johnson, Civitas founder and president. The architects will take about a year to create a plan for the campus.
Initial drawings presented Thursday evening by Scott Jordan in a Zoom meeting took advantage of the large, concrete parking areas and basketball courts behind the three buildings of the Jones campus, which also will receive updates.
Jordan, a principal at Civitas, showed options for a park-like space including a green lawn, picnic areas, a space for an artist in residence, new courts for pickle ball and basketball. He suggested a dirt bike trail for young children, a skate park or fitness trails for the lawns along Old Missouri Road.
The buildings on campus might include coffee shops and cafes, he said.
The final plans will complement other downtown projects, such as Luther George Park across East Emma Avenue.
Clifford said the Jones Trust will launch a capital campaign to raise money for the project when a design is finalized. Trust officers have determined the trust will pay up to $25 million for the project.
The Jones Center and its other buildings operate on a $6 million annual budget, paid for in thirds by fundraisers, revenue from leases and memberships, and the trust's endowment.
"We get no public money," Clifford said.
The Jones Center has about 1 million visitors in a normal year without covid-19, he said.
Bernice Jones had a dream to build a community center in Springdale where families could come together for recreation, education and community, according to the Jones Trust website.
The Harvey & Bernice Jones Center for Families opened in 1995 as a place where "all are welcome who behave as ladies and gentlemen," the website quotes Bernice Jones.
BEST USE
"When architects are asked to design a building, the building always has a purpose -- like a house or a library or a school," Johnson said.
The purpose sets a form for the building -- like book stacks in a library, he said.
But the Jones campus is a very unique place, he said. "It's pretty incredible, but there's not a model we could look to. It's going to be a challenge figuring out how to build the framework."
Johnson said he and his staff are students of human behavior and how people interact in spaces.
"We want a place where members of the community can engage in a meaningful way," he said.
The surveys help them know what people need and want for the Jones campus, he said.
The first question of the survey asks what is the first word people think of when they hear "Jones Center."
That word was "rink" and not surprising, Jordan said. Respondents were referring to the ice skating rink, the first in Northwest Arkansas. But words such as "community" and "family" also were among the top responses, he continued.
The survey further details activities participants would enjoy -- exercising on the lawn, resting in hammocks, setting a spike in a game of sand volleyball or watching airplanes take off and land at the Springdale Municipal Airport to the south.
City Council member Mark Fougerousse, who represents Ward 4 in which the Jones campus lies, suggested a dog park, skateboard park, zip line and lights for the lawn so kids can practice football. He works out each morning in the Jones Center gym and got some of his ideas from friends in the gym, he said.
Fougerousse also remembers summer evenings as a kid spent watching movies or a concert in Murphy Park and would like to see those times recreated.
"This is why we take the straw man approach," Johnson said. "People give us ideas we never thought of. We try to deduce the best possible purpose."
SOCIAL EQUALIZER
"The Jones Center is a pretty amazing place," Jordan said during last week's meeting. "It's interesting to see what Bernice has done with her vision, even involving the communities that are usually underserved."
"The pressing need for the Jones Center community is to help us to understand how we care about each other, how we know each other," Johnson said.
Gathering places, such as parks, brings different kinds of folks together in social intersections, Johnson continued. People can ride out on a the bike trail. Families with baby strollers and dogs might walk along another.
"It means you might meet many different people," he said. "Park intersections are a great social equalizer. You walk by somebody and say, 'Hi.' You're not going to do that in a building."
Whatever is happening outside needs to tie with what's going on inside, Jordan said. He wants an easy shift either way to join activities.
The new plan will connect the various campuses and the Razorback Greenway. The City Engineering Department is reviewing plans for a trail from the Jones Center to Fitzgerald Mountain.
Jordan also presented a plan Thursday to "announce" the entrances to each building.
"There are a lot of entries into all the buildings," Jordan said. His first trip to Springdale last fall, "we were kind of lost and confused about which door we were supposed to use," he said.
Jordan said he was amazed by the agencies that take advantage of low-cost office space in the Center for Nonprofits. He listed groups working with at-risk teens to teach life skills and resources, groups helping fund education toward a nursing assistant certification and entry to the work force and groups working to improve medical coverage for the Marshallese community.
"Essentially, every one of them are about empowering individuals and families to be successful," Jordan said. "There is a lot of good going on within those walls. We need to figure out a way to celebrate those."
Jill Dabbs, executive director of the Downtown Springdale Alliance, agreed.
"I drive by this campus, and it does not speak to all the amazing things that are going on."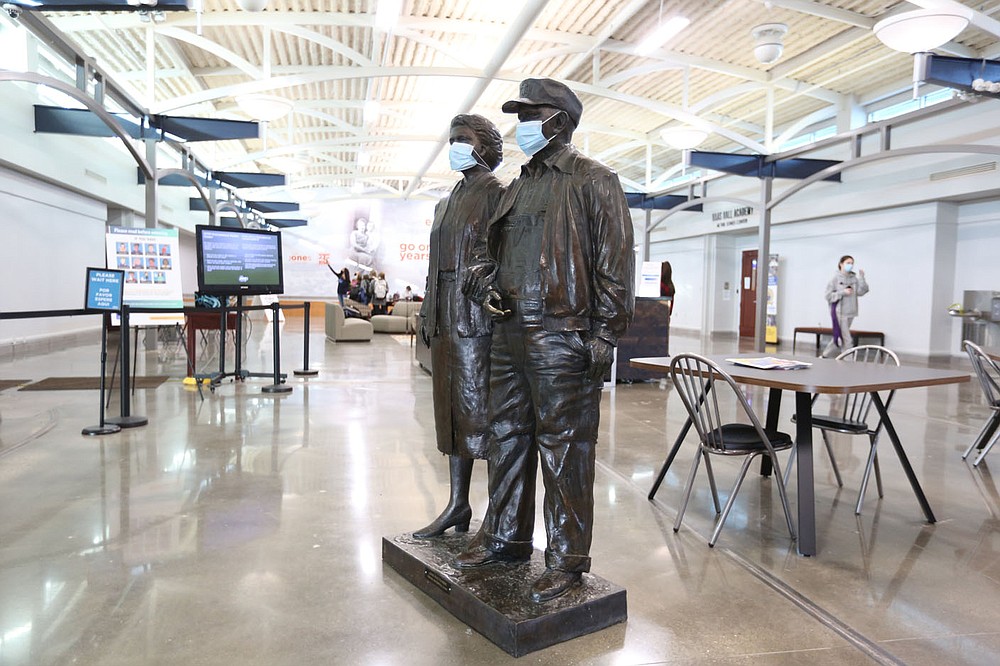 The statues of Harvey and Bernice Jones are visible Friday, January 15, 2021, inside the lobby are of the Jones Center in Springdale. The Downtown Springdale Alliance is sponsoring public events for the public to share their visions of a reimagined Jones Center. Check out nwadg.com/photos for a photo gallery. (NWA Democrat-Gazette/David Gottschalk)
More News
TAKE THE SURVEY
UPCOMING EVENTS
Drive-thru dinner
April 6
Community meeting
April 8
Vision plan released
May 15
INFORMATION
Laurinda Joenks can be reached by email at joenks@nwadg.com or on Twitter @NWALaurinda.