When Greenland Elementary Principal Alan Barton first filled out an application at the school for a position as a teacher, he probably raised a few eyebrows.
Or maybe more than a few.
It was the spring of 1989, and Barton was going through a big weight lifting phase.
"I weighed about 250, I was tan, and I had a haircut like Bosworth," he says, describing the 1980s Seattle Seahawks linebacker Brian Bosworth's modified mullet, "dyed a little bit," that left a big hank of hair hanging down his neck.
Let's just say, he did not blend in.
"I stopped off at West Fork, put an application in at Greenland, traveled all the way to Bentonville and just laid in applications all the way," he says, after explaining that he had moved to Northwest Arkansas with his then-wife, who was returning to be closer to family.
By the next morning, he got a phone call asking him to return to Greenland for an interview. He did, and he thought it went well. He even met the superintendent and a couple of board members.
"I was driving home, and [the principal] called, she said, "We would love to offer you a job, but they've got one request," he remembers. "And I said, 'What's the request?' 'Well, it's a rural town. And they think you could be a positive influence on the boys in this town, but they wanted to know if you would cut your hair.'"
He pauses for a laugh.
"I said, 'It's not a problem. I'll cut my hair.' And I've been here ever since."
Barton is telling this story by phone from his office at Greenland Elementary School. By all accounts, he doesn't spend a lot of time there -- most often, he is in the halls, in the gymnasium or on the playground, using his big voice to communicate with the kids under his care. Barton's loud and rapid voice is so distinctive that it's startling at first, but his immediate friendliness softens the tone. Five minutes after meeting him, you're Barton's friend. This voice has served him well: He says his elementary kids are immediately drawn to the sound, and he uses it during the girls' basketball games that he's been coaching for decades. "I'm a yeller and a hollerer," he admits with a laugh. His utter lack of artifice and his blunt honesty lend him a charisma that's infectious, but his voice is far from the southern cliché of soft, banal politeness -- another thing that set him apart all of those years ago.
"Mr. Barton loves to be fun and energetic with his students and staff and has a very loud, vibrant personality that resonates with the students," says Greenland Public Schools Superintendent Andrea Martin. "[He is] definitely the most unique and diverse administrator I have worked with in my 27 years of education. He is full of spirit and loves to take care of others. He is always on the go and very visible in his building and at any activity or event. He lives and breathes Greenland and the community, and he definitely bleeds green Pirate blood. The relationships and connections he has made over the years and his long time at Greenland help him relate to the generations that are passing through his building. Knowing the parents and grandparents of students because of former relationships is key."
For the loyal Barton, that first step down Greenland Elementary School's hallways meant a career-long commitment.
"And, you know, I've been offered jobs at Springdale, Bentonville, Rogers, but Greenland gave me a chance -- and if my father taught me one thing, it's that you're given one thing in life and that's your name, so honor it," he says. "And Greenland offered me a job first, and I've honored it since 1989."
On the move
Barton's father, he says, gave him his distinct voice. As a military policeman in the Army, his dad was a stern, strict, strong figure in his life. As an Army brat, Barton moved around a lot: Born in California, his father's service would ultimately take Barton's family to a number of destinations, including Hawaii, Germany, New Jersey and El Paso, Texas, which meant switching schools frequently. Tragedy struck when he lost his mother at the tender age of 6, but Barton frames both the loss and the frequent moving in as positive a way as possible.
"You had to learn to adapt and make friends quickly," he says. His father traveled often, leaving him and his siblings with a nanny, but he says he thinks that taught him a lot, as well. "I think that's my greatest gift. I always knew how to adapt and make friends as fast as I could because of my living situation."
Barton graduated from Ogden High School in El Paso, a huge school with almost 3,400 students at the time. For once, he had stayed in one place for more than a year or two, and he says he knew practically everyone in the building by the end of his four years there.
"I was voted 'Class Clown', 'Most Likely to Succeed', which really stunned me, and then also 'Most Hung Up on Themselves', which stunned me even more because I rarely went out to parties and all of that. I mean, I was raised by my father, in the military, and my focus was trying to go to college when I was in high school."
Barton was a strong athlete and was offered a baseball scholarship to attend a junior college in Trinidad, Colo., and, after that, to play at Henderson State University in Arkansas. What he would study there had been clear since a child development class he had taken as a senior in high school.
"That semester told me that Alan Barton needed to be an elementary school teacher," he says. "So I thank the home of the Panthers for giving me a little perspective on what I needed to do, and what I thought I was good at."
On the court
Barton started off small: His first teaching job was in tiny Wickes, Ark., a town in Polk County with a population of around 700 people. He discovered an affinity for coaching with their Class B girls' basketball team.
But Greenland would grab his heart.
"When I walked down the hallway and saw my classroom, I just knew this was the right place," he says.
But the real test, of course, was going to be how the kids took to him.
"They took me in as a big brother," he says. "There were two boys in that class who were from two of the biggest families in Greenland, and they befriended me. I really appreciated that."
Within the first year of his employment, he and two other Greenland Elementary teachers started the school's first afterschool program.
"I didn't have anything else to do, and I wanted to be around the kids, be a good role model," he says. "We just charged enough to buy the kids snacks and made sure we were here until their parents got off of work -- around 6 p.m. That was in 1989, 1990, and we still have that aftercare program."
Even so, he says, "I was that young dude that had plenty of energy," and he had loved coaching so much in Wickes that he knew it was something he wanted to be involved in again. He helped start a Pee Wee sports league in Greenland. That caught the eye of then-Greenland Coach Clay Reeves, whom Barton calls his mentor.
"Coach B and many other community members were leading the Pee Wee basketball program," remembers Reeves. "After watching this program, I quickly learned this is where success begins. I would often attend Pee Wee games, and Coach B would attend our games and practices. It didn't take long for Coach B to really get involved. He began helping with practices, planning, driving the bus, cleaning, watching films and scouting. He stepped up as another coach. He was able to do all those things, along with teaching elementary school all day."
Barton worked with Reeves from 1993 to 2002. When Reeves decided to move on, he pushed Barton to apply for his coaching position and helped Barton research what kind of certification would be needed to qualify him for the position. Once he passed the one class he needed, he was in the running for Reeves' job, and -- given the fact that he had been assisting Reeves for so many years -- many thought he was a shoo-in.
"They interviewed three of us, and the other two were known statewide as basketball coaches," he says. "Both of them called me that night in the process and said, 'They offered me the job, but I declined it because you're the right man for this job. You've been part of this program that was a powerhouse in the 1990s because of Clay Reeves.' And so when one of the board members called me and said, 'You're the man,' I said, 'No, I'm not, you chose the other two. But I appreciate you offering me the job because I believe I can do it.'
"I still see that board member, and I always say, 'Thank goodness I was the third choice!'"
He may have been third choice, but his history of bringing home championships has since proven that he was the right choice.
"Having the experiences of working with a former, well-known coach and then carrying that state championship tradition on created a culture of winning and notoriety that is definitely well-known across the state," notes Martin.
Teaching was fulfilling for Barton, and the afterschool program allowed him to expand his administrative skills as he got to know a wide swath of Greenland Elementary's students. But coaching seems to make Barton feel the most at home.
"I had several coaches growing up who taught me discipline," he explains. "They taught me responsibility. They taught me how to schedule and how to make friends, because your competition should always be someone you know. I wanted to make sure that if I ever became a coach that I could make you stronger, give you a sense of worth, of value. I will honestly tell you that what I do as a coach is seen by outsiders as being really, really tough. I'm a screamer and a hollerer -- I can't help it. I always tell my girls, 'If you can handle me, you'll be able to handle anyone.'"
"Coach B holds all his athletes to a higher standard, not only on the basketball court, but also off it as well," says Ashley Riggles, one of Barton's former players who now teaches and coaches at Elmwood Middle School in Rogers. "Off the court, he expects his athletes to not be late to class, get good grades and be good role models in the community so that the future generations will want to be a Lady Pirate."
When then-superintendent Ron Brawner suggested Barton consider a career in administration, it struck him as a practical move.
"He said, 'You're not going to be able to do this all your life,'" Barton remembers.
So back to school he went.
"I was the girls' basketball coach, and I coached all three teams -- seventh grade, junior high and senior high," he says. "I had two boys and a wife pregnant with my daughter, and I was going from 6 p.m. Wednesday until 10 at Harding University and then Saturdays from 12 to 6. I powered through that for 18 months."
He became principal at Greenland Elementary School in 2009, a move that, he admits, still has the power to surprise him.
"I never thought I was going to be an administrator because I liked the connection to the kids so much," he says. "But Ron told me, 'Now you can touch everybody, being an administrator.' Ron has passed away. Every once in a while, when I'm down, I go to his grave. It's right next to his wife, who was a teacher here. I have a word with him when it gets really tough as an administrator, because he knew I could handle it."
Still hands on
Indeed, Barton never lost that contact with the students -- he still coaches and is a constant presence before and after school and in the hallways during the school day. He's a mentor and a support system to the kids he works with, and regularly hauls out a barbecue smoker to hold fundraisers to make sure the kids on his basketball teams can all have the uniforms, fees and shoes required to play.
"We go buy ribs and butt and wings and quarters and brisket, and we smoke it and ask for donations," he says. "'All means all.' Dr. Martin has made that clear, that's her mantra. The school district's mission is, no matter who you are, you're somebody, and we're going to take care of you."
"Coach B doesn't just stop at his ability to be your basketball coach," says Riggles. "He cares about his athletes' futures and dreams. He will do whatever he can do to make sure that you are taken care of and are on the right path, whether that is just advice, being a reference for a job or calling college coaches to get you a scholarship."
That spirit of giving led Martin and Barton to join with the nonprofit organization Essentials Outreach when offered the opportunity.
"It's a nonprofit that started in Gravette and Lincoln, and the people that led it got a hold of what we do here and asked me to be a part of it," he explains. "So every third Saturday, we're giving essential goods to families that need it. All we ask is that you tell us how many members are in your family and what town you live in. We give them toothbrushes, laundry soap. Tyson has been gracious enough to donate food. Sometimes we can give them 20 pounds of popcorn chicken, 20 pounds of hindquarters, full chickens. Me and five of my paraprofessionals wait for families to pull up, and no questions asked. I've been here the longest, and I know most of the people, and they don't feel apprehensive of showing up. They're not embarrassed, because this is just what we do."
As one might imagine, the separation in mid-March 2020 caused by schools closing in the face of the spreading pandemic was difficult for Barton.
"It was the worst 159 days ever, because I am about walking down the hallways, the kids coming up and hugging me, and 'Mr. B this' and 'Coach Barton' that," he says. "For this pandemic to take away my energy, my purpose, my drive was really, really toxic for me. Really mentally wearing, because my purpose is serving kids."
Logistically, closing Greenland Public Schools and pivoting to a virtual format was no easy task. The district covers a lot of land, much of it rural, where internet access can be sparse or non-existent. Then there was the issue of feeding the students, 70 percent of whose family incomes were at or below the federal poverty level, qualifying them for free or reduced lunch prices. Barton says the school district worked hard to make sure none of the Greenland Public School students or their families went hungry during the time they were away from school.
"It was our responsibility as a school district to make sure our kids are safe," he says. "So a bus went towards Winslow and a bus went towards Fayetteville, and I was honored to be one of those that Dr. Martin asked to help out. There were four of us, and we made sure that we were feeling about 160 families every day, and we continued it all the way to Aug. 13."
Another way Barton maintained his connection with his students was by posting a daily Facebook video of himself, in his office, reading a book out loud. The videos were a hit, almost immediately, garnering hundreds of Facebook likes and comments. After a couple of weeks, Barton was getting recognized by children in the Walmart checkout line.
"The parents said that the videos were, for their children, a sense of being normal," says Barton. "They said they were proud that, even on weekends, between ball games, I would find a way to read. They even started requesting books.
"A young lady who is in third grade, on the first day of school, came up and hugged me and said, 'I'm Ava. I watched you read every day, and I want to hug you and say "Thank you." I'm not afraid to be here, because you love your job.' Man, what a moment. Tears came to my eyes."
Towards the end of the summer, you could find Barton in his school, making the adjustments necessary to make the environment as safe as possible for his students' return. It's hard to imagine there was anyone on campus more excited for that return than he was.
"It was the happiest day of my life when the kids started coming back to school," he says. "A virus is not going to be the fall of Greenland Public Schools. Our purpose is to be educators. Our purpose is to be mentors. Our purpose is to educate and to serve this community, that is almost 70 percent free and reduced lunch, these hard-working rural people. Our job is to make their child believe that anything can happen, and they can be whoever they want or need to be. My staff of 42 people in my elementary school understand what our purpose is: Our purpose is to get our kids back in the building. We have an obligation to this small town, this gateway to Northwest Arkansas. We have an obligation to give these families, their child, an opportunity to dream big. And that's what we do here at Greenland."
Whatever magic Barton and his staff are wielding, former students say it's working.
"Coach B is a super special person to me," says Riggles. "He has been one of my biggest role models throughout my life. He is the reason I wanted to be a math teacher and a basketball coach. I wanted to be able to impact my athletes' lives, just like he was able to impact mine."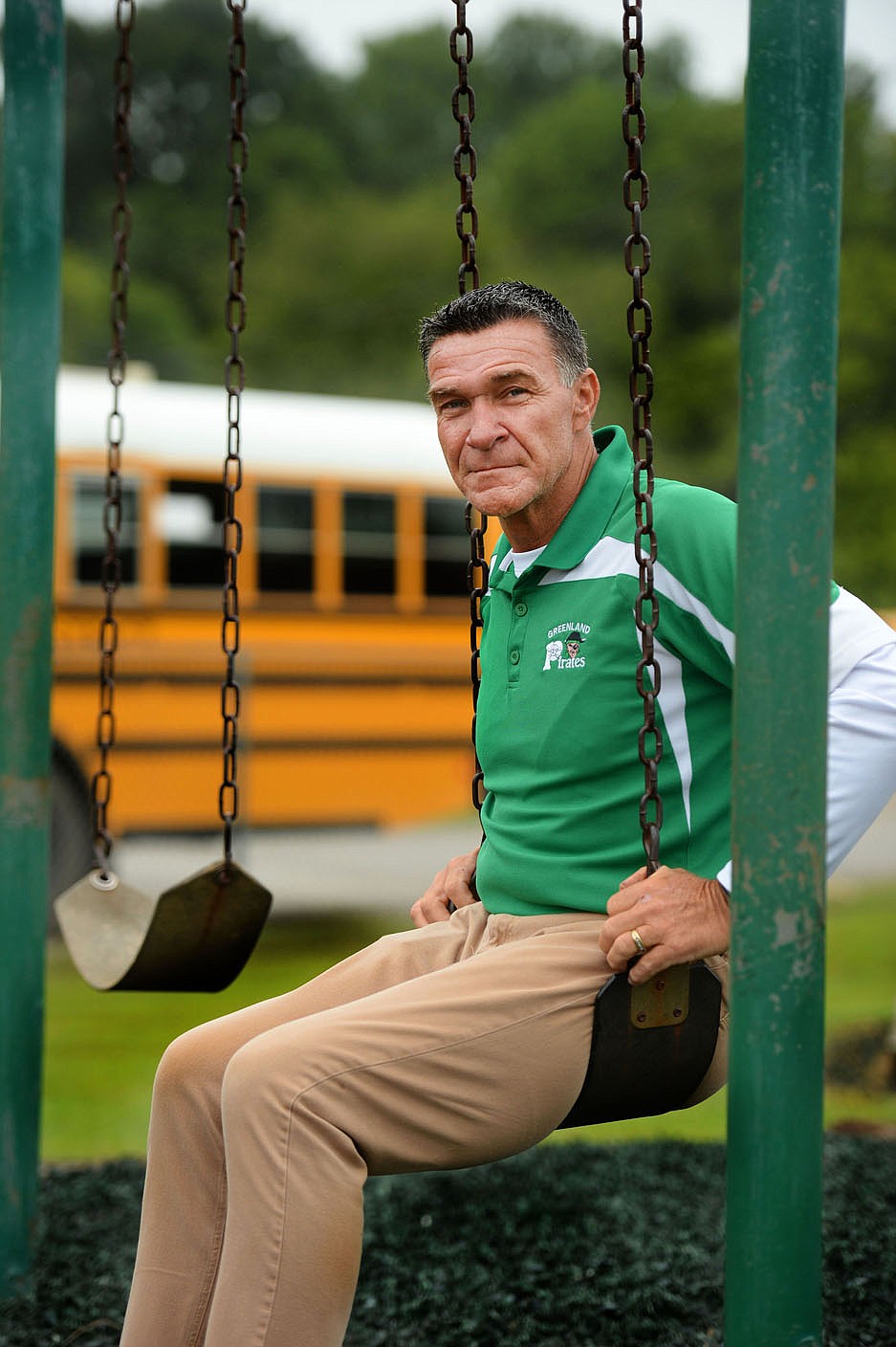 Alan Barton has served as principal at Greenland Elementary School since 1988. Visit nwaonline.com/200920Daily/ for today's photo gallery. (NWA Democrat-Gazette/Andy Shupe)
More News
Self-Portrait
Alan Barton
Sports are important for kids because it improves their focus on task behavior, it's a self regulator of emotions, it helps with interpersonal skills, and it will always help achievement. I call it "habits and routines."
My favorite piece of advice for the kids playing on my teams is if you can handle the pressure of being a Lady Pirate and carrying on the traditions of the number on your jersey, and handle me as a coach, I guarantee with habits and routines you will be prepared to handle almost everything that life will bring.
The best piece of advice I've ever received is do it because you love it. Never have I ever done anything just to be recognized for doing good deeds. What I want to make sure of is that I have helped all that I have encountered to experience success and smile.
My favorite place in Northwest Arkansas is tailgating on campus for a Razorback football game.
The people who have the biggest impact on my life are my father, Gary Reed Barton; Mr. Hill, my seventh grade AV teacher; Mrs. Pat Stewart, my first principal; and Dr. Wright, my college professor, who told me that I have a gift and I was needed in education.
One word to sum me up is passionate.