MILWAUKEE -- The Milwaukee Bucks overhauled their roster during the offseason to put more star power around two-time MVP Giannis Antetokounmpo.
Their championship hopes now may depend on how well those other guys can perform without him.
Antetokounmpo is doubtful tonight for Game 5 of the Eastern Conference finals after an MRI showed he hyperextended his left knee in the Bucks' 110-88 Game 4 loss to the Atlanta Hawks.
"Giannis is going to do everything he can to be available," Bucks Coach Mike Budenholzer said Wednesday. "We're going to put his health and safety first and together make good decisions."
Antetokounmpo's injury looked considerably more serious when he was clutching his knee in obvious pain Tuesday night. But as encouraging as the MRI results are for the Bucks' long-term ambitions, the injury seriously complicates their hopes of winning this series and reaching the NBA Finals for the first time since 1974.
The Bucks and Hawks are tied at two games apiece.
"Any time you see your best player go down, it's not great," Bucks forward P.J. Tucker said after Game 4. "But it's an opportunity for somebody else and everybody else to step up. It's the Eastern Conference finals. There's no excuses. It doesn't matter whoever is playing, not playing. They've got guys out. Everybody's hurt. Everybody's banged up. Everybody has injuries. You have to fight through it and win."
Antetokounmpo is averaging 28.2 points, 12.7 rebounds and 5.2 assists in the postseason. If he isn't available, the Bucks will need Middleton and Holiday to become more consistent.
Trae Young's status for Game 5 remains uncertain after he missed Game 4 with a bone bruise in his foot. Clint Capela also is questionable with right eye inflammation after taking an elbow to the face late in Game 4.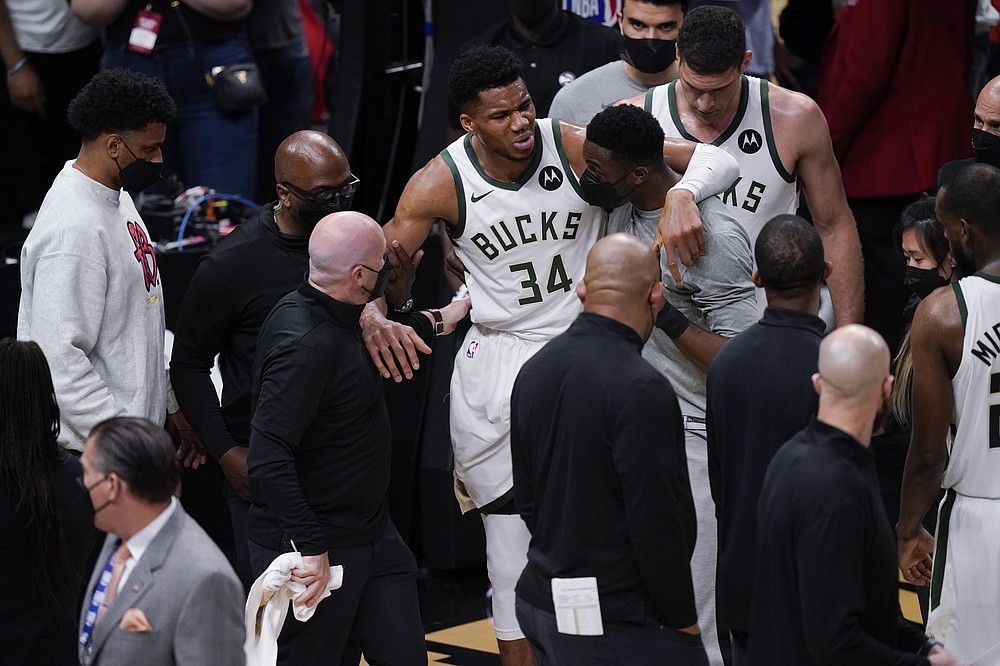 Milwaukee Bucks' Giannis Antetokounmpo (34) is helped off the court after he and Atlanta Hawks' Clint Capela fell during the second half of Game 4 of the NBA basketball Eastern Conference finals Tuesday, June 29, 2021, in Atlanta. (AP Photo/Brynn Anderson)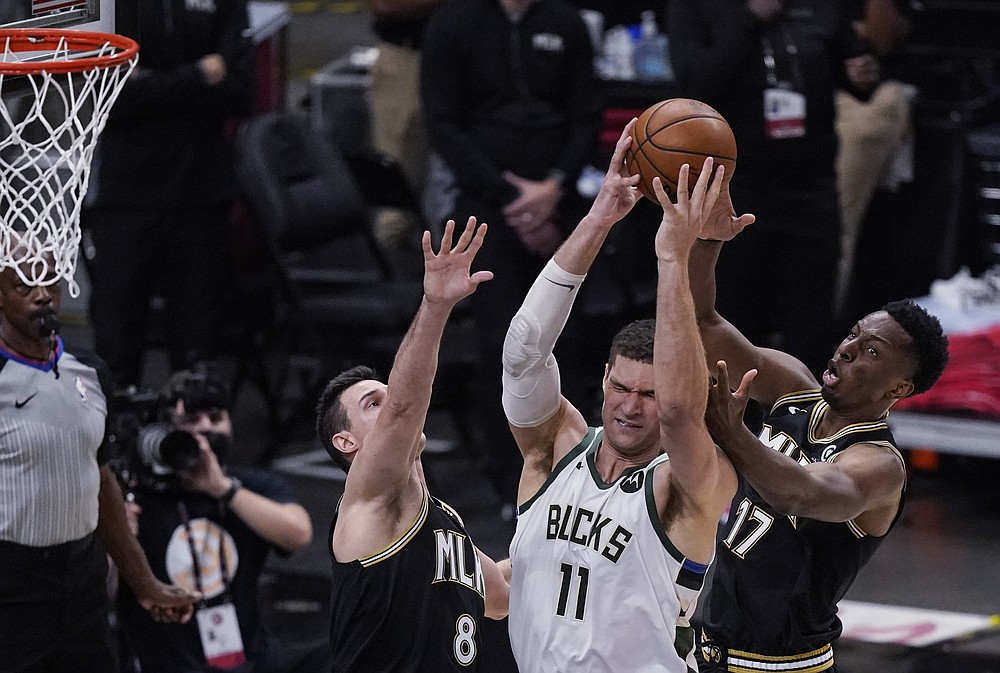 Milwaukee Bucks' Brook Lopez (11) and Atlanta Hawks' Onyeka Okongwu (17) and Danilo Gallinari (8) all go for a rebound during the first half of Game 4 of the NBA basketball Eastern Conference finals Tuesday, June 29, 2021, in Atlanta. (AP Photo/Brynn Anderson)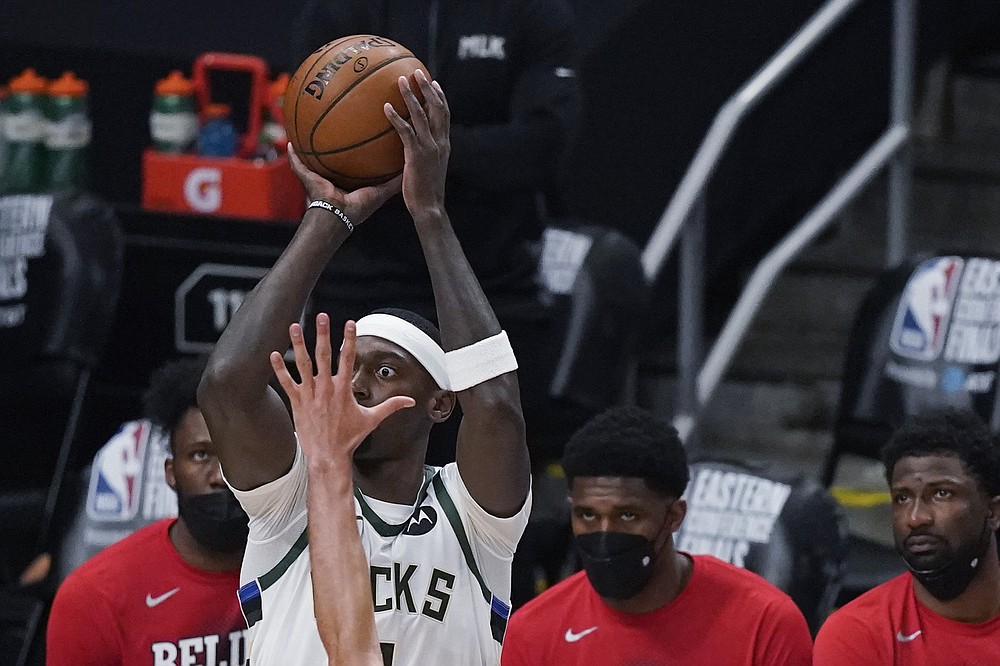 Milwaukee Bucks' Bobby Portis (9) scores against the Atlanta Hawks during the first half of Game 4 of the NBA basketball Eastern Conference finals Tuesday, June 29, 2021, in Atlanta. (AP Photo/Brynn Anderson)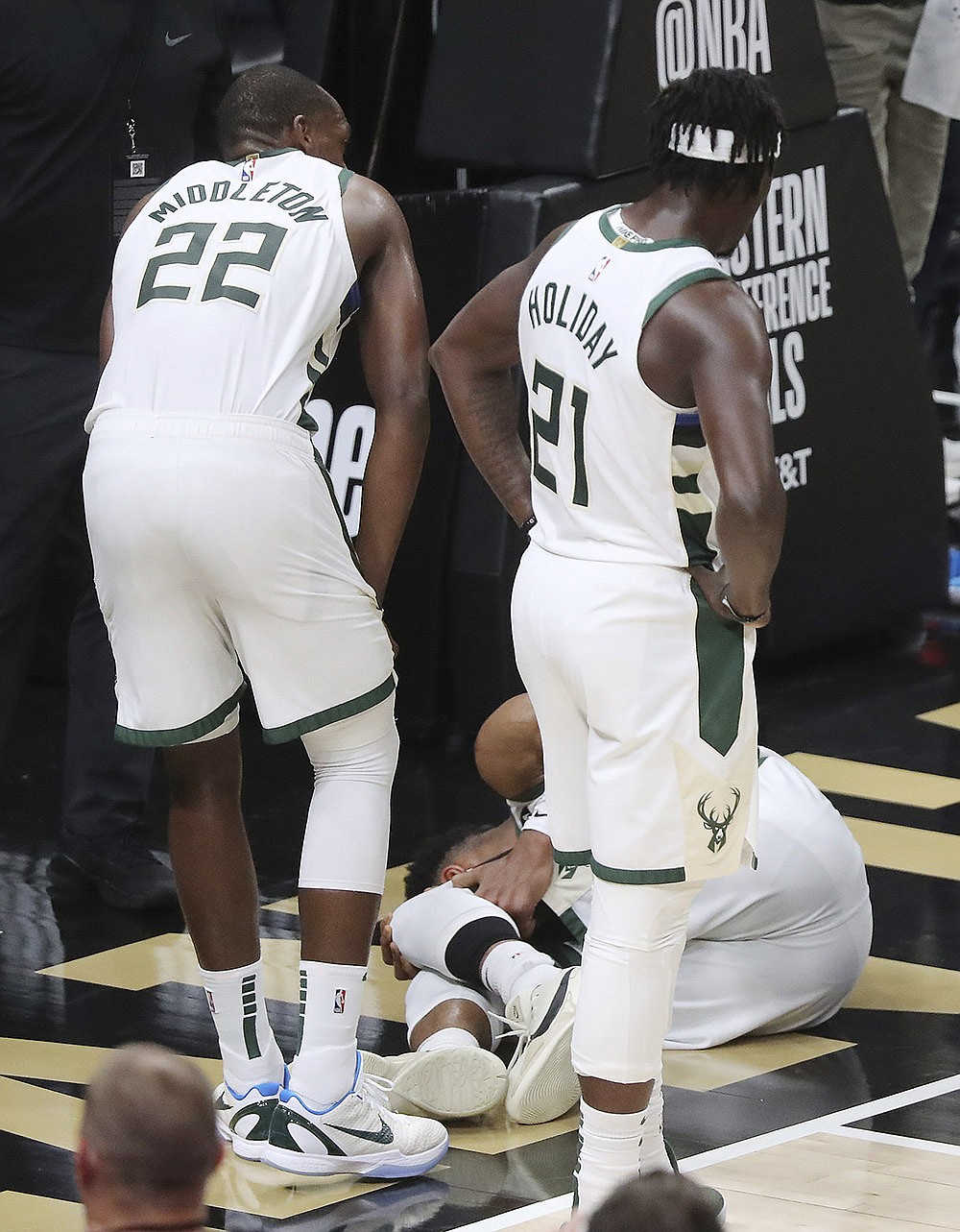 Milwaukee Bucks teammates Khris Middleton (left) and Jrue Holiday look at Giannis Antetokounmpo after he was injured during the second half in Game 4 of the NBA Eastern Conference finals on Tuesday. Antetokounmpo is doubtful tonight for Game 5 with a hyperextension of his left knee. (AP/Curtis Compton/Atlanta Journal-Constitution)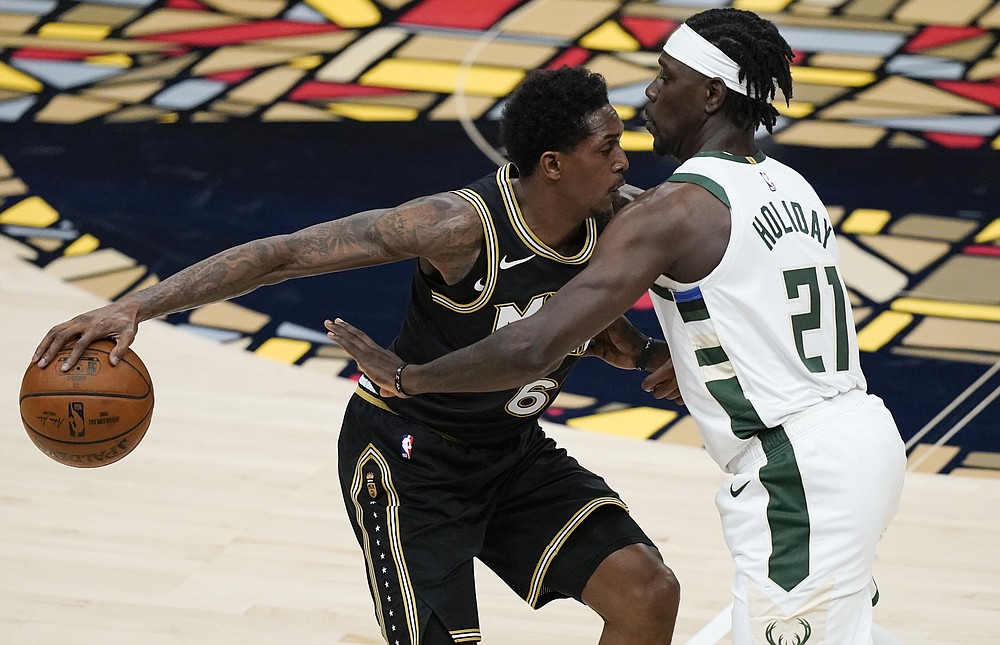 Atlanta Hawks' Lou Williams (6) keeps the ball away from Milwaukee Bucks' Jrue Holiday (21) during the first half of Game 4 of the NBA basketball Eastern Conference finals Tuesday, June 29, 2021, in Atlanta. (AP Photo/Brynn Anderson)