There's no more denying it: Emily Kelley loves Crocs.
After years of dismissing them as hideous and pointless, the 27-year-old now wears her white foam clogs everywhere -- to breweries, the grocery store and on long walks through her Chicago neighborhood.
"During the pandemic, I've done a lot of thinking about myself and how I engage with the world," Kelley said, "and finally realized I can wear whatever I want." Plus, it doesn't hurt that the clogs have become "unmistakably, intergenerationally cool."
Crocs has unexpectedly turned its polarizing crayon-colored shoes into a hip, even glamorous, statement. Sales have skyrocketed during the pandemic -- up more than 60% in the past quarter -- as the brand expands its reach to toddlers, trendy teens and their grandparents.
The resurgence, analysts say, stems from a new management team and scrappy reinvention that includes collaborations with celebrities, designers, even fast-food chains, generating buzz on Instagram and TikTok. Crocs overhauled its business to focus on its classic clog, which now makes up nearly three-quarters of sales, and doubled down on its highly profitable Jibbitz charms, which come in hundreds of styles and pop into the clog's ventilation holes.
Record profits followed, driving Crocs shares up 300% since last year. The company expects another sales spurt this year, from 40% to 50%, to as much as $2.1 billion.
"With this revival, they've strengthened their board, completely rotated the executive management team and simplified what they stand for, which is the classic clog," said Erinn Murphy, an analyst at Piper Sandler. "Some people love them, some hate them, but it's what they're known for, and they've really leaned into it."
A recent collaboration with singer Justin Bieber -- $70 lavender Crocs adorned with chipmunk and teddy bear charms -- quickly sold out. Crocs also partnered with Balenciaga on an $850 platform clog, KFC on a $60 fried-chicken-print shoe with drumstick charms, and Disney-Pixar for a $50 homage to the "Cars" films that lights up. Next: a Hidden Valley Ranch-themed shoe studded with french fries, veggie sticks and pizza. It sold out in presales.
Even celebrities without official ties to the company can set off a social media frenzy. Singer Nicki Minaj collected nearly 5 million likes after posting an Instagram photo of herself wearing little more than a pair of neon pink Crocs.
"Their playbook isn't terribly different from what a lot of other brands are doing -- using key influencers to post on social media -- but Crocs has done it extraordinary well," said Jay Sole, an analyst for UBS. "They've made the brand cool again."
Now Crocs are turning up at weddings, in boardrooms, on the runway, even the Academy Awards, where Questlove sported a gold pair in April. "I became a believer in quarantine last year," the 50-year-old Roots drummer and "Tonight Show" bandleader said in an Instagram post, saying he's "tired of suffering while stunting.
"Comfort first at this stage in my life."
Moony Hernandez, 25, started wearing Crocs -- black, with metal spikes and chains -- to be ironic, she said, much like she sometimes dons anime streetwear or bunny ears. But now she rotates through five pairs, including a fuzzy, lime green set and the 5-inch platforms with sparkles and spikes. On the job in Austin, Texas, where she works in tech support, she's known as "the Croc girl."
"There's nowhere I wouldn't wear my Crocs," she said. "I would wear them to the Met Gala."
CROCS' START
Crocs debuted nearly 20 years ago at a Florida boat show. The clunky shoes, which sold for about $30 a pair, were quick-drying, antimicrobial and easy to clean. And they were comfortable. All 200 prototypes sold out.
Word spread quickly. Sales tripled between 2006 and 2007 as the company underwent a rapid, multimillion-dollar expansion, buying up four companies in three years. Its success was far-reaching -- and bipartisan. President George W. Bush wore Crocs, as did former first lady Michelle Obama.
Then came the Great Recession: Demand fell sharply and sales cratered, leading to $185 million in losses in 2008 alone. The brand teetered near bankruptcy while its stock, once valued at $75 a share, fell to less than $1. Shares are now trading closer to $100.
In 2013, Blackstone Group invested $200 million in the Broomfield, Colo., company and kicked off a massive turnaround effort. It closed 75% of U.S. stores and scrapped golf shoes, high heels and other products it deemed a distraction. It also closed the last of its manufacturing plants in 2018, outsourcing production in hopes of increasing profits.
"The company had lost track of its customer," said chief executive Andrew Rees, who took the helm in 2017. "We had to focus on being democratic. We know our consumer could be 70, they could be 15, and we need to communicate with all of them in the places that they go to."
The company dropped television commercials and print ads, shifting its entire marketing budget online, and doubled down on social media. When the pandemic forced the company to shutter all its stores, it got attention for giving away more than 910,000 pairs of Crocs to front-line health-care workers.
The way shoppers buy and wear the shoe has changed, too. Online sales have exploded, and Crocs have become even more of a vessel for personal expression. Sales of its Jibbitz line -- which includes plastic charms shaped like cheese boards, rainbows and Winnie-the-Pooh for about $5 a pop -- more than doubled in the most recent quarter.
"Crocs has simplified the shoe so it's a blank canvas," said Murphy of Piper Sandler. "And now they're layering on elements -- color, print and collaborations -- that make the brand sizzle."
Murphy, who lives in Houston, says she's been surprised by how often she sees people wearing Crocs. "It's a diverse crowd and more than I've ever seen," she said. "There's been a psychographic change: Comfort is cool, and the pandemic has helped this. You don't need to [contort] your foot into a teeny-tiny heel anymore."
Rees acknowledges the skeptics, but he says their ridicule has been "critically important" to the success of Crocs. When fashion designer Victoria Beckham received a pair of Crocs from Bieber in April, she took to Instagram to say she'd "rather die" than wear them.
"To us, that's not a failure," Rees said. "That's a win. It creates conversation, it creates media, it creates attention, and that's really good for the brand."
Midas Mitchell used to think Crocs looked like "ugly nurse shoes." But the pandemic had him itching for a change -- and a new way to express himself. The 34-year-old recently bought his first pair of gray clogs and outfitted them with nearly a dozen charms with phrases such as "No justice, no peace" and "I am Black history."
"With everyone wearing masks, it's harder to make a first impression," said Mitchell, a small-business owner in Richmond, Va. "Now when I walk into a room with my Crocs, it's a conversation starter."
STAYING POWER
If there's anything the brand has demonstrated, it's staying power. And now, with today's teenagers and 20-somethings within its grip, analysts say Crocs has set itself up for an extended reign.
"When you strike a chord with Gen Z, that's very powerful," Murphy said. Crocs, she added, are the eighth-most-popular brand among U.S. teenagers, up from 38 in 2017, according to a Piper Sandler survey.
There are other opportunities for growth, too, including the company's burgeoning sandal business and international markets, including China -- which last year accounted for less than 5% of overall sales -- and Europe, where British Vogue recently declared Crocs the season's "it-shoe."
The brand's popularity has spawned copycat clogs, including a $35 version by U.S.A. DAWGS, which has been involved in litigation with Crocs since 2012. More recently, Kanye West's Adidas Yeezy Foam Runner, which sells for about $80, has been dubbed the "Yeezy Croc" because of its resemblance to the slip-on clog.
Kelley, the 27-year-old in Chicago, got her first pair of Crocs during the pandemic and decorated them with avocado, mushroom, strawberry and Pride pins. She can't quite describe their appeal, other than that they're comfortable, easy to slip on and off, and, well, reliable.
"Kind of like Subaru," she said. "I don't want to say it's a cult, but Subaru people love Subarus. There's this base of loyal customers who say, 'Wow, we're really into this, this is our thing.' And that's what Crocs has become."
The pandemic, analysts say, has accelerated the shift toward comfort and nostalgia, reviving not just Crocs but many other styles, including "mom jeans," tie-dyed T-shirts and Teva sandals that had previously been deemed frumpy and dated.
"I resisted for a long time, but during the pandemic I realized there's no reason to keep my feet squished up," said Traci Franssen, 39, of Richmond, Va., who wore gold Crocs to her October wedding reception. "My toes can finally breathe."
Karli Christ, 17, wore hers to prom last month, with a sparkly red ball gown. (Her date, though, declined: "His parents told him Crocs were stupid for prom," she said.) The recent high school graduate has been reaching for the brand's signature clog since she was a kid -- and dodging Crocs-haters for just as long. But now everyone is wearing her favorite shoe: friends, classmates, even her mother and grandmother.
"It's suddenly cool," said Christ, who lives in Tallmadge, Ohio. "But I've always been one to pick comfort over fashion."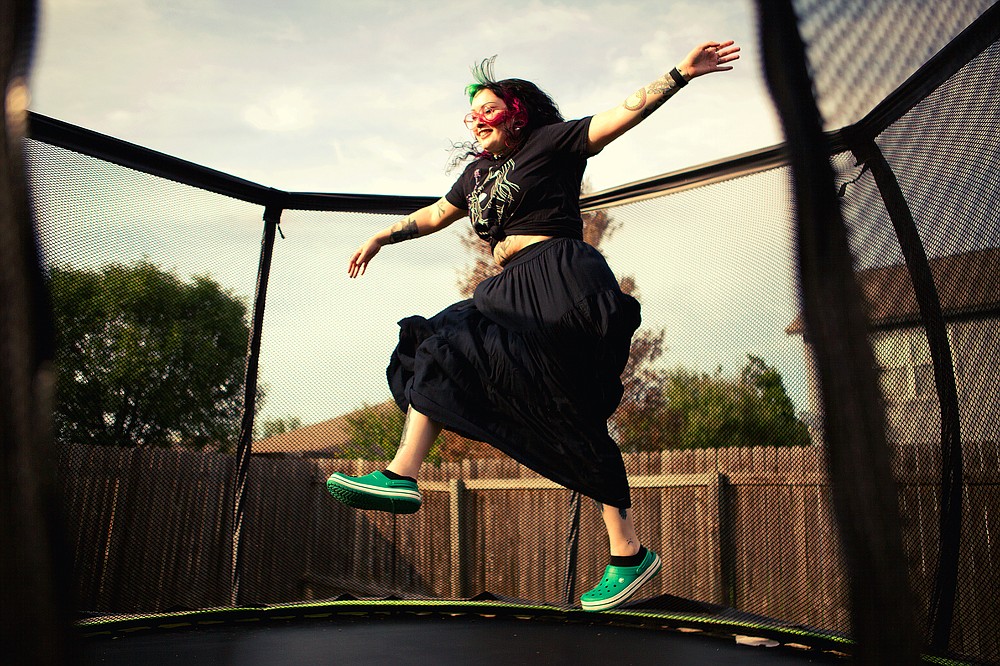 Moony Hernandez, 25, sports a pair of her Crocs in Austin, Texas. MUST CREDIT: Photo for The Washington Post by Mary Kang.