Fayetteville is the only school district in Arkansas working to make safety restraints standard on its large buses, an initiative that's cost about $160,000, said Mike McClure, transportation director.
"Every new one that we purchase, we equip right now in our fleet," McClure said.
Officials with some other districts say school bus passengers are relatively safe without seat belts. Costs and time spent monitoring seat-belt usage are also concerns.
Fayetteville administrators decided in 2016 all newly purchased buses would have seat belts installed. About 31% of the district's 70 buses have seat belts, he said. The district transports about 6,400 students a day.
Arkansas school districts are not required to install seat belts on buses; however, a state law provides a way for communities to compel their local district to do so.
Act 375 of 2017 states community members must present a petition to their school board signed by 10% of a district's constituents requesting the buses be equipped with passenger restraint systems. The board then must determine the cost and propose a tax issue to voters that would pay for that.
"I don't know if any school district in the state of Arkansas has had the community come forth and ask to do that," said Charles Lee, Rogers general administration assistant superintendent.
The state Department of Education isn't aware either of any such district, according to Kimberly Mundell, a department spokeswoman.
Springdale, the state's largest school district, is beginning to examine the idea of installing seat belts on future buses, according to Kevin Conklin, the district's assistant transportation director.
The district is in the pre-bidding process and plans to buy eight 77-passenger buses for $106,000 each within the next month, Conklin said.
"I think that we should have seat belts on buses," he said, adding they can also contribute to student discipline by keeping passengers in their seats.
Megan Hurley, Fayetteville School Board vice president, said she's grateful for the protection seat belts provide her two elementary schoolchildren.
"Seat belts are a reminder to kids that they need to stay seated while they ride," she said. "This prevents accidents by lowering the distraction to the driver and by keeping kids in place so they aren't injured by getting up."
Fayetteville does not have a seat-belt usage policy because of the limited number of buses that have seat belts, McClure said.
"Drivers of seat belt-equipped buses are trained to strongly encourage belt usage with their students," he said.
Bentonville and Rogers administrators said there are no plans to install seat belts on buses beyond those buses equipped for children with special needs.
"We are going to listen to our patrons. They are our guiding force," Lee said. "We want to make sure that we're the ear for them. If they come forward to us with a petition or a proposal, we're definitely going to move forward with it. It just hasn't happened yet."
Costs, other concerns
Not making seat belts standard on buses is often a matter of cost, Conklin said.
It costs an average of $140 per student to install seat belts on a school bus, he said, a cost of about $10,800 for every 77-passenger vehicle.
Retrofitting existing buses with seat belts is cost prohibitive and would result in redesigning interiors, McClure said.
"The torque on the seat doesn't comply with what the seat belt would need to make it safe," he said. "Installing them in older buses isn't feasible."
There would also be additional staffing costs -- either to extend drivers' time on buses or to add staff members on buses -- to ensure seat belts are fastened, said Leslee Wright, Bentonville communications director.
The added time it takes to ensure seat belts are fastened also would extend route times, which many parents may find inconvenient, she said.
"They want their kids to school on time and they want them home on time," Wright said. "They don't want to have to get them up an extra half hour early when they're already getting up at 6:15 to get a bus."
Administrators say seat belts are on some buses in each of Northwest Arkansas' largest districts.
Bentonville transports about 14,000 students and has some 160 buses in its fleet, Wright said. Seat restraints are standard only on its 17 special-needs buses, she said.
Rogers has 105 buses transporting about 9,000 students daily, said Ron Young, transportation director. Seat belts are standard only on its 15 special-needs buses.
Springdale transports 10,000 students per day on its 172 buses, Conklin said. About 25% of the fleet has seat belts, which includes special needs and some activity buses, he said.
A question of safety
Wright said buses are safe and not installing seat belts isn't a matter of putting student safety before costs.
"There's safety built into every design component," she said.
Four to six school-age children die annually on school transportation vehicles, according to the National Highway Traffic Safety Administration. Students are about 70 times safer when taking a school bus to school, rather than a car, according to the administration.
Still, the American Academy of Pediatrics strongly recommends all children travel in age-appropriate and properly secured child restraint systems in all motor vehicles, including school buses.
And in 2015, Mark Rosekind, then-chief of the administration, formally announced seat belts should be standard on every school bus.
"School buses should have seat belts. Period," Rosekind said in 2015. "It should be utterly uncontroversial -- there is no question that seat belts offer improved safety."
The administration has not taken the step of requiring school buses to be equipped with seat belts.
School buses are designed to be highly visible and include safety features such as flashing red lights, cross-view mirrors and stop-sign arms, according to the administration. They also include protective seating, high crush standards and rollover protection features.
"A lot of it is people's awareness to the big yellow bus with the red lights," Conklin said.
Large school buses are also heavier and distribute crash forces differently than passenger cars and light trucks, according to the administration, allowing bus passengers to experience much less crash force than those in passenger cars, light trucks and vans.
Serious bus accidents are rare. On May 19, 2003, a Siloam Springs school bus ran off Arkansas 16, turned over and crashed into some trees, killing a 14-year-old student and injuring several others.
Four years later, the Arkansas Supreme Court ruled parents of students injured or killed in that crash could not sue the vehicle's manufacturer and distributor for not installing seat belts, because the courts cannot usurp the Legislature's power to establish bus-safety specifications by allowing a jury to examine the issue.
The Arkansas State Police doesn't compile information on crashes by vehicle type and has no information on the number of annual school bus accidents in the state, said Bill Sadler, Arkansas State Police public information officer.
Administrators say Bentonville, Fayetteville, Rogers and Springdale all have positive accident histories, which typically involve no more than occasional fender benders.
"Accidents happen," Lee said. "You just hope to avoid the serious accidents where individuals get hurt, and we've been fortunate in that thus far."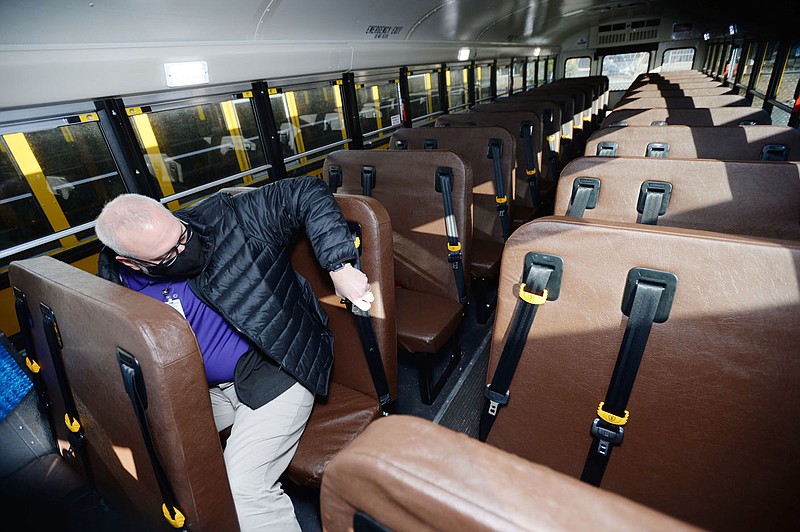 Mike McClure, director of transportation services for Fayetteville Public Schools, demonstrates Friday, Feb. 5, 2021, the seat belts on one of the district's busses at the district transportation facility in Fayetteville. Seat belts are present on many but not all busses in Northwest Arkansas. Visit nwaonline.com/210209Daily/ for today's photo gallery. (NWA Democrat-Gazette/Andy Shupe)
More News
State laws
The following states have laws requiring the installation of seat belts on school buses:
• Arkansas*
• California
• Florida
• Louisiana*
• Nevada
• New Jersey
• New York
• Texas*
*- subject to appropriations or approval or denial by local jurisdictions
Source: National Conference of State Legislatures