It was Friday -- the 13th.
Work was slow that November in 2009, so Jason Rogers decided to go home to do some much-needed bush hogging. Once at his Watson Chapel home, he climbed up onto his 1958 Massey Ferguson tractor.
It was a sunny day. ... Life was good. Rogers was happily married to Heather, a Spanish teacher at the White Hall High School, and together they had two young children. He was trim and fit, and despite his height, about 6'4", he was an able cyclist.
At the newly opened Jefferson Regional Medical Center's Wellness Center, where he was co-manager, membership was growing fast and just topped 500 members.
So what happened that afternoon, for most people, would be debilitating ... a real life changer.
Every once in a while the grill became clogged with brush and usually Rogers got off the tractor, lifted the v-shaped hood and cleaned out the debris. That day, he jumped off the tractor without turning off the engine. A big mistake.
It was running hot, so hot the gasoline inside the tank was boiling, he recalled.
After lifting the hood, Rogers decided to make sure the gas cap was firmly in place, but as soon as his hands touched it -- probably causing a static spark to ignite any gasoline vapors around the cap -- it blew up in his face.
"I immediately stopped, dropped and rolled," he said.
After rolling around, he realized his T-shirt was still on fire so he ripped it from his body. That was around 1 p.m., and his wife, Heather, was at school so that meant he was alone.
Rogers quickly realized it was up to him to call for medical help, notify the Watson Chapel Volunteer Fire Department of the quickly spreading fire in his field, and get himself to the house to wait for an ambulance to arrive.
Already, there were shreds of skin hanging from his limbs.
"I was in shock, and not in a lot of pain," he said. But once on the porch, his arms and hands started hurting a little.
A neighbor who lives nearby and his son saw the smoke and went to Rogers' house to see if they could help.
About all they could do was wait with Rogers for the first responders to arrive.
Because of the severity of his burns, Rogers was sent to Arkansas Children's Hospital. While it's true most of their patients are under the age of 18, the Little Rock hospital has one of the state's best burn units.
His condition was bad.
In fact, about 27% of Rogers' upper body -- including his arms, face, neck, left shoulder and the right side of his belly -- was covered in third-degree burns, possibly fourth-degree in a spot or two.
"I was released about a week and a half later," he said.
ATTITUDE ISN'T EVERYTHING
Rogers, who now lives near Grapevine, has a winning smile and a full head of long hair. He uses his hands when he talks to emphasize a point so it's surprising that his scars and grafts aren't noticeable until he talks about the tractor accident.
Heather Rogers described the grafts as "beautiful work."
While most joke about Friday the 13th as being unlucky, Rogers countered, saying, "I'm lucky."
For instance, he said the sunglasses he had on that day and his long hair afforded him some protection from the fire, and -- this is a big one -- he didn't automatically inhale as the fire charred his face.
He said if he had breathed in, his lungs would have been burned and that would have complicated his survival and recovery. Besides some scarring on his arms, Rogers lost about 5% of the range of motion in his right thumb.
As important as luck, he said, "I'm a Christian."
Heather Rogers said, "It was truly the grace of God that got us through."
His injuries could have been much worse, and instead of lamenting the incident, he said he learned from the experience.
"It happened and I cannot change it," he said. "In theory we know every day could be our last but, in reality, it really could be. Don't take life for granted because it can all be gone quickly."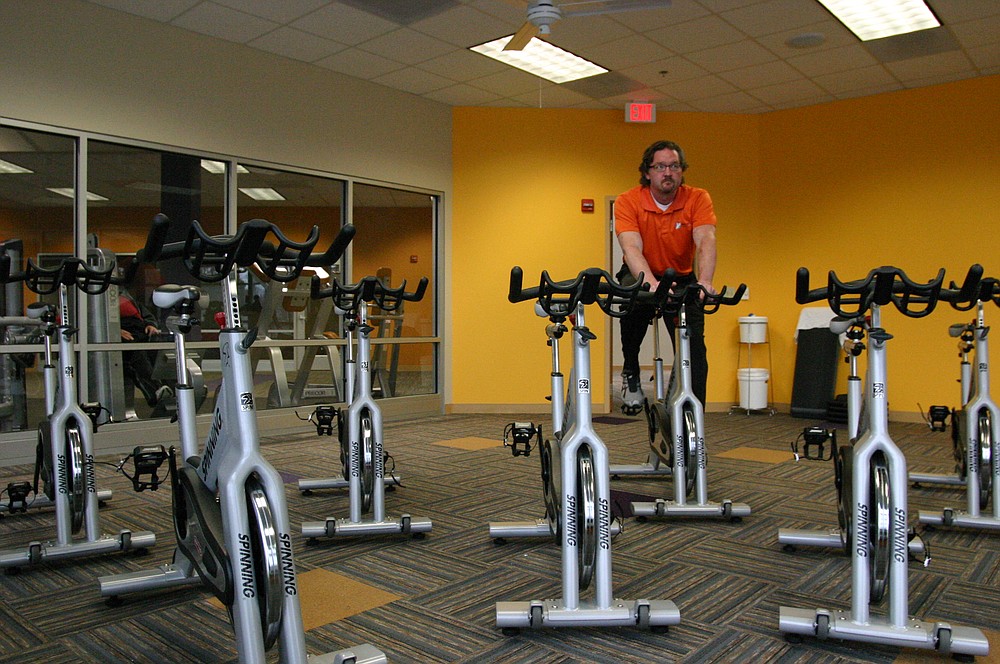 Jason Rogers is the co-manager of the Jefferson Regional Medical Center's Wellness Centers in White Hall and Pine Bluff. (Special to The Commercial)