Last week I'd mentioned getting gussied up in formal wear to take birthday glamour shots out on our then-snowy balcony. I was inspired after seeing others pose for pictures in their formal best on social media ... connections that were celebrating their own birthdays, wedding anniversaries and other special occasions; creating TikTok stories or simply proving to all and sundry that they hadn't forgotten how to glam up.
And how about that — the Hollywood celebrities copied us! The 2021 Golden Globe awards were marked by stars glamming up and Zooming in from their homes as well as on-site at the Globes in Beverly Hills. And, well, there were some who didn't dress up, having apparently grown all too comfortable loafing around in their 8 a.m. college-class duds.
After eyeing multiple Golden Globe images, the Talkmistress feels compelled to offer her own set of awards per the celebs' choice of sartorial ensembles.
The Let's Talk Golden Globes 2021 Fashion Awards
◼️ Both the "Dressing Like it's 2321" and the "Made Stripper Shoes Look Tame" awards go to Cynthia Erivo of "Harriet" fame for her ultra-clean-lined, futuristic pale green, full-skirted Valentino gown — and silver pumps that probably put her eye-to-eye with a few NBA players and nearly made us sprain our ankles just to look at them.
◼️ The "We Can Do This Our Way and Still Get Respect" winners: Jodie Foster, winner of of Best Supporting Actress — Motion Picture for "The Mauritanian," and her wife, Alexandra Hedison. They appeared, with their dog, in their pajamas. But these were silk PJs, mind you, bearing a Prada label ... "more of a Stork Club vibe than brushing-my-teeth-for-bed," as The New York Times put it.
◼️ The "Post-Tux With Highwater Pants Every Young Guy Wore to Prom" award goes to two winners: "The Crown's" Josh O'Connor, whose white-lapel-accented black jacket was paired with generously long white pants bearing an old-school milkman cut; and Tracy Morgan in his very traditional tux.
◼️ The "Too Few People Here in Person to Step on This Thing" award goes to Sofia Carson, whose two-toned gown included a burgundy, royal-wedding-length train.
◼️ The "I'm Gonna Introduce This One Unrelated Color and Make It Look Good" award is won hands-down by Leslie Odom Jr. ("One Night in Miami"), who introduced a lime-green turtleneck out of nowhere to otherwise coordinating Valentino "dusty pink"-tweed jacket, trousers and pink button-down shirt ... and, Oxfords that make him a first runner-up for the "Made Stripper Shoes Look Tame" award.
◼️ "If I Were a 21st-Century Shepherdess" kudos go to Kristen Wiig: Her pastel strapless mini dress bore very highly placed side bows atop pleating that was almost reminiscent of 18th-century panniers.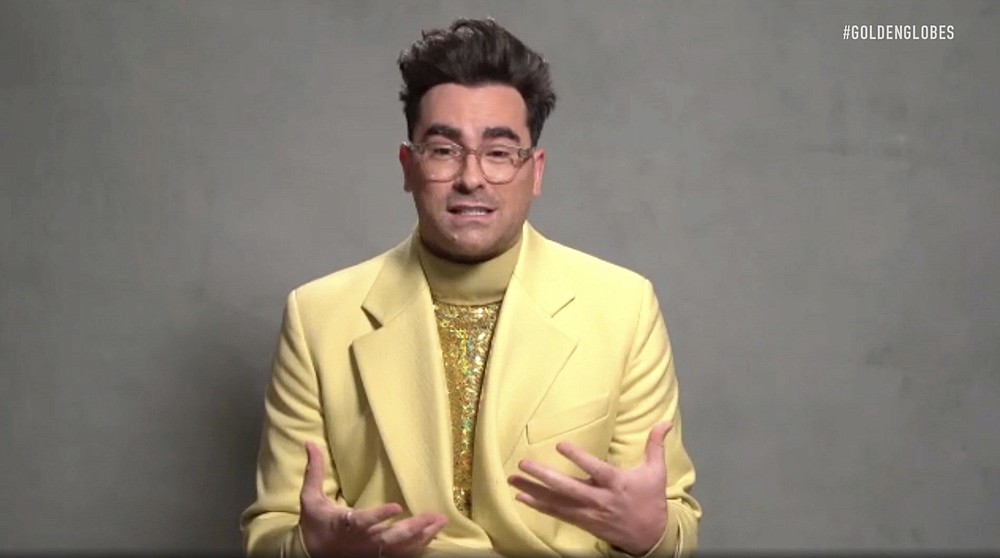 Daniel Levy accepts the award for Best Television Series, Musical or Comedy, for "Schitt's Creek" at the Golden Globe Awards on Feb. 28. (NBC via AP)
◼️ The "Neener-Neener, And You Can't Wear Pastels Period" award goes to Dan Levy, "Schitt's Creek" creator and winner for Best Comedy Series, in citron and lime-colored Valentino (yeah, him again) pieces including a glittery gold turtleneck. And shiny metallic shoes which, here again, were platforms. (If you were annoyed by the fact that the fashion meisers declared women's platform shoes out of style several years ago, you have proof to show them that they should be reinstated.)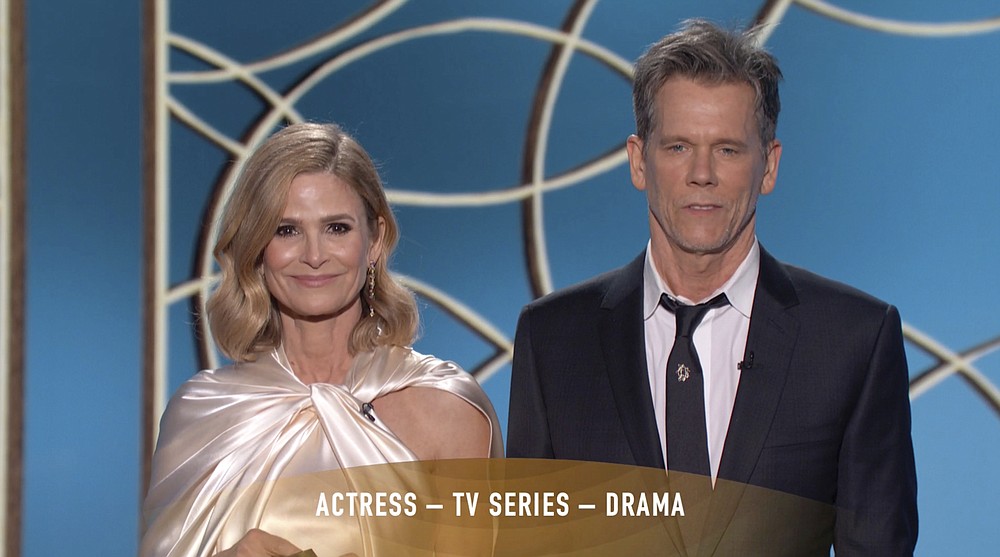 Kyra Sedgwick (left) and Kevin Bacon present the award for Best Actress in a Television Drama Series at the Golden Globe Awards. (NBC via AP)
◼️ The "Cute Couples" sartorial award goes to two Hollywood duos: Catherine Zeta-Jones and Michael Douglas; and Kyra Sedgwick and Kevin Bacon. Both couples managed to look chic and avant-garde without looking age-inappropriate.
◼️ Winner of the "I'm Gonna Be Embarrassed When I Look Back on This" award: Jason Sudeikis — Golden Globe winner for Best Performance by an Actor in a Television Series — Musical or Comedy for "Ted Lasso" — in a tie-dye hoodie that wasn't even vibrant, just a few water-color hues on a white background.
◼️ The "Dang it, I Wanna Go on Vacation Again, Dang it, and So Does Everybody Else, Dang It!" distinction was won by Bill Murray, in his colorful Hawaiian shirt complete with martini. "There were plenty of the glamorous gowns this Golden Globes, but yes, it was the comedian's chill Hawaiian style that stole my heart," says a writer in People magazine's "Editors' Picks! Our Favorite Fashion Moments at the 2021 Golden Globe Awards" article. (But, quipped a commenter on one Twitter post about Sudeikis, Murray and Jeff Daniels choosing not to dress up, "Look at the women who spend hours with a ton of help getting ready ... wearing $10,000 dollar dresses ... it is like dating all over again.")
◼️ And, the "Couldn't Look Bad if They Tried" winner: Actress Regina King, she of the figure some of us can only dream, in a silk Louis Vuitton fronted with silver and gold sequins and featuring an asymmetric (one side covered, the other side off-the-shoulder) bodice.
Dress yourself in email: hwilliams@adgnewsroom.com