The federal government says pot is illegal, but Arkansas says medical marijuana can be grown, packaged, prescribed and sold. Cannabis operates within a gray legal area that extends to banking, transportation, education and other industries that deal in related products. Still, the industry is creating jobs that need to be filled.
Despite tight restrictions, the industry is thriving, and two of the state's eight licensed cannabis grow and production facilities are now located in Jefferson County.
These are Natural State Medicinals at Gravel Pit, and a second facility, Good Day Farm at Pine Bluff. Good Day is scheduled to be operational this spring, possibly by April, with about 200 jobs to fill, said co-owner Eric Thornton.
According to the Marijuana Business Factbook, sales are ballooning. In 2020, Arkansas sales reached about $175 million but this year's sales are projected to be between $300 million and $365 million.
Thornton said the green rush is creating a real need for industry skilled employees, and both the University of Arkansas at Pine Bluff and Southeast Arkansas College are taking notice.
Robert Z. Carr Jr., UAPB provost and vice chancellor for academic affairs, said the university isn't shying away from the industry and the old stigmas associated with it.
In fact, he said, the university is currently discussing incorporating cannabis studies into their program.
UAPB Chancellor Laurence B. Alexander said, as a 1890 land grant institution, "Our mission is to be involved with agriculture."
Cannabis fits that mandate.
Across town, Steven Bloomberg, SEARK executive president, said the college is talking with Good Day Farms about how their program could support the industry.
In turn, this provides SEARK's graduates with good-paying jobs in a clean, science-driven industry. Ultimately, this fuels the local economy, Bloomberg said.
Their educational focus might include "lab technicians trained in areas such as botany," and might include growing and caring for cannabis plants in a controlled setting, he said.
As well, there might be an opportunity for the two-year college to partner with UAPB.
Bloomberg said the college didn't hesitate to consider cannabis classes and that the old pot stereotypes are falling away and "the public's perception is shifting."
GROWING A PROGRAM FROM THE GROUND UP
Carr expects UAPB will consider offering cannabis classes, along with student internships, research and eventually awarding four-year degreed programs.
Like Bloomberg, they are talking with Good Day Farm.
In a Feb. 8 email, titled, "The Effect of the New Cannabis Plant on UAPB Research, Education, and Students," Henry English, UAPB Small Farms director, wrote that it's difficult to determine the impact cannabis will have on students, research and education but he had a few preliminary thoughts.
The UAPB School of Agriculture, Fisheries, and Human Science currently operates under a five-year research plan of work but cannabis research isn't included at this point.
However, that may change.
When a new five-year plan is developed, "a decision on conducting cannabis research will likely be considered," English said.
Staff will talk with people involved in the industry to determine what type of cannabis research might be pursued, he said.
"If the demand is great," additional classes might include greenhouse management.
Any cannabis growth might require approval by the U.S. Department of Agriculture, Carr said.
English said students majoring in plant or soil would qualify to work in the industry.
Already, the UAPB Small Farm and Extension Programs provides production educational assistance to farmers who grow industrial hemp cannabis used for CBD, fiber, or seeds.
MORE THAN A GREEN THUMB
Much of the cannabis industry started with non-government types secretly developing their own strains, but that too is changing, Thornton said.
Already, there are a few institutions outside of Arkansas that offer degrees suited to the cannabis industry.
Beyond botany or biology degrees, Thornton has a few suggestions.
"If I were in my 20s just starting out with a desire to be in cannabis, I would do my undergraduate in accounting, marketing or medicine," Thornton said.
He also suggests pursuing a law degree, but considering working in a cultivation facility while in school.
"At some point in the near future, banking laws are going to change. Having knowledge of how to navigate the business side of the industry, along with an understanding of the cultivation will definitely set you apart," Thornton.
Also, between the two Jefferson County grow facilities, 400 plus jobs could be created, officials said.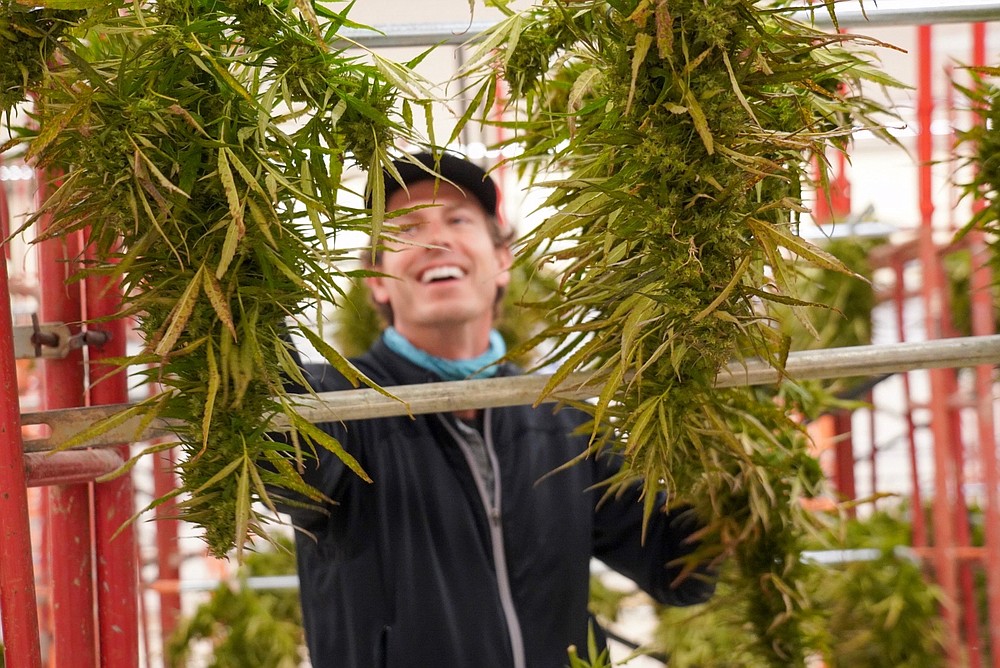 Eric Thornton, co-owner of Good Day Farm, is shown at a cannabis facility. Statewide sales could reach $365 million this year. (Special to The Commercial)