Some grocery and general merchandise stores in Northwest Arkansas plan to help their employees get covid-19 vaccinations.
Gov. Asa Hutchinson announced Monday that anyone in the state's Phase 1-B category can get vaccinated. The phase includes workers at grocery and general merchandise stores, most of which have remained open throughout the pandemic.
Employees do not have to get vaccinated through their employers, according to the Arkansas Department of Health.
They can make appointments on their own at pharmacies, hospital systems and mass clinics.
Robert Herbert, 23, of Rogers works at Whole Foods in Fayetteville and said he plans to get vaccinated, though he might wait a couple of months to gain confidence in the vaccines because he has some concern about how quickly they were developed.
Local, state and federal health officials have assured that the vaccines are safe and effective, despite being fast-tracked to combat covid-19.
Herbert said he has felt relatively safe working though the pandemic because customers and employees have worn masks and the store has done a good job of reminding customers to do so. He doesn't like to shop in stores where people are not wearing them.
"I definitely feel better knowing people are getting vaccinated," he said.
As for general merchandise stores, Walmart has about 30 stores in Benton and Washington counties. Some are Walmart Neighborhood Markets, which are usually grocery stores with pharmacies.
"We are strongly encouraging all associates to get vaccinated," said an email from Rebecca Thomason, a company spokeswoman. "We will provide resources to associates to help them find locations to receive the vaccine, including pharmacies at Walmart and Sam's Club if we receive an allotment of the vaccine." She said the company has no plans to offer incentives for employees to get vaccinated, however.
"Eligible associates who are interested in receiving the vaccine should plan to do so during their time off work," she wrote.
Employees who have flu-like symptoms after receiving a shot will be eligible for up three days of paid leave, according to Thomason.
Target, which has stores in Fayetteville and Rogers, will provide all hourly employees with up to four hours of pay, or two hours per dose, when they get the vaccine, according to Stephanie Vazquez, a company spokeswoman. The company also pays an employee up to $15 each way for transportation to a vaccination appointment.
The company is encouraging all employees to get vaccinated wherever and whenever they can, Vazquez wrote in an email. Some Target stores, including the ones in Northwest Arkansas, have CVS pharmacies.
"CVS will evaluate these locations for offering the vaccine to team members and guests in the future. Target is also working in close partnership with CVS to provide dressing rooms within stores for CVS to administer coronavirus vaccines, following state and federal guidelines. Target is also working with state health departments to support community-driven vaccination initiatives as they arise," according to Vazquez.
"The company is also working with the Target benefits team to make sure any fees associated with the vaccine are covered for all team members, no matter where they choose to get vaccinated," she wrote.
The cost of the covid-19 vaccine is covered by the federal government. However, pharmacies or clinics may charge a fee for administering the vaccine.
Another supermarket chain, ALDI, has stores in Fayetteville, Springdale, Rogers and Bentonville.
"We are strongly encouraging ALDI team members to sign up to receive the vaccine, and we want to make sure they can do so without worrying about losing pay or taking time away from work. That is why we're covering all costs associated with administering the vaccine and providing our hourly employees with two hours pay for each dose they receive, as well as scheduling flexibility for salaried employees," according to a statement from Mark Bersted, division vice president in Olathe, Kan.
Whole Foods has one store in Fayetteville. The company is paying each employee $40 for each dose of the vaccine they receive.
"As covid-19 vaccines become available to front-line workers, we strongly encourage our team members to be vaccinated at the earliest appropriate time to protect themselves, their families and communities," according to a statement from Whole Foods.
Sheldon Olson, manager of a Harps store in Fayetteville, said the store will try to vaccinate its roughly 100 employees at its in-house pharmacy.
Harps has about 20 stores in Northwest Arkansas, including four in Fayetteville and four in Springdale and is often the only grocery store in small towns like West Fork, Lincoln and Prairie Grove, according to its website.
Before Hutchinson's decision to allow everyone in Phase 1-B to get vaccinated, the main groups eligible were workers in health care, nursing homes, education or day care centers, as well as nursing home residents and people 65 or older. Food manufacturing workers became eligible less than a week before all people in Phase 1-B became eligible.
For the first time, eligibility groups now include industries that often employ teens and young adults.
Three vaccines -- Pfizer, Moderna and Johnson & Johnson's Janssen -- have been approved by the federal government for use in the U.S. Moderna and Janssen are approved for people 18 and older, and Pfizer is approved for people 16 and older.
Youths ages 16 and 17 do not need parental consent to receive covid-19 vaccines, according to Danyelle McNeill, a spokeswoman at the Arkansas Department of Health.
"If you're the one who's helping me get my groceries every week, I want to protect you whether you're 16 or 25," said Dr. Jessica Snowden of Arkansas Children's hospital in Little Rock.
The vaccine does not tend to act any differently in teenagers than it does in adults, she said.
"We hope that vaccinating that population will help us not just protect them ... but also help to decrease the spread because we do know that teenagers tend to behave a little more like adults in terms of their social interactions in the world and the number of people they come into contact with," she said.
Children's Hospital has treated 10-15 patients with covid-19 symptoms in its intensive care unit. While those patients have been as young as 5, most were teens, Snowden said.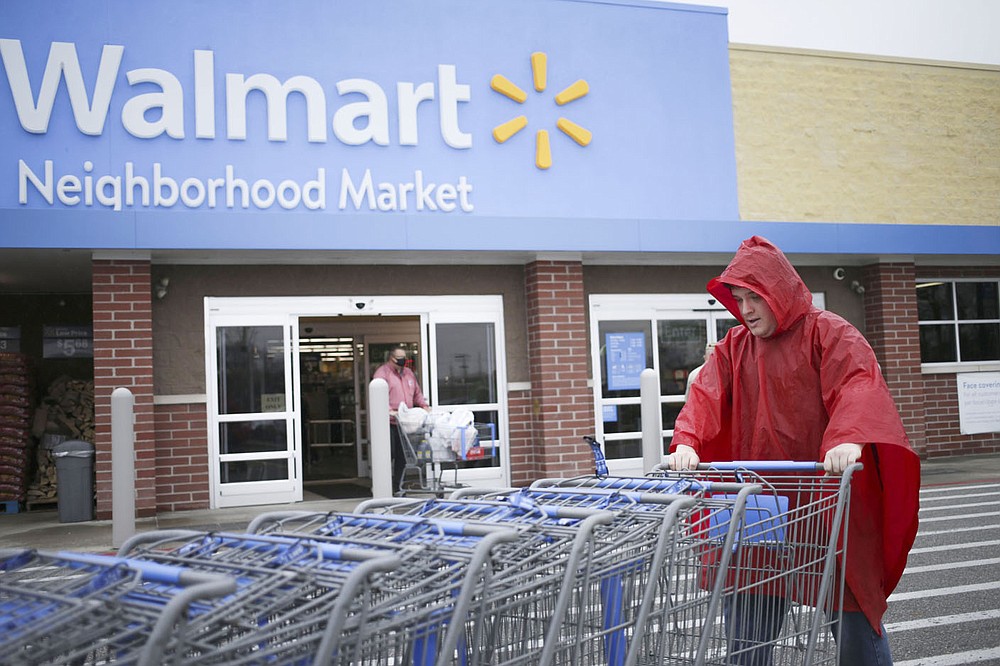 Walmart employee Jacob Morrison pushes carts, Friday, March 12, 2021 at a Walmart Neighborhood Market in Bentonville. Check out nwaonline.com/210313Daily/ for today's photo gallery. (NWA Democrat-Gazette/Charlie Kaijo)
More News
Vaccinations
Help making appointments:
Anyone needing assistance making a vaccine appointment can call the state's call center at 1-800-985-6030. The center is available from 8 a.m. to 6 p.m. Monday through Friday.
Vaccination appointments are available at the following:
• Cornerstone Pharmacy, 1 Mercy Way, Suite 50, Bella Vista (479) 876-6200
• Harps Pharmacy, 1209 N. Walton Blvd., Bentonville (479) 273-5541
• Heartland Pharmacy, 1735 W. Walnut St., Rogers (479) 631-0204; heartland-rx.com
• Debbie's Family Pharmacy, 5403 Pinnacle Point Drive, Rogers (479) 271-6300; debbiesfamilypharmacy.com
• Austin Drug, 118 Main St. N.E., Gravette (479) 787-5432
• Teasley Drug, 205 Atlanta S.E., Gravette (479) 787-5966; teasleydrug.com
• Collier Drug, 991 W. Centerton Blvd., Centerton (479) 795-8199; People who wish to be vaccinated at any Collier Drug pharmacy should email vaccine@collierdrug.com with their phase in the subject line and include their name, birthdate and phone number in the body of the email. People without email should call Collier Drug to sign up and specify they don't have email.
• Harps Pharmacy, 201 Hwy. 412 West, Siloam Springs (479) 549-3200
• Collier Drug, 100 W. Dickson, Fayetteville (479) 442-6262
• Medical Arts Pharmacy, 2515 E. Huntsville Road, Fayetteville (479) 443-3411; medartspharmacynwa.com
• Heartland Pharmacy, 1450 E. Zion Road Suite 1, Fayetteville (479) 444-7200; heartland-rx.com
• Community Pharmacy, 400 W. Emma Ave., Springdale (479) 750-2220; communitypharmacyspringdale.com
• Harps Pharmacy, 2894 W. Sunset Ave., Springdale (479) 751-0882
• Heartland Pharmacy, 701 S. Thompson St., Springdale (479) 751-2072; heartland-rx.com
• Collier Drug, 197 E. Main St., Farmington (479) 267-4303
• Collier Drug, 801 E. Douglas, Prairie Grove (479) 846-2195
• Harps Pharmacy, 115 Lee St., Huntsville (479) 738-2202
• Mercy Clinic, Patients may make appointments at Mercy.net/GetVaccineNWA or by calling 833-364-6777.
• Washington Regional Medical System, Patients may make appointments online at appt.schdl.com/providers/1080/washington-regional-medical-center/seats.
Pharmacies at these stores are offering the covid-19 vaccines:
• Walmart, 2110 W. Walnut St. in Rogers 479-636-3222
• Walmart, 4870 Elm Springs Road in Springdale 479-306-7025
• Sam's Club, 1517 Gene George Blvd in Springdale 479-365-8141
• Walmart, 2004 S. Pleasant St. in Springdale 479-751-4817
• Walmart, 406 S. Walton Blvd. in Bentonville 479-273-0060
Source: Arkansas Department of Health