During a recent Sunday service at the Gathering Place, an evangelical church in Orlando, Fla., the Rev. Gabriel Salguero focused his sermon on the covid-19 vaccine and the fear and suspicion that his largely Hispanic congregation clutches so tightly.
He turned to the New Testament: the parable of the good Samaritan, about the importance of aiding the stranger.
"In getting yourself vaccinated, you are helping your neighbor," he preached to about 300 masked and socially distanced worshippers. "God wants you to be whole so you can care for your community. So think of vaccines as part of God's plan."
Salguero is among thousands of clergy members from a cross-section of faiths -- imams, rabbis, priests, swamis -- trying to coax the hesitant to get vaccinated against covid-19. By weaving scripture with science, they are employing the singular trust vested in them by their congregations to dispel myths and disinformation about the shots. Many are even offering their sanctuaries as vaccination sites to make the experience more accessible and reassuring.
[CORONAVIRUS: Click here for our complete coverage » arkansasonline.com/coronavirus]
Their mission is becoming increasingly vital. With vaccine supply expected to surge in the coming months and the White House promising enough doses for every American adult by May, public health officials are shifting their attention to the still-substantial number of people who are skeptical about the vaccines. Winning them over is imperative if the country is to achieve widespread (herd) immunity from the virus and a semblance of normalcy.
Some of the most potent reasons people cite in resisting vaccines are rooted in religious beliefs, and indeed one obstacle these clergy members face is the inveighing against the shots by their own peers. The United States Conference of Catholic Bishops recently proclaimed that Catholics should avoid the Johnson & Johnson vaccine if they have a choice, calling it "morally compromised" because it was developed with cell lines from a fetus aborted in 1985. A false rumor, taken up by some imams and rabbis, that covid-19 vaccines contain pork byproducts pervades Muslim and Jewish communities.
But clergy members who believe in the importance of vaccines are uniquely positioned to counter those claims. Pope Francis declared that coronavirus shots are "morally acceptable" because of the severity of the pandemic and the remoteness of the connection to the aborted fetus. With Ramadan approaching next month, imams have been holding Facebook Live chats with Muslim doctors, organized around questions like, "is the covid-19 vaccine halal?"
ENDORSING THE VACCINE
Albert Mohler, the influential president of the Southern Baptist Theological Seminary, announced that he would take the vaccine. In YouTube videos, WhatsApp messages and podcasts, some ultra-Orthodox rabbinical scholars in Israel and Brooklyn, New York, are endorsing the vaccine, citing religious texts.
Evangelical clerical activism that promotes vaccination, led by ministers such as Salguero, is gaining momentum. This month, a national network of Hispanic evangelical ministers hosted a webinar in Spanish about vaccines with government medical experts.
In the Joe Biden administration, the clergy has a new partner. The newly reinstated White House Office of Faith-Based and Neighborhood Partnerships has been holding a weekly call with thousands of faith leaders across the country on strategies for working with clinics to administer the shots. During the March 4 call, Jared Moskowitz, director of the Florida Division of Emergency Management, who has connected with churches in Florida's Cuban, Haitian and Vietnamese communities, said that faith leaders were crucial in getting vaccines to their communities.
"There are major trust issues, there are major transportation issues, and there are digital-divide issues," Moskowitz said. "And what the church community has done is solve all of those issues."
Congregations, he said, "know the pastor, they trust the pastor, and the pastor is better than anybody at getting people to come out."
Let them prove it.
That is the response from parishioners that Salguero hears when he brings up covid-19 vaccines. His congregation includes Black and multigenerational families from 20 countries throughout Latin America and the Caribbean. Members range from people who cannot read to doctors and other highly educated professionals.
The virus has swept through the church as well as the pastor's family -- he, his wife, his sister, both sons. Still, many in the congregation are steeped in myths about the vaccine and in real-life experiences of unequal medical care.
Salguero, who is of Puerto Rican descent and mindful of the history of medical abuse of Hispanic people, including decades of forced sterilization of Puerto Rican women, urges parishioners to ask as many questions as they want about the vaccine.
The queries pour forth: If you are living in the country without legal permission, can the vaccine be used to track you? If you are not a citizen, can you still get it? Is the vaccine a mark of the Beast (a reference to a heralding of the end-time in the Book of Revelation)?
Although Salguero is full of facts -- he has moderated national town halls with experts from the Centers for Disease Control and Prevention -- he tries to buoy them with biblical context: Yes, there is balm in Gilead.
"Our tradition is rich with Christ the Healer," he said. "And medicine is one way people are healed."
MEDICINE AND FAITH
In January, Swayamprakash Swami, a former medical doctor based in India who is now a senior monk affiliated with BAPS, a mainstream Hindu denomination, gave his blessing to the covid-19 shots. Now the ancient Hindu principle of ahimsa, an exhortation to do no harm and revere life, is being used to encourage Hindus in North America to embrace the vaccine, said Dr. Kashyap Patel, a cardiologist in Atlanta who is a medical adviser to BAPS. American Hindu temples such as the BAPS Shri Swaminarayan Mandir in Melville, N.Y., are providing pop-up vaccine clinics to their communities.
Vaccine hesitance is more entrenched among American Muslims, who number nearly 3.5 million. About one-quarter of them are Black, who have their own historic reasons for mistrusting the shots.
Hagar Aboubakr, who runs an Islamic school in Howard County, Md., said she saw no reason to get the covid vaccine.
But as she learned of teachers at her school being vaccinated, she thought, "I have a responsibility to lead by example. Am I being selfish by not getting it?"
A GOOD DECISION
She offered a supplication prayer, asking Allah to lead her to a good decision. She listened to talks by Muslim physicians. She consulted her imam.
He told her, "Muslim scholars advise you to take it. As Muslims, it is our responsibility to do what we need to do to relieve humanity of this pandemic."
Aboubakr recently got her first shot.
Although many Hasidic communities have defied covid public health guidelines and oppose mandatory vaccinations generally, most Jewish denominations typically endorse them. Some synagogues have offered to host interfaith covid-19 vaccine pop-up sites and help staff mobile vaccination clinics. But even some mainstream rabbis have been facing fresh questions about the covid shots.
"It's a Jewish mandate to take whatever lifesaving measures are necessary, even in the case of potential risk," said Rabbi Adir Posy of Beth Jacob, an Orthodox synagogue in Beverly Hills, Calif., who is also a leader of the Orthodox Union, a network of congregations.
RETURNING TO A SAFE PLACE
Just the thought of the covid vaccine made Carolyn Love stiffen up. Love, who is a consultant on corporate diversity and inclusion programs and is Black, is well aware that people of color have been treated dismissively by the health care system, and she herself holds it at arm's length.
But to find out more, she attended vaccine information sessions led by Black physicians. When she heard that Shorter Community African Methodist Episcopal Church in Denver, her faith home of 40 years, was offering the vaccine, that made the difference.
At Shorter, the Rev. Dr. Timothy Tyler has spoken about vaccination in his online services, participated on panels and posted about his shots on Facebook. Now, when UCHealth, the health care system affiliated with the University of Colorado, sends word that it will administer 500 doses at Shorter on a Sunday, church members hit the phones, cajoling older members, offering transportation.
On a recent Sunday, after a hard year of being away from church, Love stepped back into Shorter to get her vaccine. She hailed pew mates she had not seen in a long time. Kneeling before the sanctuary altar, she wept.
'I PRAYED FOR THOSE'
"I prayed for those who did not have the opportunity I was blessed with, and for a healing for our nation," she said.
Then she headed into the church's Omar D. Blair Fellowship Hall, named for a Tuskegee Airman who became a civil rights advocate. This is where she had led Girl Scout activities, where the church celebrated her husband after he died.
Now, a new milestone.
She sat down at a table to receive the shot, hopeful that it would help deliver her from the pandemic and restore her to the communal life she cherishes.
As she rolled up her sleeve, she looked around. This was so much better than a doctor's office, she thought.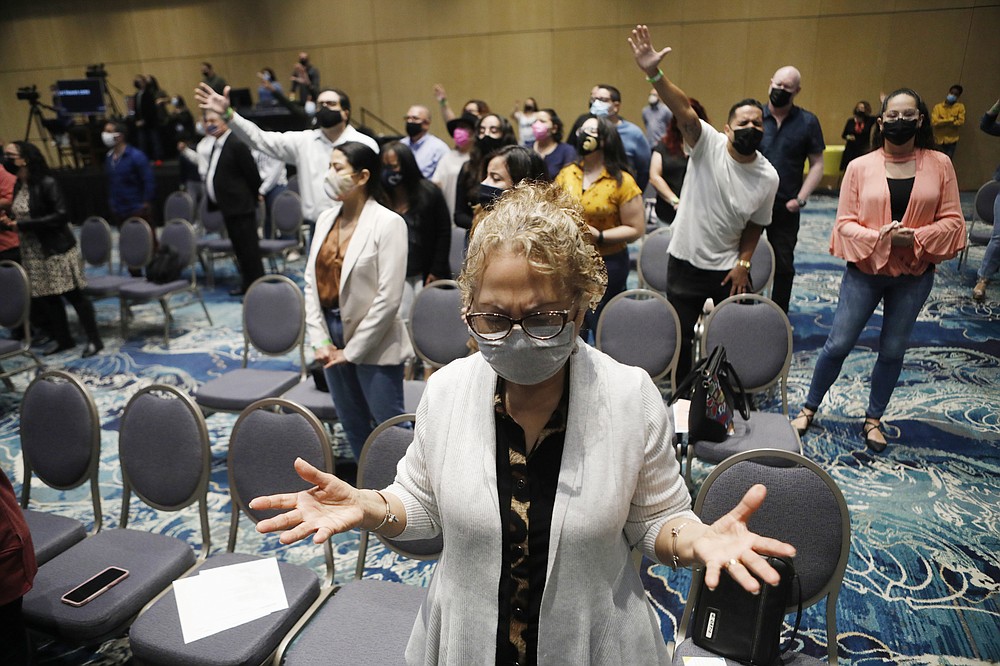 People attend a church service with the Rev. Gabriel Salguero at The Gathering Place in Orlando, March 7, 2021. ҉n getting yourself vaccinated, you are helping your neighbor,Ӡhe preached to about 300 masked and socially distanced worshipers. ҇od wants you to be whole so you can care for your community. So think of vaccines as part of Godճ plan.Ӡ(Octavio Jones/The New York Times)
Dr. Uzma Syed, an infectious disease physician, in Jericho, N.Y., Feb. 27, 2021. Dr. Syed cited a narration about the Prophet Muhammad in urging Muslims to be vaccinated. (Laylah Amatullah Barrayn/The New York Times)