HOT SPRINGS -- For a team that gets most of its notoriety for its dominance on the football field, Harding Academy reminded an engaged crowd at Bank OZK Arena that it knows a thing or two about basketball as well.
The Wildcats came back from a nine-point, fourth-quarter deficit on Friday to stun Mayflower 42-38 and win the Class 3A boys state championship.
"This group since, about third grade, has been winners, and they've continued to do that at every level in every sport," Harding Academy Coach Brad Francis said. "We were down nine, but they didn't get rattled. They stuck with what we tried to do and believed in how we coached them and what we taught them.
"It's just a credit to them. When the lights come on, they're ready to go."
The Wildcats seem to always flourish on the gridiron where they've won eight state championships, including one in late December. But basketball isn't foreign to Harding Academy (21-7), and big plays in the final quarter helped Francis' team win their second title.
Gallery: Class 3A Boys Basketball State Championship
[Gallery not loading above? Click here for more photos » arkansasonline.com/320boys3a/]
Neal was named the Most Valuable Player after scoring 10 of his 12 points during a blistering 12-2 run in the fourth that helped turn the Wildcats' 36-27 deficit into a 39-38 lead. The senior forward also had eight rebounds. Caden Sipe, who was named the MVP of the Class 3A state football title game three months ago, added 11 points, 6 rebounds and 5 steals while Ty Dugger, another senior, finished with 10 points and six rebounds.
Senior forward Brandon Patterson and junior guard B.J. Gilliams scored 14 points each for Mayflower (25-4), which appeared to have the game in control after Patterson's three-pointer with 4:27 left in the fourth gave the Eagles that nine-point lead. But Mayflower began to unravel over the next few minutes, and Harding Academy pounced.
"I thought we had a little cushion that we could hopefully protect," Mayflower Coach Brent Stallings said. "We just didn't protect it, and [Harding Academy] had a whole lot to do with it. We had a couple of turnovers that were unnecessary, and we kind of forced things a little bit. We missed a few free throws, and they came down and took advantage of us not scoring by scoring.
"By doing that, they got all the momentum back."
Momentum was nonexistent in the second quarter as both teams went through an offensive lull of sorts. Harding Academy, which led 15-9 after the first quarter, got a tip-in from Neal with 6:51 showing but didn't score again until sophomore forward Kade Smith hit a turnaround floater off the glass just before the halftime buzzer went off.
Mayflower didn't fare much better. A three-pointer from Patterson with 3:49 remaining was the Eagles only basket of the period. It didn't help the Eagles, either, that the Wildcats were paying extra attention to Mayflower leading scorer Braxtyn McCuien. Every time the 6-6 senior touched the ball or slashed to the basket, Harding Academy had a wave of defenders in his face.
"When you're a player like him, it takes a whole team to stop him, and that's what they did," Stallings said of the Wildcats' defense on McCuien. "Everybody we play knows they've got to stop him, and they did a good job, the best that anybody has all season long."
Sipe, one of several who defended McCuien, acknowledged that slowing the Eagles' top player was one of the team's primary objectives going in.
"All week in practice, we said that we needed to be real physical with him and not let him get going," he explained. "When he has a head of steam and is scoring, he can get going really easily."
McCuien, who called his 3-point, 3-rebound effort the worst game of his life during an emotional press conference afterwards, nearly rescued the the Eagles after the Wildcats made their fiery run.
Sipe's free throw with 17 seconds left in the game gave Harding Academy a 40-38 lead. After a timeout, McCuien got the ball, drove down the right side of the lane and scored on a driving basket with 8.3 seconds showing, but it was waved off after he was called for an offensive foul.
"I was thinking that hopefully, it'd be a charge," Neal said. "The ball went in so if it wasn't a charge, it was an and-one. Once it was called a charge, we were all happy."
Dugger would then knock down a pair from the foul line moments later to deliver the title to the Wildcats.
"I couldn't be any prouder of them," Francis said.
At a glance
CLASS 3A BOYS
STATE TOURNAMENT SCORES
FINAL
Harding Academy 42, Mayflower 38
SEMIFINALS
Mayflower 61, Lamar 48
Harding Academy 51, McGehee 45
QUARTERFINALS
Lamar 48, Glen Rose 43
Mayflower 62, Osceola 52
Harding Academy 55, Central Ark. Christian 43
McGehee 58, Waldron 56, OT
FIRST ROUND
Lamar 64, Bergman 57
Mayflower 49, Elkins 40
Harding Academy 28, Drew Central 25
McGehee 46, Clinton 38
Glen Rose 32, Newport 31
Osceola 68, Dumas 62
Central Ark. Christian 58, Cedarville 55
Waldron 73, Baptist Prep 66, 2OT
MVP
CARTER NEAL
HARDING ACADEMY
The senior was instrumental throughout, but it was the 10 fourth-quarter points that got the Wildcats off and running to a state title. He shot 4 of 14 but hit both free throws with 1:36 left in the game to pad Harding Academy's lead.
AND ONES
Harding Academy won its first title since 2013. … Brandon Patterson and Westin Pickell each had nine rebounds for Mayflower. … The Wildcats scored 16 points off turnovers and nabbed 16 second-chance points. … The Eagles threw the ball away seven times in the fourth quarter. … Mayflower went 3 of 9 from the foul line but four misses in the final 3:18 proved costly. … Brad Francis' son, Will, is an assistant on his staff and was the MVP the last time Harding Academy won a state championship.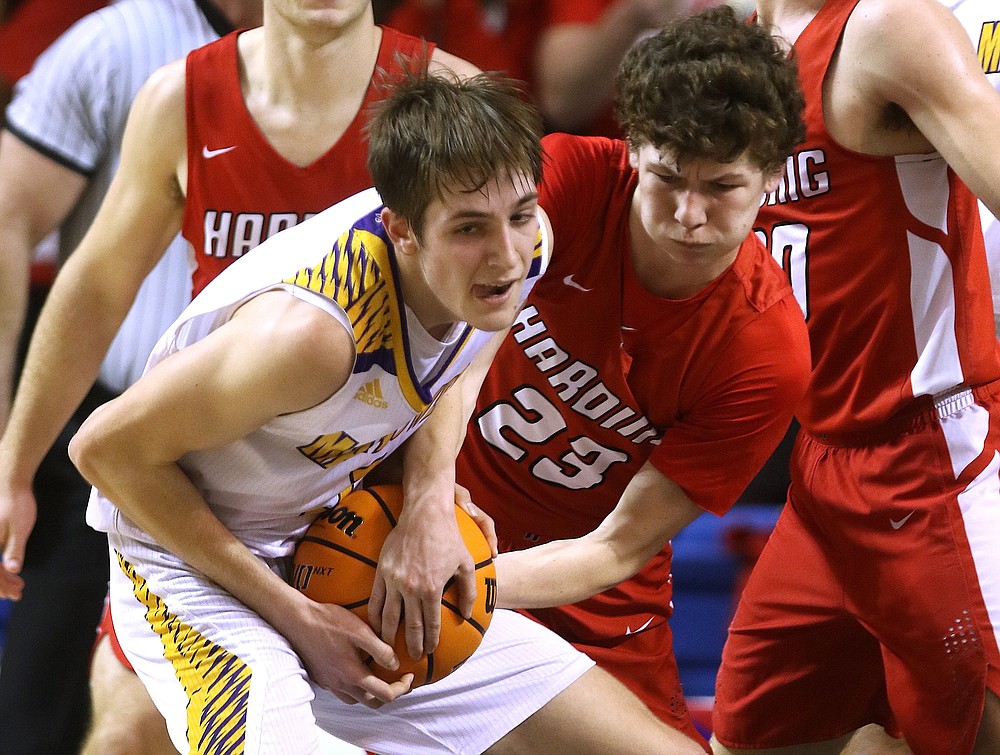 Harding Academy's Carter Neal (right) fights for possession of the ball with Mayflower's Westin Pickell during Friday's game. Neal was named the tournament MVP. (Arkansas Democrat-Gazette/Thomas Metthe)