SAO PAULO -- Police in Brazil are starting to employ a dictatorship-era national security law against critics of President Jair Bolsonaro, while lawyers and activists rally to provide them with legal help and accuse the government of trying to silence dissent.
On Friday, demonstrators challenged police in the capital by parading with anti-Bolsonaro signs a day after four protesters were detained. They had called the president "genocidal" for his handling of the coronavirus pandemic and displayed a cartoon depicting him next to a Nazi swastika. Officers took no action Friday as about 40 people protested for an hour.
The national security law, which dates from 1983, near the end of the country's military dictatorship, makes it a crime to harm the heads of the three branches of government or expose them to danger. The vague measure has recently been used to detain or investigate Bolsonaro critics.
There have been previous news-making charges against prominent critics of the president, including a newspaper columnist, a political cartoonist and a popular YouTube star, but the law is increasingly being employed against ordinary citizens. Courts haven't upheld any of the arrests so far, but lawyers are expressing alarm that the tactic is becoming commonplace.
Both demonstrations in Brasilia called for Bolsonaro's impeachment due to his administration's alleged failings in the pandemic, which has caused almost 290,000 deaths in Brazil. The country has reported nearly 3,000 deaths each day last week.
On several instances, the president has complained that he is being unfairly vilified, most recently Thursday night during a live Facebook broadcast.
"They call me a dictator. I want you to point at one thing I did in two years and two months that was autocratic," he said while complaining about a newspaper column that used the word genocidal to describe him.
Brasilia police said Thursday that the four detained protesters violated the national security law "as they showed a Swastika in association to the symbol of the president of the Republic." But Brazil's federal police force, which decides whether cases brought by local police deserve to go ahead in national security crimes, dismissed the case and released three of the four demonstrators. One was held on an outstanding warrant.
Federal police have conducted more than 80 investigations under the security law during Bolsonaro's first two years, and more than 10 in the first 45 days of 2021, according to the newspaper O Globo. The yearly average before the conservative leader took office was 11.
The cases appear to almost entirely target Bolsonaro's critics, human-rights organizations and activists say.
One case last year involved a sociologist and a businessman who paid for two billboards that insulted Bolsonaro by saying he wasn't worth a gnawed piece of fruit. That investigation was requested by Justice Minister Andre Mendonca, who called it a crime against the president's reputation. It was dismissed in October.
Information for this article was contributed by Eraldo Peres of The Associated Press.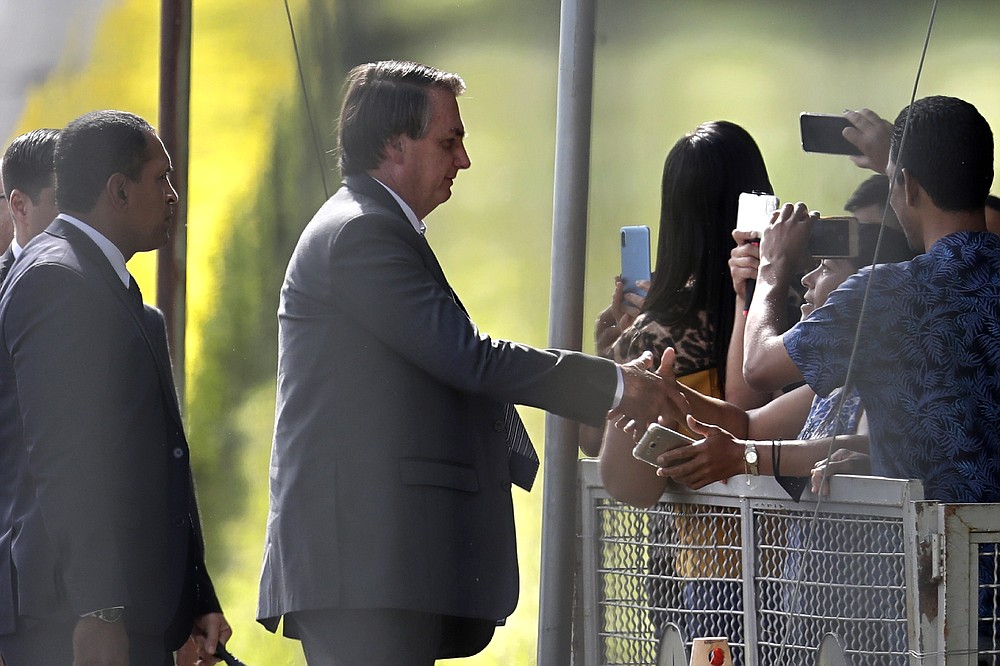 Photographed through a fence, Brazilian President Jair Bolsonaro greets supporters as he leaves the presidential residence, Alvorada Palace, in Brasilia, Brazil, Friday, March 19, 2021. (AP Photo/Eraldo Peres)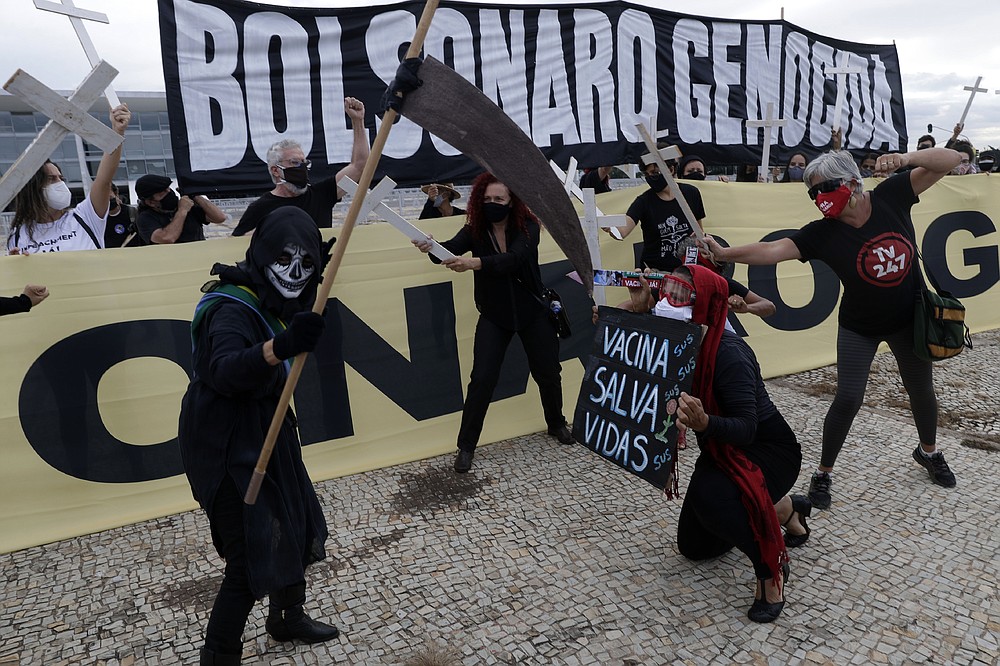 A demonstrator holds the Portuguese message "Vaccination saves lives", below, during a performance with a protester dressed as death and wearing a mock presidential sash, during a protest against President Jair Bolsonaro's handling of the COVID-19 pandemic outside Planalto presidential palace in Brasilia, Brazil, Friday, March 19, 2021. The banner at top reads "Bolsonaro genocide." (AP Photo/Eraldo Peres)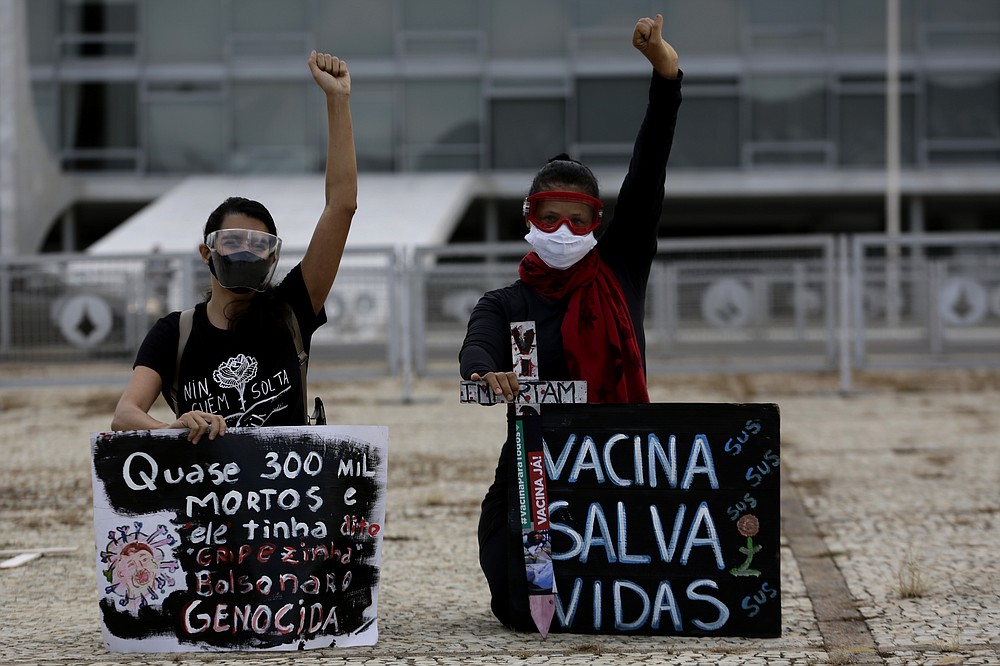 Demonstrators protest the president's handling of the COVID-19 pandemic outside Planalto presidential palace in Brasilia, Brazil, Friday, March 19, 2021. The signs read in Portuguese "Almost 300,000 dead. Bolsonaro genocide", left, and "Vaccinations save lives." (AP Photo/Eraldo Peres)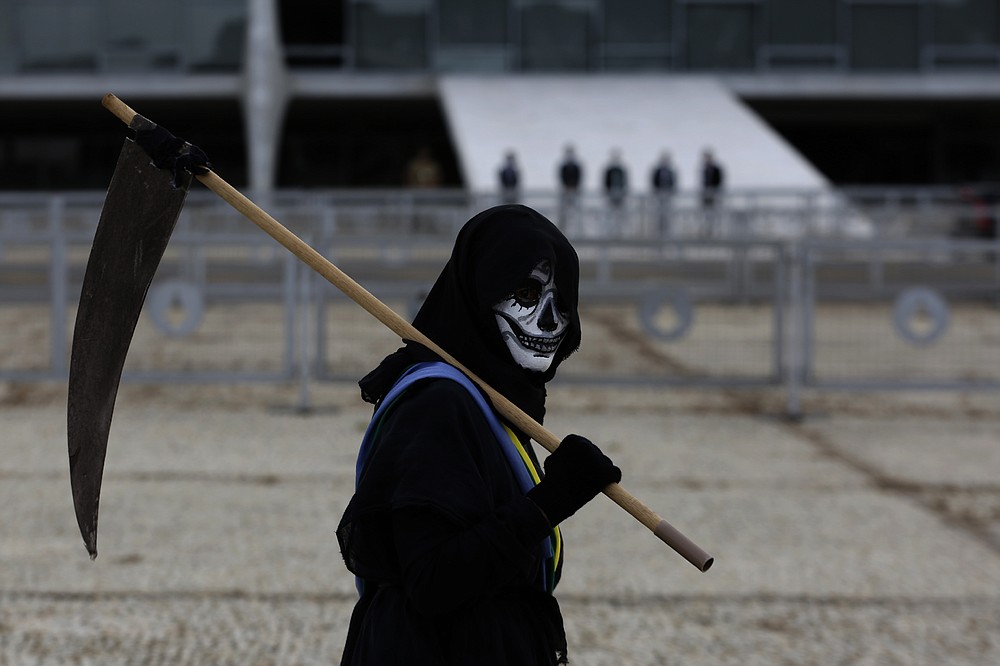 A demonstrator dressed as death and wearing a mock presidential sash walks outside Planalto presidential palace during a protest against the president's handling of the COVID-19 pandemic in Brasilia, Brazil, Friday, March 19, 2021. (AP Photo/Eraldo Peres)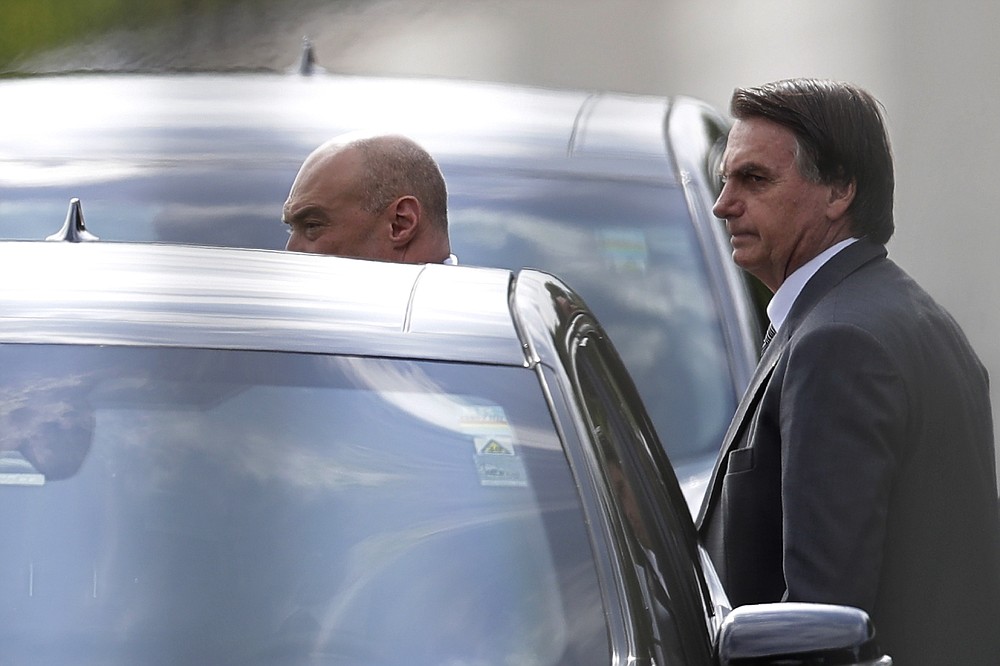 Photographed through a fence, Brazilian President Jair Bolsonaro gets into a car after talking to supporters as he leaves the presidential residence, Alvorada Palace, in Brasilia, Brazil, Friday, March 19, 2021. (AP Photo/Eraldo Peres)