BENTONVILLE -- Berenice Melchor has a word to describe city traffic: "Horrible."
Dennis Birge, city transportation director, has another word to describe a proposed bond issue to alleviate the congestion: "Huge."
Voters will be asked to approve $173.5 million for street improvements in a bond election April 13. The road projects are part of a $266 million bond package on the ballot. The bonds would be paid by extending a 1 percent sales tax.
"We have conducted the traffic studies and done the models to determine future traffic," Birge said.
The city used those studies to determine where road work will be needed the most to keep up with the growing number of vehicles, he said.
Traffic was significantly less after covid-19 hit last March, but Melchor, a longtime Bentonville resident, now sees traffic returning to its normal, heavy self.
The intersection of Southwest 14th Street and Been Road and the intersection of Southwest 14th Street and Walton Boulevard need the most improvement, Melchor said. Both are among the street bond projects.
"Traffic complaints are all taken seriously, and we look into every comment to try to find solutions, but some are in need of more immediate attention than others," Birge said. "For example, potholes and signal malfunctions are safety issues that we try to get to immediately, whereas traffic congestion concerns tend to fit into a more permanent solution that this bond extension would help with."
Bentonville will continue to grow with a population estimate of over 100,000 people by 2040, according to the city. Weekday traffic nearly doubles in size with school and business traffic.
"There has to be another way to separate school hours and working hours," Melchor said.
Staff engineers conducted a citywide needs study, which identified and ranked projects by safety, congestion reduction, bike and pedestrian movements, economic development impact, cost and construction duration as a part of the city's master street plan.
The city held public input meetings on streets in early 2020, and 1,104 citizens commented on an interactive map. More than 700 responses dealt with traffic, according to the city.
"Traffic is Bentonville residents' top concern about our city now and in the future," Councilman Tim Robinson said. "The new bond proposal should help ease these concerns given a majority of it is going to roads and drainage that will help alleviate these issues over the next 10 years."
The city's plan to improve traffic flow consists of arterial and collector street improvements along with intersection upgrades within the bond projects.
Possible arterial projects include Southwest A Street, Southeast Moberly Lane, Water Tower Road, the J Street extension, Southwest 28th Street, Greenhouse Road, the Tiger Boulevard overpass and the J Street interchange on Interstate 49, according to the city.
Arterial streets are designed to move traffic quickly between parts of town or to get to a highway or interstate. They are usually four to five lanes, said city engineer Dan Weese.
Collector street possibilities include O Street, Southwest Bright Road, Southwest A Street, McCollum Drive, Southwest Gator Boulevard, Redbud, Medical Center Parkway, East Battlefield Boulevard and Town Vu Road, according to the city.
Collector streets are designed to move traffic from the neighborhoods to the arterials or between neighborhoods. They are usually two to three lanes, Weese said.
The city lists more than a dozen intersection improvements with several associated with Walton Boulevard, a main thoroughfare, according to the the plan. The street bond projects would include sidewalks, Weese said.
Jami Haines said she avoids Walton Boulevard any time between 3 and 7 p.m. because of congestion. Turning left onto Walton where there is no light is almost impossible, the Bentonville resident said.
"I just see it getting worse, and I am not sure what the answer is," she said. "Walton is the biggest issue for sure. I try to find any way to avoid Walton."
The J Street interchange, the Tiger Boulevard overpass and projects on Greenhouse Road are the most expensive parts of the project, Birge said.
The J Street improvements' estimated cost is $37.2 million, and the Tiger overpass is projected at $12.2 million. The project consists of extending Tiger Boulevard approximately 0.61 miles from McCollum Drive eastward over Interstate 49 via an overpass to tie into Northeast Grammercy Road. Three projects along Greenhouse Road total $20.7 million.
All the projects have multiple goals, Birge said.
"We want to improve traffic flow, improve safety, create connectivity, improve pedestrian safety and improve and maintain economic growth," he said.
Birge used Rainbow Curve as an example of traffic congestion during a presentation to the City Council in January. Rainbow Curve is where Walton Boulevard begins its bend north at its intersection with Arkansas 12 to the west. The 2018 average daily traffic count on Walton just north of the intersection was 21,000 vehicles with a projected increase to 26,500 vehicles a day by 2040.
The Rainbow Curve area is known for car wrecks. There have been 158 vehicle wrecks in the Rainbow Curve area since 2018, including 83 last year, according to Police Department data.
Rainbow Curve improvements would primarily consist of installing a flyover bridge to remove the westbound traffic turning left from Walton Boulevard onto Arkansas 12.
Also on the list of projects is the intersection of Southwest I Street and Southwest Regional Boulevard, which is frequently congested, Birge said.
The intersection has vehicle traffic that backs up more than 1,500 feet. Proposed improvements include dual lefts and dedicated right-turn lanes constructed on each approach.
The project calls for a six-lane cross section along Southwest Regional Airport Boulevard to begin west of the intersection with Southwest I Street and continue east to the intersection with Walton Boulevard. The improvements could reduce delays at the intersection by 70% and reduce queues more than 75%, according to city plans. A queue is the line of traffic waiting to move, Weese said.
Eighty percent of the revenue raised by the city's 1% sales tax goes to repay bonds already issued and 20% goes to ongoing capital needs. The city would maintain the same ratio if the sales tax is extended, according to Jake Harper, city director of finance and administration.
The 1% sales tax would expire in 2046 if extended. The tax brings in about $15 million a year.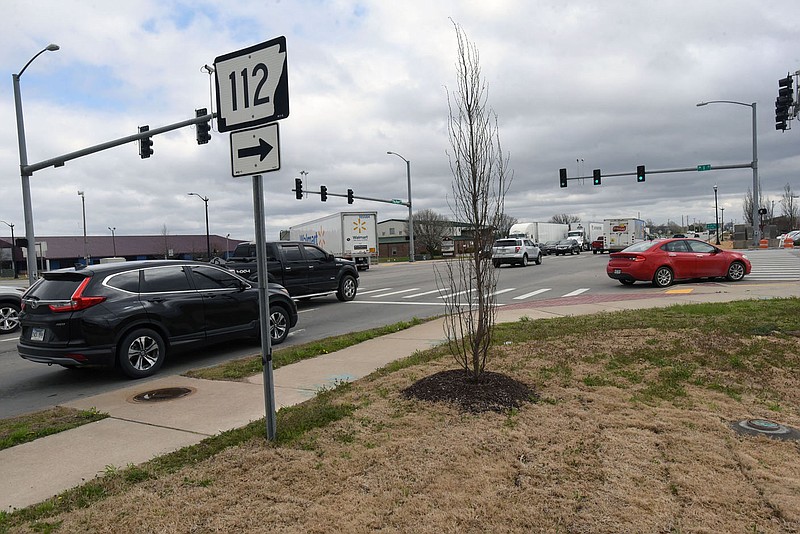 Traffic moves Tuesday March 23 2021 through the intersection of Southwest I Street and Southwest Regional Airport Boulevard in Bentonville. (NWA Democrat-Gazette/Flip Putthoff)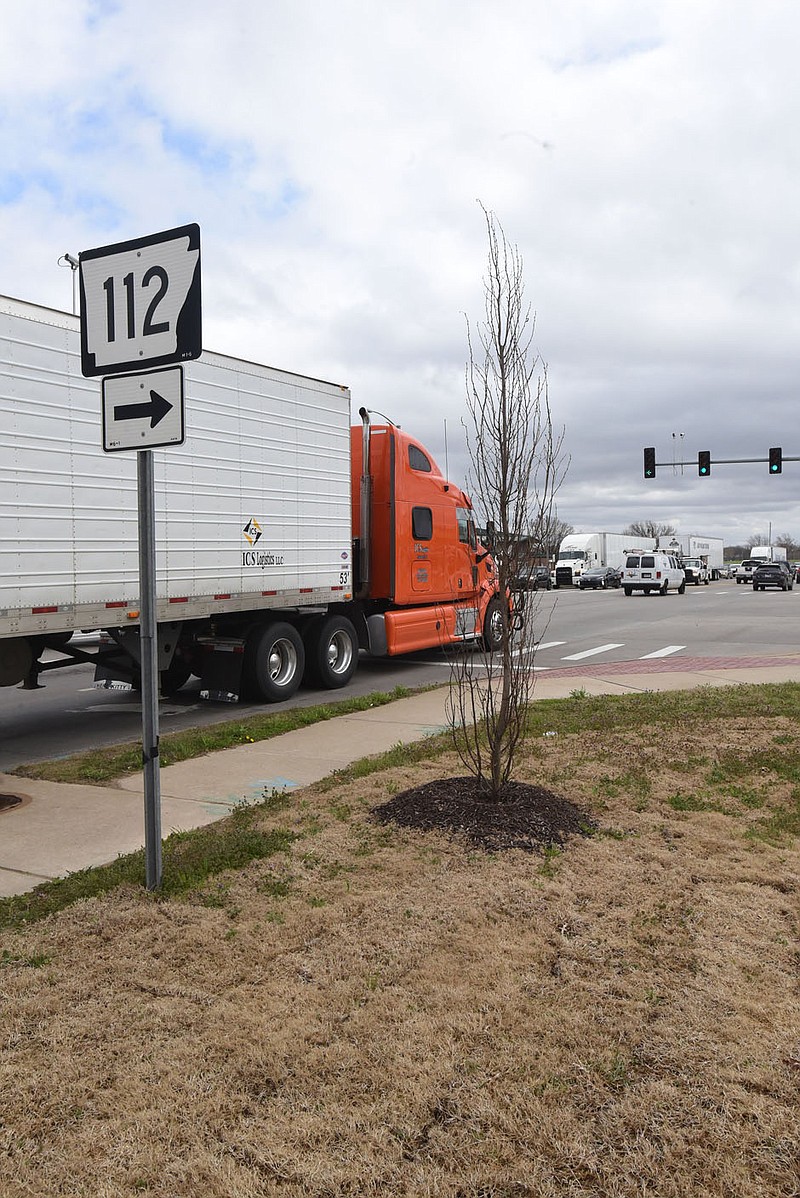 Traffic moves Tuesday March 23 2021 through the intersection of Southwest I Street and Southwest Regional Airport Boulevard in Bentonville. (NWA Democrat-Gazette/Flip Putthoff)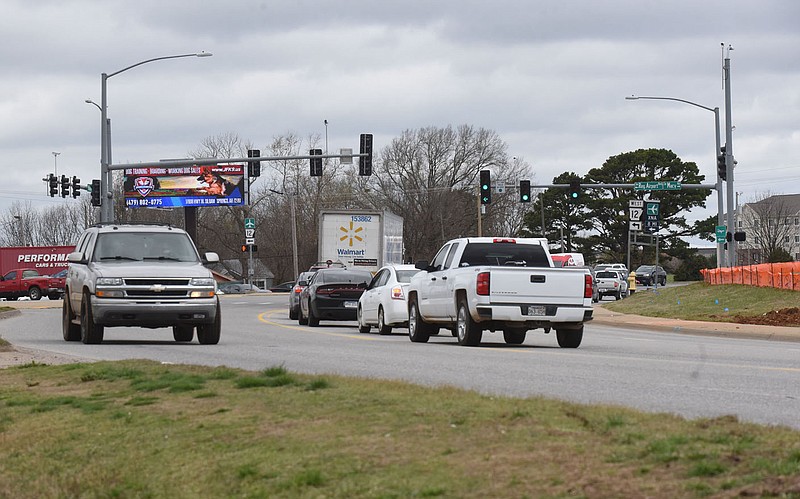 Traffic moves Tuesday March 23 2021 along Rainbow Curve in Bentonville. (NWA Democrat-Gazette/Flip Putthoff)